Monokulare mit Wechsel-Vergrößerung

Offensichtlich gab es den Wunsch unterschiedliche Vergrößerungen für verschiedene Sehsituationen an einem Fernglas zu haben; dies gab es auch schon bei Galileischen Gläsern. So entwickelte Carl Zeiss das "Marineglas 5x & 10x" mit einem Okularrevolver und bei Paul Waechter (Berlin) gab es 'Monocles' mit austauschbaren Objektiven (5x, 10x u. 4x 6x 8x 10x).
Vergl. auch die Dosenfernrohre mit Abbe-König Prismen sowie Monokulare mit Austauschobjektiven nach 1945.

Monoculars with Changeable Power

Obviously there was always the user's wish to have more than one magnification at hand within one telescope; so also Galilean glasses had changeable oculars. Navy-Glass 5x&10x with Ocular Revolver Monoculars with changeable objectives. Hence Carl Zeiss developped the "Marineglas 5x & 10x" with a ocular revolver, and Paul Waechter Berlin issued "monocles" with interchangeable objectives ( 5x, 10x and 4x 6x 8x 10x).
Also cf. "Dosenfernrohre" with Abbe-König prism as well as Monoculars with interchangeable objectives after 1945.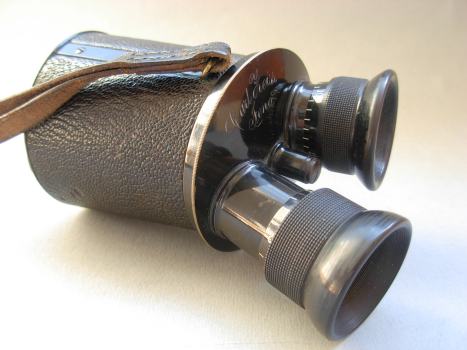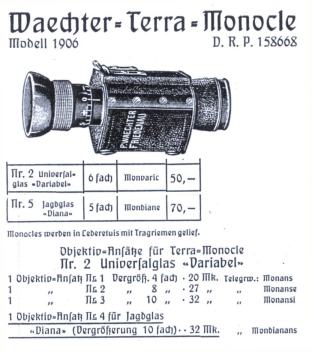 Zeiss Marineglas - Waechter-Katalog Ausschnitt - excerpt
Foto: T. Mix