2. Porro 2 Prismen-Monokulare

Aus russischer oder jetziger ukrainischer Fabrikation kommen miniaturisierte Porro-2-Monokulare. Sie werden als Spionage-Monokulare angeboten, sind somit zwar sehr handlich, aber aufgrund der kleinen Objektive nicht besonders lichtstark. Das YM8-1 hat eine Okularfokussierung, während die anderen am Objektiv justiert werden. Das ATN "Golden Eye" wiegt nur 28g bei einer Größe von 45x25x25mm.

Porro 2 Prism Monoculars after 1945

Some tiny porro 2 monoculars were and are made in Russia or today's Ucraine, often advertised as spy monoculars. They are really quite handy , but lack brightness because of their small objective diameters. The YM8-1 has a rotary ocular whereas the otheres are adjusted at the objective. The ATN "Golden Eye" only weighs 28g and measures just 45x25x25mm.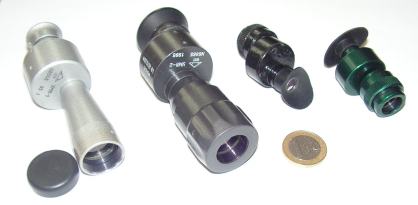 Urania YM8-1 und YM8-2, Ukrain. 6x12, ATN Golden Eye 8x12
| | |
| --- | --- |
| VEB Carl Zeiss Jena stellte nur für seine Spiegelstereoskope kleine 3,5x15 Porro-2-Monokulare (bronze-grün, schwarz) her, die jeweils als Paar bei den Stereoskopen zum Einsatz kamen, allerdings auch so als Monokular mit kurzem Nahfokus verwendbar sind. | VEB Carl Zeiss Jena only produced little 3.5x15 porro 2 monoculars for their mirror stereoscopes (bronze-green and black versions), used as pairs for the devices. Yet, they can be used as stand-alone monoculars with a rather short focusing distance less than 1 meter. |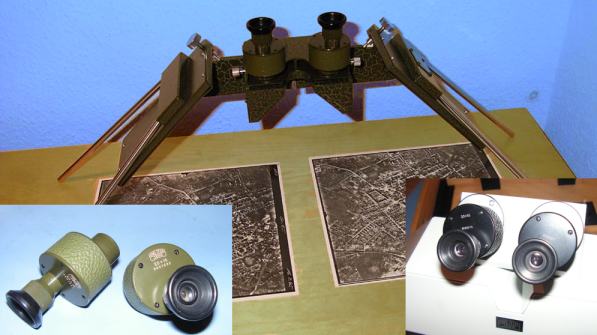 Minox T8 1990
| | |
| --- | --- |
| Das Taschenteleskop "T8" des Entwickler Walter Zapp mit einem kombinierten Porro 2 Prismen- und Spiegel-System wurde von Minox 1990 herausgebracht. Dabei wird innen eine Okularlinse per Außenrädchen zum Fokussieren verschoben. Das Porro-2-System besteht aus 2 in 90° Winkel zueinander angeordneten Spiegeln und zwei Umlenkprismen mit Linsen (s. Schemazeichnung). Außer dem T8-Modell mit schwarzen Plastikgehäuse gab es auch eine Luxus-Variante "T8L" mit Aluminiumgehäuse. | The Minox pocket telescope "T8" was developed by Walter Zapp with a combined porro 2 prism and mirror system, and marketed in 1990. An ocular lens inside is moved for focusing by turning a little wheel at the housing's side. The porro 2 system consists of two mirrors set in a 90° angle to each other and two diverting prisms with lenses (s. diagram). Besides the T8 model with black plastic housing, there was a luxury modle "T8L" with an aluminium housing. |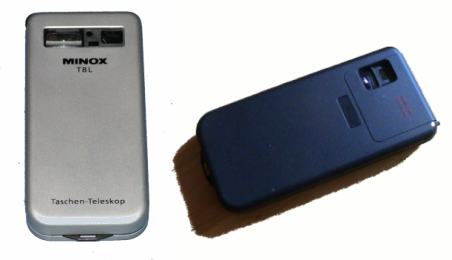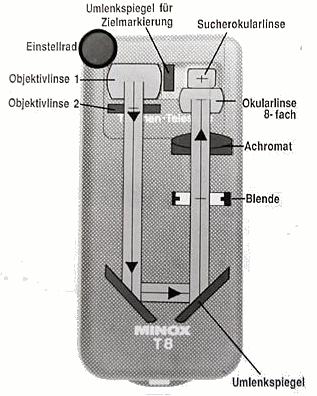 Scopy (made in West Germany)
Ein fast identische Konstruktion weist das "Scopy" auf. Hier sind die Spiegel jedoch zwei verspiegelte Glasprismen auf einem "Schlitten", welcher zur Fokussierung verschoben wird. Bei Nichtgebrauch kann der Linsenteil in das andere Gehäuse geschoben werden. Das "Scopy" kann als 4x Teleskop oder als 8x Lupe gebraucht werden.
Wer der Hersteller und wann das Herstellungsjahr war, ist unbekannt, lediglich die Gravur "Made in West Germany" am Schiebeknopf deutet eine deutsche Firma an. Das äußere Design erinnert an Kameras aus den 60-70er Jahren.
The "Scopy" comes with an almost identical prism construction. Here the mirrors are two slender mirrored prisms porro 2 system with mirrored prism mounted on a sort of sledge that is moved for focusing. When unused a slide-in mechanism of the housing protects the lenses. The Scopy works as a 4x telescope as well as a 8x magnifier. Maker and date of production are unknown, just the "Made in West germany" engraving on the sliding knob hints to a German company. The outer appearnce resembles camera designs of the 1960s to 70s.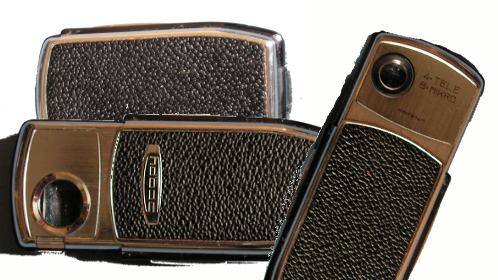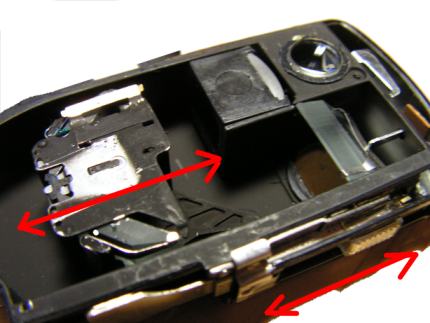 Fotos: Zeun