Dieser Entfernungsmesser hat ein eingebautes 4x12 Monokular. (s. Pfeil)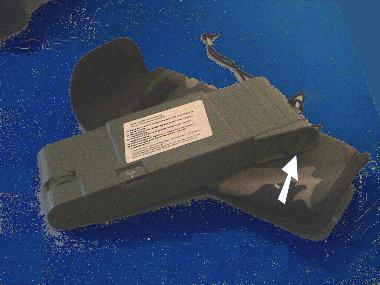 Dieses lässt sich durch Öffnen des Gehäuses herausnehmen (Lösen von Klebestellen notwendig!). Es handelt sich um ein Dachkantprismensystem mit sehr kurzem Nahfokus. Der Okulartubus lässt sich komplett herausschrauben. Der Tubus ist aus Metall,
Mit Hilfe von Teilen einer alten Gumnmiarmierung eines Taschenfernglases habe ich das laut Inschrift in Korea gefertigte Monokular ummantelt und das Okular mit einer zurückklappbaren Augenmuschel versehen. Zum Befestigen der Gummiteile habe ich einen Mehrzweckkleber (hier: Pattex) genommen und die Tubusummantelung auf die passende Länge geschnitten.
Das fertige monokulare Handfernrohr lässt sich nun seperat gut nutzen.
This rangefidner comes with a built-in 4x12 monocular (s. arrow).
The monocular can be removed by opening the housing (you must dissolve some glue!). It is a rooftop prism with extra short focus. The ocular tube can be screwed out completely. It is made of metal.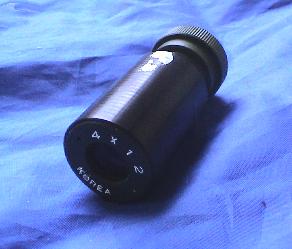 Using some rubber covering of an old pocket bincoular I covered the Korean made monocular, and put a foldable rubber eyecup to tthe ocualr piece. I cut down the rubber to an appropriate size and used some multipurpose glue to attach the rubber parts.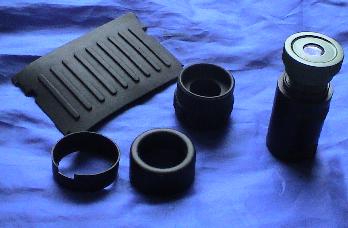 The monocular now can be used seperately.