Carl Zeiss "Asem" 12x 20x 40x 80
| | |
| --- | --- |
| Das Carl Zeiss Modell mit 12x 20x 40x Vergrößerungen und 80mm Objektiv firmiert in den Katalogen als Monokulares Aussichtsfernrohr (Monok. A.F. oder M.F.) oder unter dem Bestellnamen "Asem" mit Kasten für das Teleskop und das Stativ geliefert bzw. "Asacanda" mit Segeltuchköcher für das Stativ und Lederfutteral für das Monokular geliefert. Wie das "Starmor" hat es einen Okularrevolver, eine ausziehbare Sonnenblende sowie eine Objektivschutzkappe und Stativmontierung. An der Sonnenblende befindet sich eine Halteöse für den Riemen und damit befestigten Objektivdeckel. | The Carl Zeiss model with 12x 20x 40x power and an 80mm objective was traded under the name "Monocular Look-out Telescope" (Monok. A.F. oder M.F.) or under the order code "Asem" (delvered with a wooden case for telescope and tripod) or "Asacanda" (delviered with a leather case for the telescope and a canvas case for the tripod). Like the "Starmor" it came with an eyepiece turret, an extendable sunshade plus an objektive lens cap, and a tripod mount. The sunshade has a lug for a leather strap holding the lens cap. |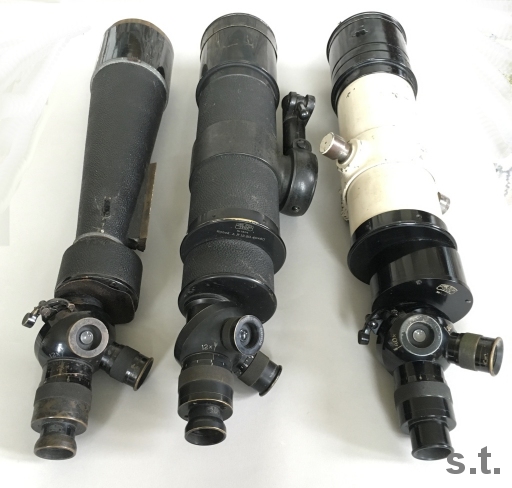 v.r.n.l.: Modell 1, 2, 3 —
right to left: model 1, 2, 3.
| | |
| --- | --- |
| Das Asem wurde ab ca. 1912 bis 1940 bei gleichbleibenden Spezifikationen in drei (evtl. sogar vier) verschiedenen Konstruktionsvarianten gefertigt.* | The Asem was made from c. 1912 until 1940 in 3 (probably even 4) different design variations keeping its specifications throughout.*. |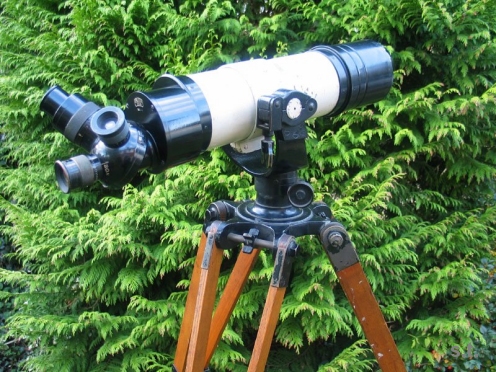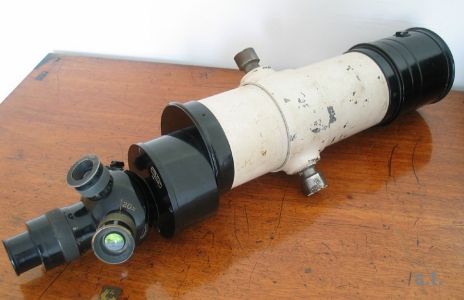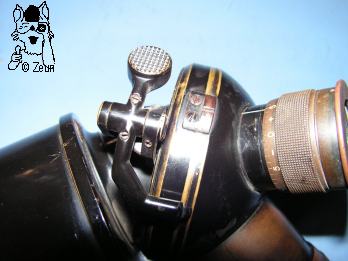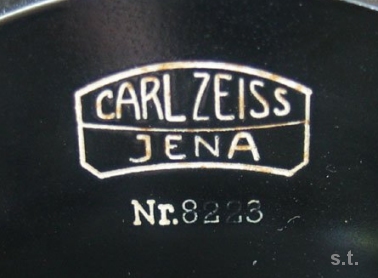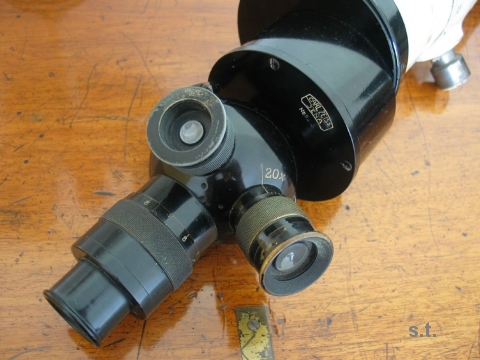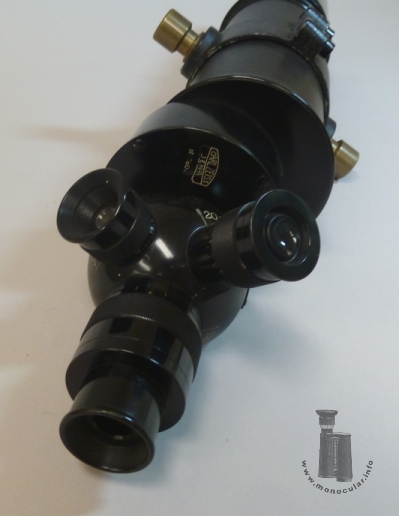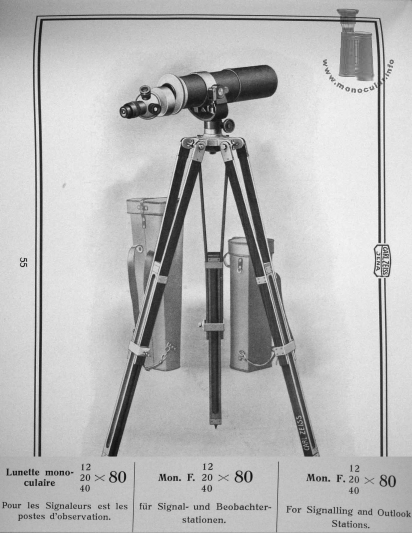 | | |
| --- | --- |
| Das erste Modell (ca. 1912; s. Katalog T.807,1912) wird als "Monokulares Fernrohr 12, 20, 40x80" bezeichnet. Es hat, wie andere astronomische Teleskope einen geraden Tubus, der weiß lackiert ist** - bei anderen Exemplaren aber auch eine schwarze Lackierung. Das Prismengehäuse mit Porro-2-Prismen ist versetzt auf dem Tubusdeckel montiert und ist am oberen Gehäusedeckel mit dem Zeiss-Linsenlogo und der Seriennummer beschriftet. Der Okularrevolver rastet an den 3 Okularpositionen ein und hat dafür außen einen Federhebel, der jeweils in eine Nut einrastet. Die Vergrößerungsangaben sind auf dem Revolverdeckel markiert und deuten mit einem Pfeil oder Strich zum Okularstück. Die metallenen Okulare haben Dioptrieeinstellungen zur Fokussierung; die höheren Vergrößerungen bis +/-10, die 12x bis +/-5. | The first model (c. 1912; cf. catalogue T.807, 1912) was named "Monokualres Fernrohr 12x 20x 40x80" (Monocular Telescope 12x 20x 40x80). Like other astronomical telescopes by Zeiss, it was built with a straight tube being painted white** - but also with a black finish on some other specimen. The prism housing with its porro II prism system is attached offset on the tube cover. The top cover of the prism housing is marked with he Zeiss lens logo and the serial number. The eyepiece revolver clicks into place in the right position by means of a spring lever that locks into notches on the outside. Magnifications are marked near the oculars with an arrow or line pointing from the number to the eyepiece. The meal eyepieces come with dioptre adjustments for focusing – ranging from + to -10 for the oculars with higher magnification, and +/-5 for the 12x eyepiece. |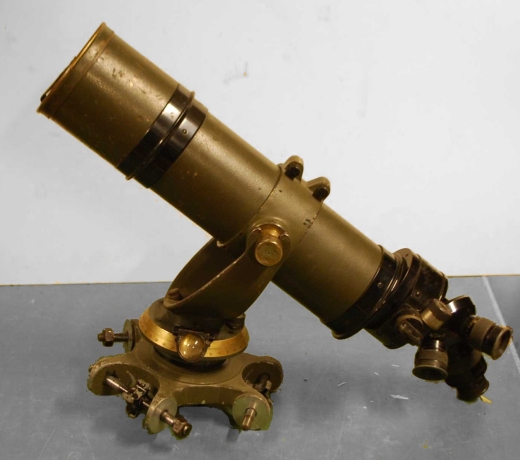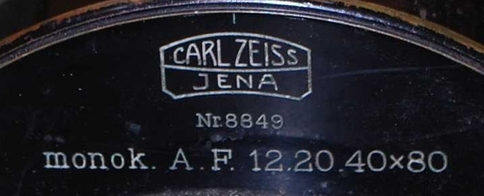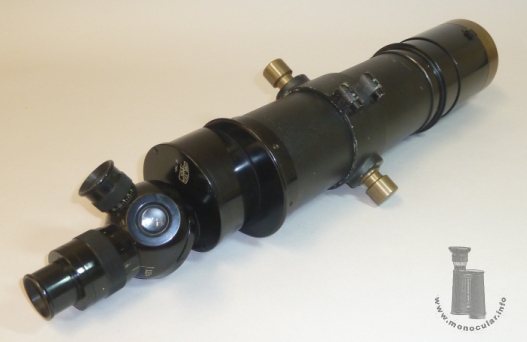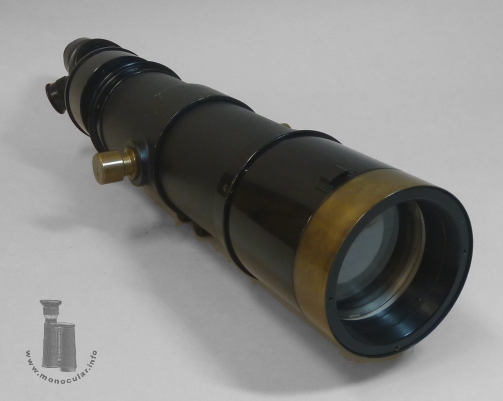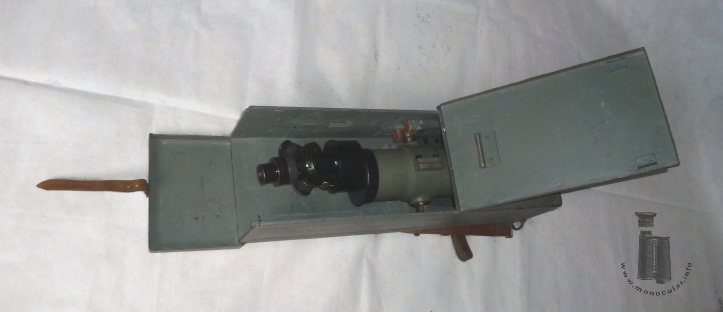 | | |
| --- | --- |
| Das erste Modell hatte am Haupttubus eine Ringschelle mit Zapfen, die in eine Stativgabel gelegt und arretiert wurden. Einige Stativadapter waren mit Feintrieb (Modell 1) oder Richtkreisen (Modell 3) ausgestattet. Letzteres war mit "Monok. A.F. 12.20.40x80" beschriftet und wahrscheinlich als militärisches Beobachtungsfernrohr ausgelegt (vgl. 1912er Katalog T.807 mit Titel "Signalgeräte, Scheinwerfer, Beobachtungsteleskope"), so dass auch die grünliche Lackierung Original sein könnte. (Quelle 1, Quelle 2). | There is a clip collar on the tube of the first models with cast-in trunnions which go into a tripod yoke and are locked there. Some tripod adapters had a fine adjustment (model 1) or a division circle (model 3). The latter one was inscribed "Monok. A.F. 12.20.40x80", and was probably intended for military use (cf. 1912s catalogue T.807 with its title "Signalling Apparatus, Projectors, Observation Telescopes") so that dass the greenish lacquering seems to be fitting and original. (Quelle 1, Quelle 2). |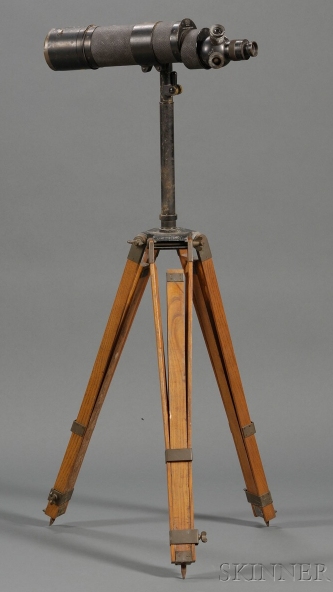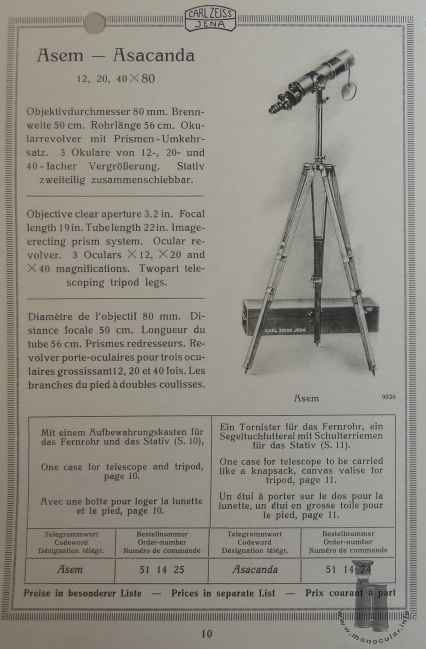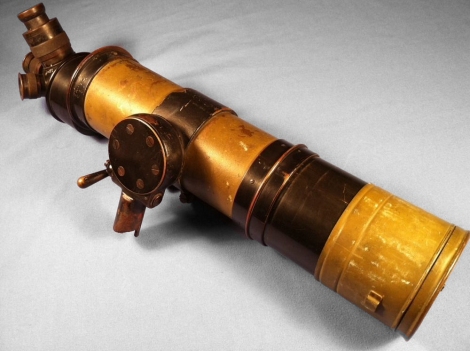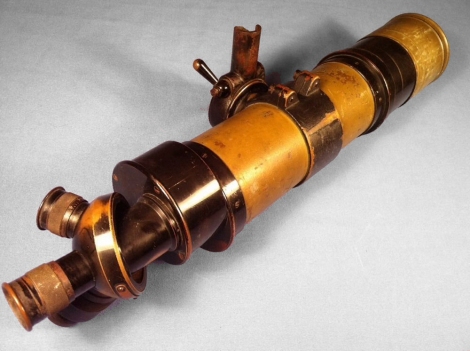 | | |
| --- | --- |
| Die 2. Asem-Generation ab ca. 1921 behält die gerade Tubusform, nun aber meist mit einem strukturierten Hartgummi ummantelt, hat zudem nun eine seitliche schwenkbare Stativmontage und einen ohne Federhebel einrastenden Okularrevolver, z.T. Kunststoffaugenmuscheln (Bakelit). Das Asem II ist weiterhin mit "Monok. A.F. 12.20.40x80" gekennzeichnet. Bei einigen Exemplaren sind die Okulare beschriftet ("Kellner'sches Okular" ...). | The second Asem generation (from c. 1921) keeps the straight tube, but most of them covered with some textured hard rubber. I then had a swivelling tripod adapter on the side, and a spring lever for click-stop of the turret. At some time Zeiss equipped the eyepieces with Bakelite eyecups. The Asemm II. is still marked "Monok. A.F. 12.20.40x80". On some specimen the eyepieces are inscribed, too (e.g. "Kellner'Sches Okular" ...). |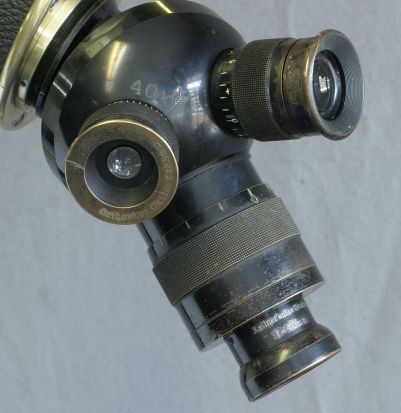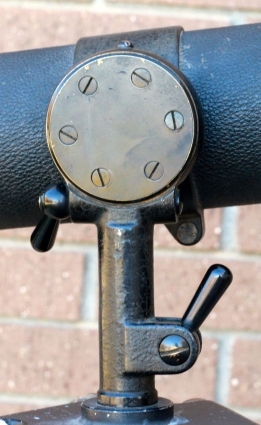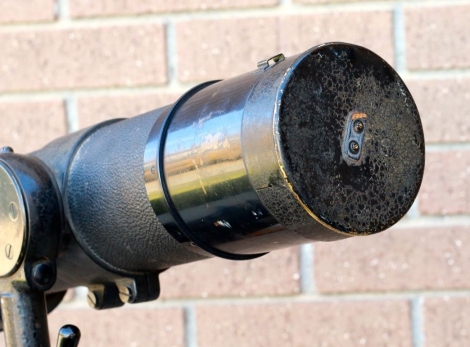 | | |
| --- | --- |
| Das 3. Modell ab ca. 1928 (s. Katalog Astro 80, S. 16) wurde schlanker gebaut: der Objektivtubus ist konisch und mit dem schmalen Ansatz an der Prismendose angegossen. Mit einer seitlichen Schwalbenschwanzmontierung wird das Asem in den Stativadapter gesteckt. Das Gehäuse und der Tubus sind weiterhin mit einem strukturierten Raulack ummantelt. Die Spezifikation sind auf dem angeschraubten oberen Gehäusedeckel gekennzeichnet - nunmehr als "M.F. 12.20.40.x80" sowie das Zeiss-Logo und Seriennummer. | The 3. model - from c. 1928 (see catalogue Astro 80, p. 16) changed to a more slender design: the objective tube became conical and was cast onto the prism housing. A sideways dove-tail mount slips into the tripod adapter. The tube and the housing are still covered with an Ebonite finish. Its specifications are given on the top cover of the prism box – now "M.F. 12.20.40.x80" as well as the Zeiss logo and the serial number. |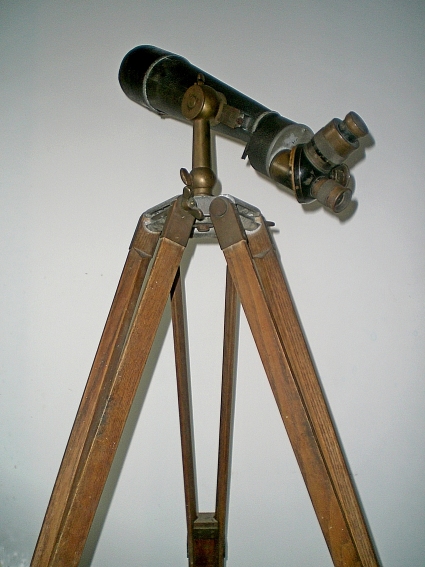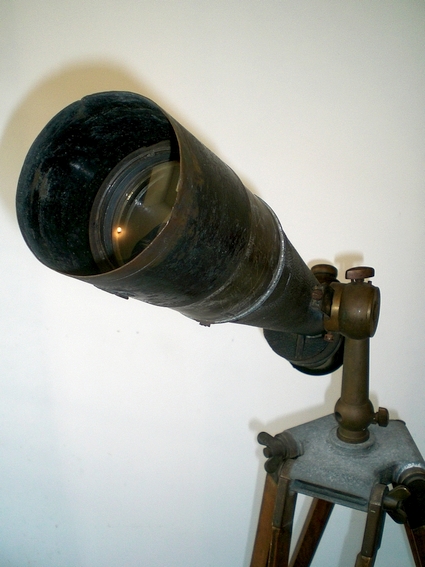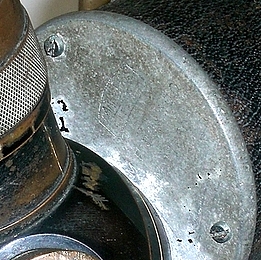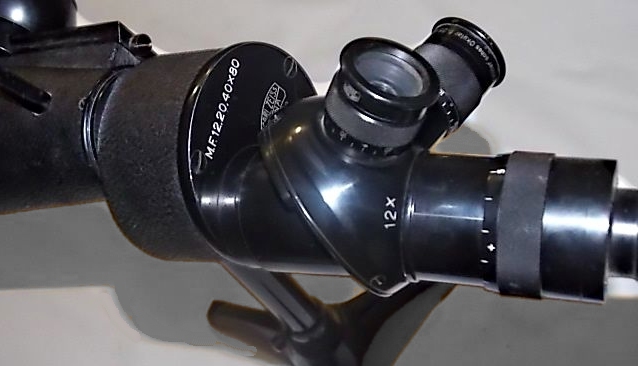 Ein bekanntes Exemplar hat keine Beschriftung, sondern einen ebenfalls mit Raulack ummantelten Gehäusedeckel. Ungewöhnlich ist, dass e wieder eine Federhebeleinrastung für den Okularrevovler hat.
Wie eines der Bilder verdeutlicht konnte das Asem außer auf dem Dreibein-Stativ auch auf dem Zeiss typischen Tischstativ benutzt werden.

Ein später 1939er Zeiss Katalog lässt vermuten, dass es kurzfristig noch eine vierte Variante des Asem gab, soweit die zeichnerische Abbildung (Detail aus einer Zeichnung aller Aussichtsfernrohre) den damaligen Tatsachen entspricht und nicht das Asimara darstellen soll. Dort hat das Asem wieder eine Gabelstativmontierung (s. vorletztes Bild).

One surviving example is unmarked, but has a hard rubber covering on the top cover as well. Quite unusual, it comes with a spring lever stop for the eyepiece turret again.
As one picture shows the Asem could not only be set up on a tripod but also on the Zeiss made table stand.

A later 1939 Zeiss catalogue lets us assume that for a very short period a fourth design variant was issued by Zeiss, unless the catalogue drawing (detail of a sketch showing a sample of Zeiss observation telescopes) was not made according to the true design, or is supposed to represent the Asimara. The drawing shows that the Asem came with a yoke mount again (see second but last pic.).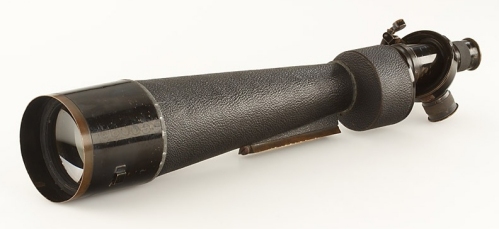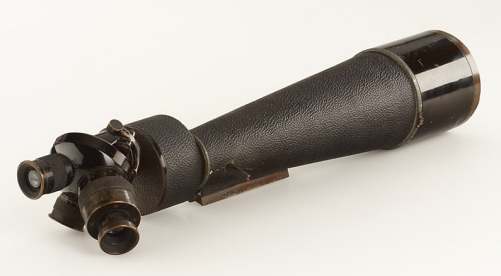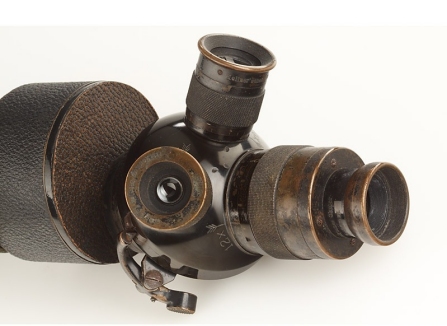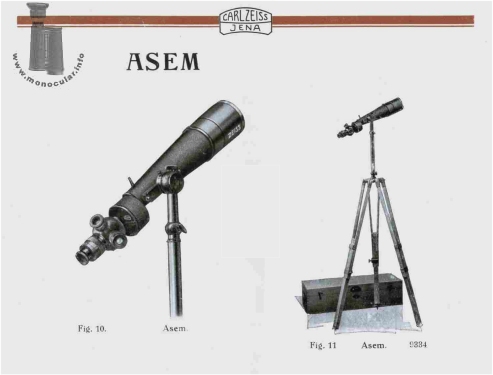 | | |
| --- | --- |
| Folgende Angaben wurden anhand der Exemplare aus dem 1. Foto erhoben: | The following data were taken from the models in the first photo: |
Modell

model

Gesamtlänge


overall length

Tubuslänge


length of the main tube

Durchmesser Prismengehäuse


diameter of the prism housing

Durchmesser Objektivende


diameter of the objective end tube

Gewicht


weight

Asem 1
55 cm
36 cm
9.4 cm
10 cm
10 kg (im Kasten

in case

)
Asem 2
54 cm
36.2 cm
9 cm
10 cm
6.2 kg
Asem 3
56 cm
36 cm
8.2 cm
9.8 cm
4.5 kg
| | |
| --- | --- |
| Anhand eines halben Asembi ergeben sich weitere Daten für die 3. Modellversion: Das Prismenfernrohr wiegt ca. 6kg. Die Gesamtlänge variiert zwischen 52 und 58cm plus ca. 7cm bei ausgezogenem Blendschutz. Der gerade Objektivendteil ist 11cm lang. Die Stativhülse ist 16cm lang. Der konische Tubus verbreitert sich von 52 bis 86mm. Der Okularrevolver ist 76mm im Durchmesser. Das 12x-Okular ist 48mm die beiden anderen Okulare sind 32,5mm im Durchmesser. Deren Länge beträgt 23-30mm beim 40x-Okular, 33-48mm beim 20x-Okular und 70-90mm beim 12x-Okular. | According to a half of an Asembi binoculars further data can be deduced for the Asem model 3: the prism telescope weighs c. 6 kilos. Its overall length varies between 52 and 58 cm plus 7cm with extended ray-shade. The final straight objective tube measures 11cm in length. The tripod tube is 16cm long. The conical tube diameter starts with 52mm and ends with 86mm. The ocular revolver is 76mm in diameter. The 12x ocular has a 48mm diameter, the two other oculars have 33.5mm in diameter. The length of the ocular is as follows: 40x 23-30mm, 20x 33-48mm, and 12x 70-90mm. |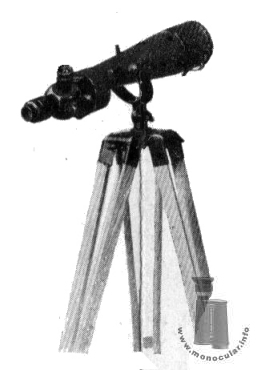 ---
* Für zahlreiche Detailinformationen sei S. Tomlinson gedankt.
** Möglicherweise wurde das Asem aus dem schon ab 1905 erhältlichen kurzbrennweitigen 80mm Kometensucher (s. 1. Bild, 2. Bild eines Kometensuchers auf einem Wiener Flakturm), den es auch mit Aufrichtprisma gab, entwickelt, wobei die gerade Tubusform erhalten wurde, die Fokussierung aber nicht mehr über eine Zahnstangenfokussierung, sondern Dioptrienausgleich an den Okularen realisiert wurde (s. letztes Bild).
* My thanks go to S. Tomlinson for many detail information.
**Maybe the Asem was developed from the comet seeker with an 80mm objective lens and a short focal length which was already available in 1905 (see below 1st pic. and 2nd pic. on a AA tower in Vienna ), and was also issued with a prism erecting system. The straight tube design was adopted whereas the rack-and-pinion focuser was substituted with dioptre adjustments (cf. last picture).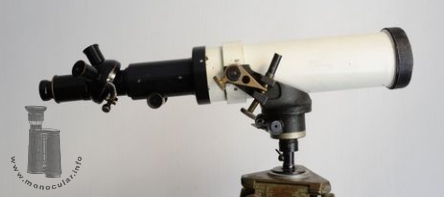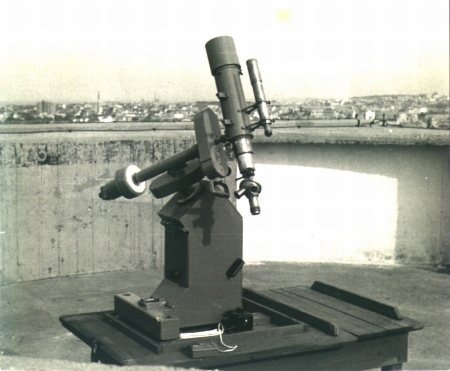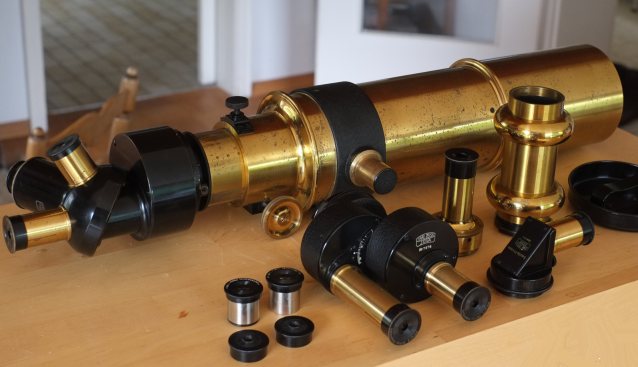 ---
Fotos: 1-3, 5-6 S. Tomlinson (s.t.), Auktionen/auctions/Digitalmuseum; Zeun; 36 J. Kost