Universal Camera Corp. 6x30 Monocular
Das 12cm bis 12,8cm lange 6x30 Monokular wurde von der Universal Camera Corporation in New York, USA gefertigt. Es wurde in den 50er Jahren für das Militär hergestellt, trägt aber keine Army-Kennezichnung. monokulare für den zivilen Markt Offiziellhatwurden offiziell nicth angeboten. Das monokular hat ein olivgrünen Gürtelbeutel mit Reissverschluss. Es hat den für viele amerikanische Ferngläser typischen Prismenkörper (Bausch und Lomb) ohne Objektivdeckel. Das Gehäuse ist mit einer aufgerauhten Oberfläche gegossen und anthrazit lackiert. Es hat eine Kunststoff-Augenmuschel, ein Okular mit hohem Dioptriuenausgleich (+ 10/-4) und eine Öse für den Trageriemen.
Die Optik ist blau vergütet.
This 6x30 monocular, 12cm to 12.8cm tall, was produced by the Universal Camera Corporation, N.Y. USA. It was made under an US army contract, but has no military markings. Monoculars for the common market were not offered. The glass comes with a olive green zippered belt pouch. The prism housing construction without a objective cover is typical for many US glasses (Bausch & Lomb). The housing is made with a roughened surface and painted anthracite. There is a plastic eye-cup, an ocular with a wide dioptre adjustment (+ 10/-4) , and a strap lug.
Optics are coated blue.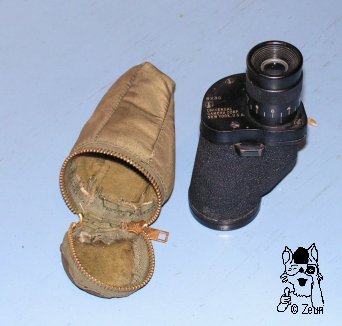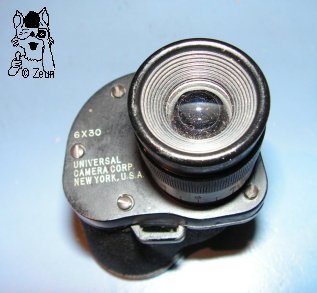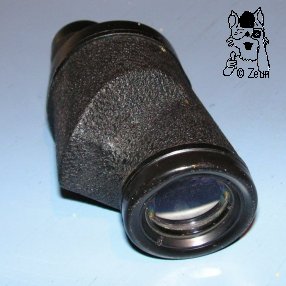 Das Monokular wiegt 324g, der obere fünfach verschraubte Deckel ist 5 x 6,5cm breit, das Gehäuse an der Objektivseite 7cm und gegenüber 5cm lang. Die Objektivfassung misst 46mm im Durchmesser. Der obere Deckel ist innen mit einer Gummidichtung ausgelegt, um einen gewissen Schutz vor einem Eindringen von Nässe und vor Beschädigungen durch Erschütterungen zu bieten. Das Okular ist rechtsseitig im oberen Deckel angebracht.
Vgl . a. US Air Force 6x30.
The monocular weighs 324g, the upper cover fixed by 5 screws measures 5x6cm, the housing is 7cm tall at its objective side and 5cm opposite of that. The objective frame has a diameter of 46mm. The upper cover has a rubber gasket inside, to protect against moisture and damages when dropped. The ocular is integrated on the right side of the cover plate.
Cf. also US Air Force 6x30.
Referenz und Infos – references and further source: Cynthia A. Repinski "The UniveX Story -Universal Camera Corporation", Grantsburg, 1991, S. 169)
Fotos: Zeun