Leitz 4x20 Monotur mit Halterung –
with mount
Dieses Monotur 4x20 Modell von Leitz ist eine besondere Anfertigung mit Brückenstegen und Achse zum Befestigen einer Wandhalterung (s. Bild 3 mit Nachkriegshalterung). Damit ließ sich das Monokular als Kontrolloptik im Filmvorführraum nutzen, um die Bildschärfe auf der Projektionsleinwand zu kontrollieren - siehe dazu die Beschreibung beim Leitz "Montur" 4x20 mit Halterung.
Die Deckelbeschriftung oben ist so angebracht, dass sie bei Benutzung an der Halterung aufrecht zu lesen ist. Sie lautet: "Ernst Leitz Wetzlar Monotur 4x20" ohne Logo. Unten am Steg ist die Seriennummer 133724. Die Linsen sind unvergütet, es handelt sich also um das Vorkriegsmodell. Das Gehäuse hat eine Vulkanitummantelung und eine eingegossene Trageriemenöse. Die Augenmuschel ist aus Kunststoff. Die Dioptrienskals reicht von plus bis minus Acht. Die Deckel sind ohne Schrauben. An der Befestigungsachse gibt es ein 7mm Gewinde für die Wandhalterung.
This Monotur 4x20 model by Leitz is a special model with a bridge and an axis for attaching a wall mount (see pic. 3 with a post-war mount). So the monocular could be screwed to the wall of the projector room to check the image sharpness on the screen - see the description for the Leitz "Montur" 4x20 with mount.
The top cover markings are positioned upright when the monocuzlar is attached to its wall mount. It runs "Ernst Leitz Wetzlar Monotur 4x20". There is no Leitz logo. The serial number 133724 is isncribed at the bottom side of the lower bridge. The lenses are uncoated, so this is the pre-war model. The body has a ebonite covering and a cast-in strap lug. The eyecup is made of plastic. The dioptre scaler anges from plus to minus eight. The cover paltes have no scres. The bridge axis has a 7mm thread for attaching the wall mount.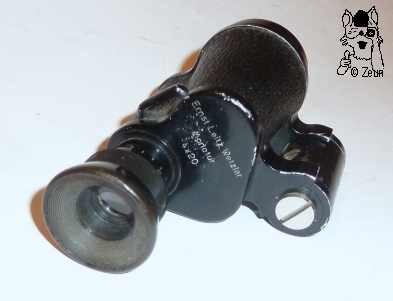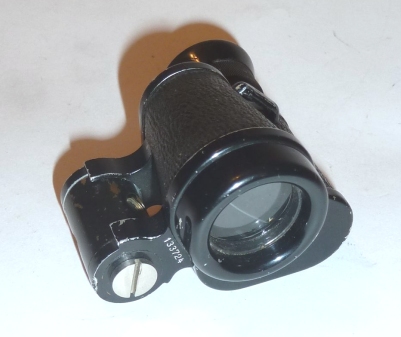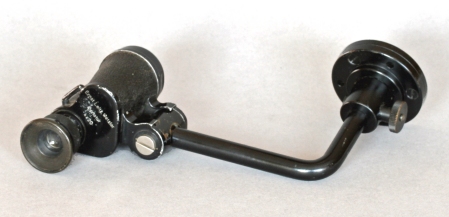 | | |
| --- | --- |
| Das Monotur ist mit der Befestigungsbrücke 158g schwer und ist 68,5mm bis 74mm lang. Das Gehäuse ist oben 37x37mm und unten 41x41mm breit. Die Objektivfassung ist 31mm, das Okular ist 16mm, der Fokussierungsring 23mm und die Augenmuschel 27mm im Durchmesser. | The Monotur weighs 158g with iots mounting bridge. It is 68.5 - 74mm long. The housing measures 37x37mm at its top and 41x41mm at its bottom. The objective frame is 31mm, the eyepiece 16mm, the focusing ring 23mm, and the eyecup 27mm in diameter. |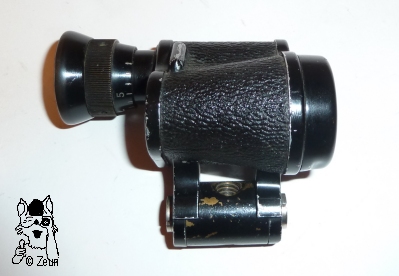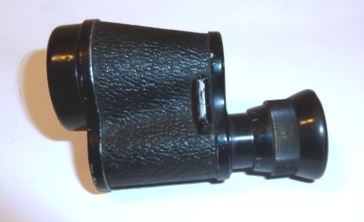 Fotos: Zeun, 3 O. Michaely