Dollond London 6x25 Monocular
Das 6x25 Exemplar von Dollond London trägt den Firmennamen in einer Raute auf dem oberen Deckel. Die Seriennummer ist 1791. Es ist ein typisches Porro-1-Prismenglas mit schwarz lackierten Messingdeckeln, einem lederummantelten Gehäuse, Bakelitaugenmuschel und Dioptrienskala am Okular.
Vgl. a. das in Dollond Paris gefertigte Dollond 6x.
The 6x25 specimen by Dollond London is marked with the firm's name in a diamond logo on the top cover. Serial number is 1791. It features the typical porro 1 prism glass characteristics, such as black painted brass covers, a leather covered body, Bakelite eye-cup and a dioptre scale around the ocular.
Also see the French made (Dollond Paris) Dollond 6x.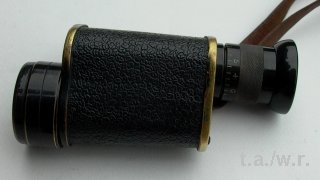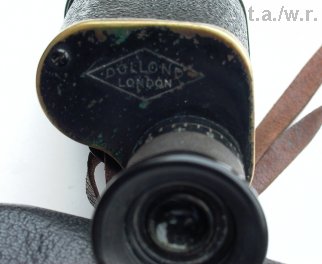 Fotos: T.Antoniades (W.Reid collec.)