Carl Zeiss Jena "Dosenfernrohr grosses Modell" 12x 25x 40x60
Das sogenannte "Dosenfernrohr" wurde zwischen 1897 und 1907 (1909?) hergestellt &ndash. Der frühe Zeiss Schriftzug in geschwungener Schrift weist auf Modelle bis 1904/05 hin. Bislang ist nur ein Modell (Nr. 275) mit Zeiss-Linsen-Logo aus den Jahren nach 1905 bekannt (s. Foto u.).
Die abgebildeten Modelle sind die größere Version, "grosses Modell" (s. Detail) mit 12x-, 25x- und 40x-Okularen sowie einem 60mm Objektiv. Sie haben eine ausziehbare Sonnenblende mit Schutzdeckel, einen lederummantelten konischen Tubus und Hartgummiaugenmuscheln.

Revolver Telescope - large model

The so-called "Dosenfernrohr" (literally: Tin Can Telescope; Engl. designation "Revolver Telescope") was made between 1897 and 1907 (1909?)- the early Zeiss script indicates models with a production time until 1904/05. Until now there is only one model with a Zeiss lens logo (after 1904/05), it has serial number 275 (see photo bottom).
The models depicted here are the larger version - "large model" (see detail) with 12x, 25x and 40x eyepieces and an objective diameter of 60mm. They have an extendable sun-shade with a protection cap, a leather covered conical tube and hard rubber eyecups.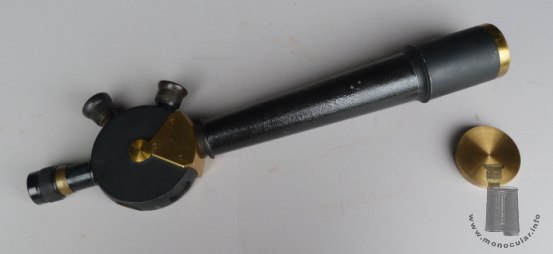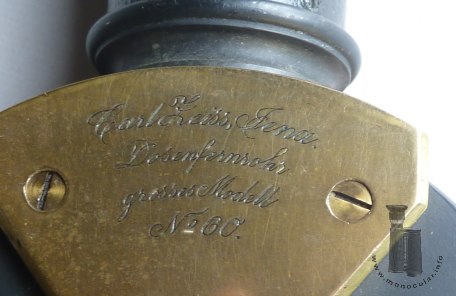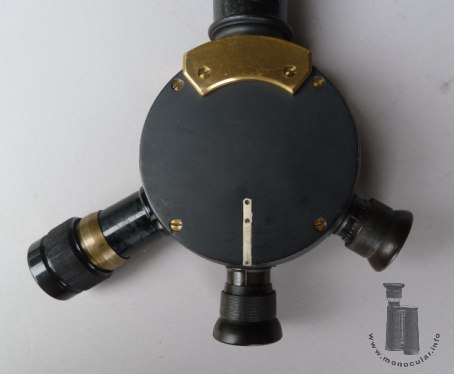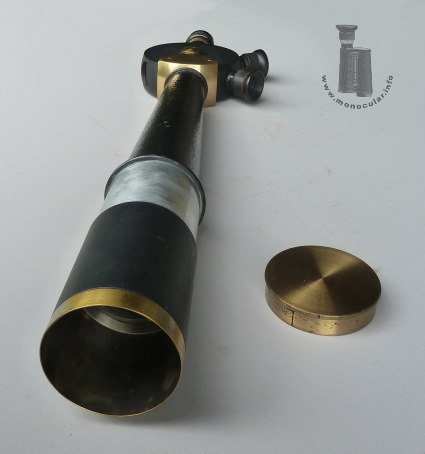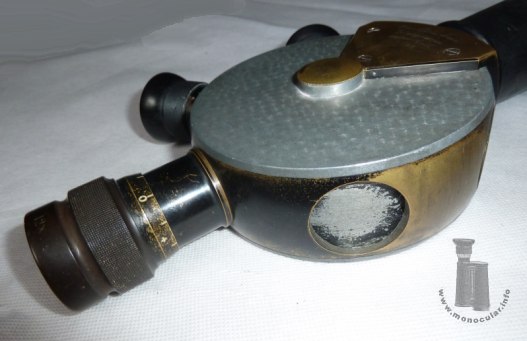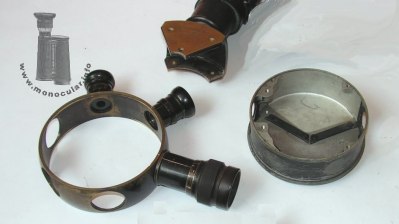 | | |
| --- | --- |
| Der Modellname kommt vom dosenförmigen Prismengehäuse her. Das runde Gehäuse beinhaltet ein geradsichtiges Dachkantprismensystem. Somit ist das Dosenfernohr das erste zivil auf dem Markt in Serie vertriebene Modell mit geradsichtigem Prisma und wechselbarer Vergrößerung. Wie das bereits 1894 skizzierte Modellbild zeigt, ist es mit einem Abbe-Amici-Prisma ausgestattet. Vermutlich ca. zum Zeitpunkt 1901/02 als Zeiss sein Abbe-König-Prisma entwarf, herausbrachte und patentieren ließ wurde das große Modell mit diesem Prisma bestückt (z.B. No. 192), allerdings in einer Version ohne Luftspalt (s. Zeichnungen der Prismen im Vergleich; vgl. a. Abbé-König Prismen in den Dialyt-Gläsern). | The model name derives from its tin can shaped prism housing. The round housing contains a straight-sighted roof prism system. Hence, the Revolver Telescope was the first civilian serial model with a straight-sighted prism and changeable power on the market. Like the model diagram, already sketched in 1894, shows it was built with an Abbe-Amici prism. Probably at the time about 1901/02 when Zeiss developed, issued and patented its Abbe-Koenig prism, the large model was equipped with this prism (e.g. No. 192). Still, this version came without a air space (cf. drawings of the prism); also see Abbé-Koenig Prismen in the Dialyt glasses ). |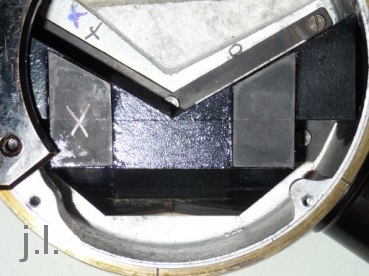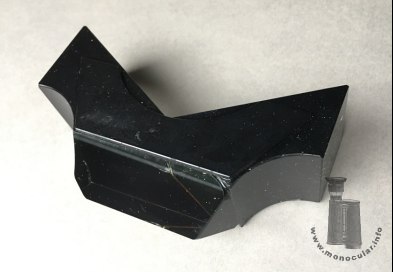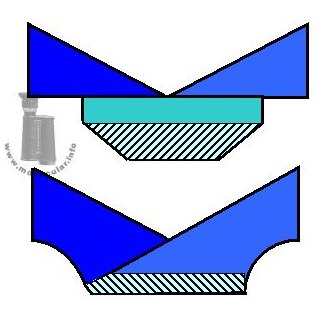 | | |
| --- | --- |
| Das Detailfoto des dosenförmigen Okularrevolvers mit drei Okularstücken (daher die engl. Bezeichnung!) zeigt ein freies (Gewinde-)Loch, das den geradlinigen Strahlendurchgang vom Tubus durch die Prismendose in die Okulare ermöglicht. Die den Okularen gegenüberliegenden Gewindelöchern erlaubt bei der Konstruktion das Einsetzen der Okulare in den Revolverring in 3 beliebige aufeinander folgende Löcher, das Gewinde bietet in den Öffnungen eine gewisse Streulichtvermeidung. Der Revolverring dreht sich frei um das runde Gehäuse und wird nur durch den Objektivtubus gestoppt. Dieser ist an einer klammer- oder gabelförmigen Halterung angebracht und mit dieser an der Prismendose fest montiert. Die Okularstellungen rasten mittels einer außen sichtbaren Metallfeder (aus Messing) ein. | The detail photo of the tin-can ocular revolver with its three eyepieces (hence: English model name) shows an open (threaded) hole which allows the linear path of light from the objective tube through the prism box into the eyepieces. This construction of those holes opposite to the eyepieces allows to screw in the eyepieces one after the other starting at any position. The thread makes up a sort of stray light protection within the housing. The revolver ring rotate freely around the round box. It only stops when reaching the objective tube which is attached to clamp or fork like mounting, and is screwed on firmly to the prism box. The eyepieces snap into position by means of a brass spring that is visible on the outside. |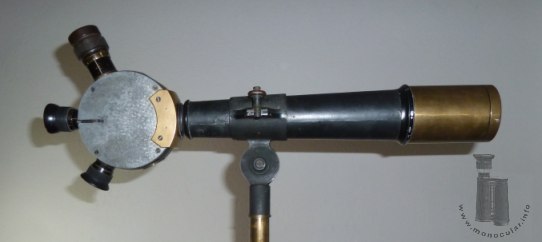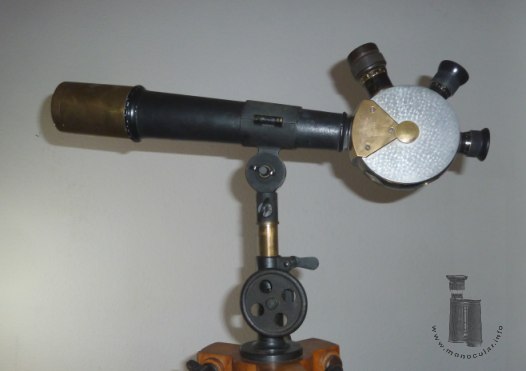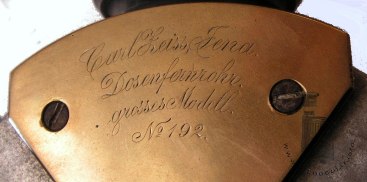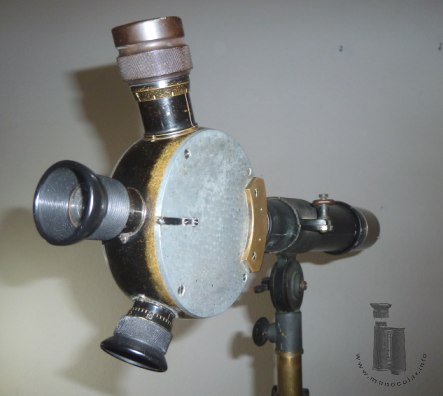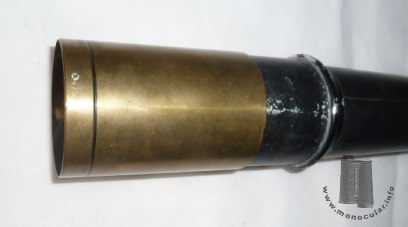 | | |
| --- | --- |
| Das erste gezeigte Modell hat die Seriennummer 60, das zweite Nr. 192. Das große Dosenfernrohr ist 55-59cm lang je nach Okularwahl und wiegt 2490g. Mit dem ausgezogenen Blendschutz verlängert es sich um ca. 10cm. Der Prismendose ist ca. 12cm im Durchmesser bei einer Dicke von 5cm. Alle Okulare haben einen Dioptrienausgleich und 2/3 Augenmuscheln; ihre Länge beträgt 30mm, 35mm und 70mm. Der Objektivtubus ist am Ansatz 50mm und am Objektiv 64mm im Durchmesser. Die Messingteile (Blendschutz, Tubushalterung, Revolverring, Okularstücke) sind oder waren schwarz lackiert, die Prismendose und die Objektivfassung sind aus blanken Aluminium (daher wurde das Modell Nr. 60 evtl. später schwarz lackiert und die Messinghalterungen blank poliert). | The first model has the serial number 60, the second is No. 192. The large "Dosenfernrohr" is 55-59cm long depending on choice if the ocular and weighs 2490g. When the ray-shade is extended, it adds 10 more centimeters to the length. The prism box is 12cm in diameter and about 5cm thick. All eypieces have a dioptre adjustment and 2/3 eyecups. The oculars are 30mm, 35mm, and 70mm long. The objective tube starts with a 50mm diameter and widens to 64mm at its objective end. The brass parts (sun-shade, tube mounting, revolver ring, eyepieces) are or were painted black, the prism box and the objective frame are made of polished aluminium. So, model No. 60 may have been lacquered black and its brass parts polished at a later time. |


Das Dosenfernrohr wurde ursprünglich als kleines Modell entwickelt (vgl. kleines Dosenfernrohr) und unterlag kleineren äußerlichen Konstruktionsänderungen. Das Modell N

o

1. hat die Beschriftung noch auf der bogenförmigen Halteplatte und noch keine Unterscheidung zwischen großem und kleinen Modell. Erst als zwischen den beiden Modellgrößen unterschieden wurde (endgültige Serienfertigung 1909) wanderte die Kennzeichnung auf die Kreisstück-förmigen, annähernd dreieckige Halteplatte. Der bei späteren Modellen in der Mitte der Dosendeckel angebrachte Knopf ist noch nicht vorhanden (ein bekanntes Model Nr. 40 ist noch ohne mittigem Knopf, aber schon mit Beschriftung auf der Kreisstück-förmigen Halteplatte). Die Augenmuscheln sind 3/3 Versionen. die Merkmale sprechen für eine Herstellung vor der eigentlichen im Serienproduktion vor 1909 (erstmals im Katalog angeboten). In den Ausgaben aller Kataloge der "Stand- und Aussichtsfernrohre" werden die gleichen Zeichnungen der Dosenfernrohre abgebildet (im Astro 17, ca. 1907/09 wird nur noch das große Modell angeboten und gezeigt).
Das große Dosenfernohr war mit Holzstativ mit einer mittels Handrädern höhenverstellbaren Stativstange und Ledertransportbehälter erhältlich.
Also see the small Dosenfernrohr The revolver telescope was originally developed as the small model (vgl. small Dosenfernrohr) and then came with some minor outer construction changes. Model N

o

1. has its markings still on its curved clamp plate, and di not mark the difference between the large and small model. Only when Zeiss differed between the two versions (final series production 1909) the inscriptions were engraved on the circle section, sort of triangular mounting plate. There is no boss which was set into the prism box on later models (a known surviving example, model Nr. 40, still comes without the boss, but already with its markings on the triangular mounting plate). The eyecups are 3/3 versions. These characteristics hint to a production date before the actual serial production - so before 1909 (first offered in a catalogue). In all catalogue editions of the "Stand- and Observation-Telescopes" the same drawings of the Revolver Telescopes used (the Astro 17, c. 1907/09 only lsits the large model any more).
The large revolver telescope was available with a leather case and a wooden tripod which had a hand-wheel operated rack-and-pinion centre rod for height adjustment.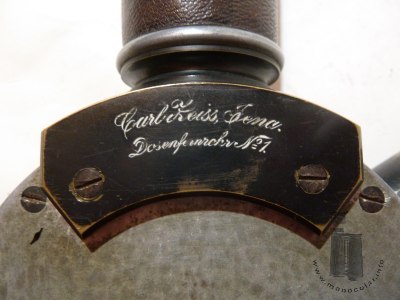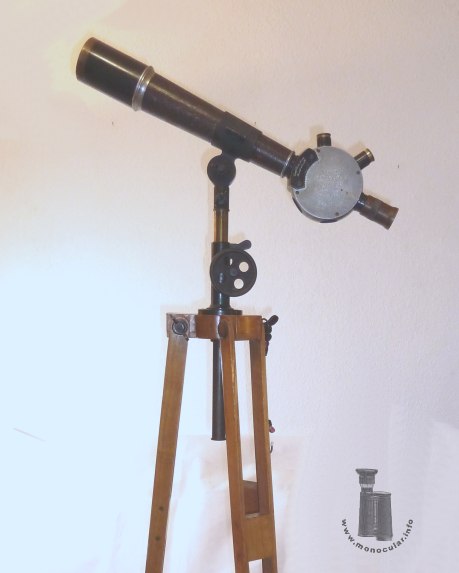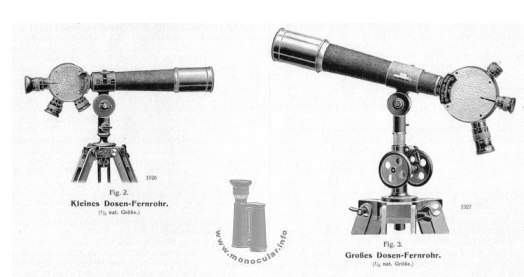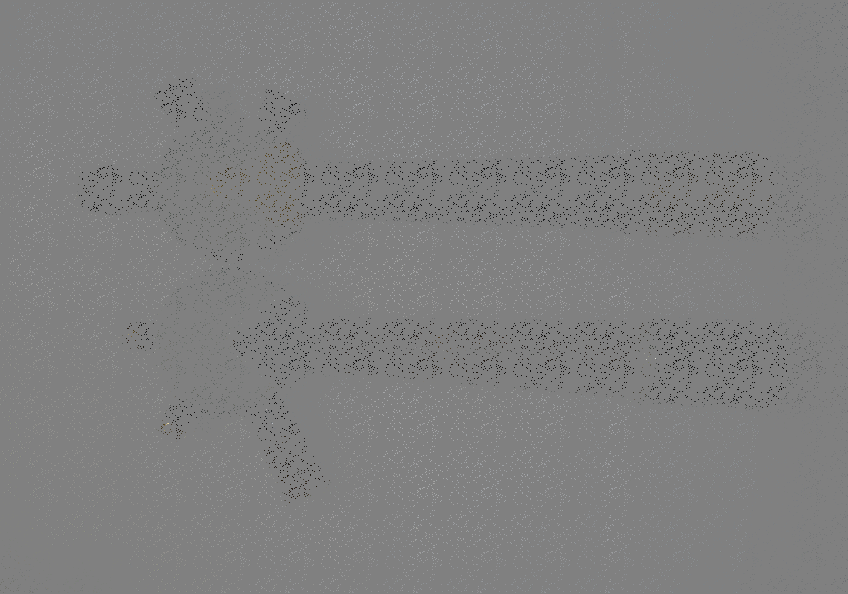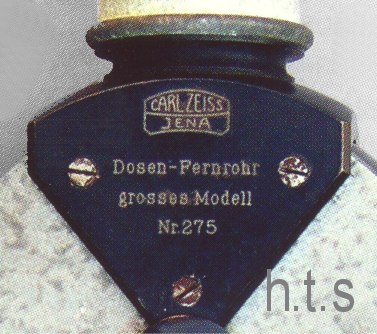 Fotos: Zeun; Bild 6 - Schaubild/sketch: adapt. Gubas VI 11 --> Gleichen; 21 H. Seeger (s. Zeiss Feldstecher ..., 2010, S.| p. 306f.