Carl Zeiss Jena 7x Noctarmo
Ein recht seltenes Monokular ist das Carl Zeiss Jena 7x50 Noctarmo (s. Gubas, V32) mit einem Abbe-König Prismensystem in einem runden Prismengehäuse. Am Objektivtubusansatz ist ein Lederriemen mit Trageösen angenäht. Es gibt eine auziehbare Sonnenblende am geraden Objektivtubusende. Das Prismengehäuse ist in einem Guss mit dem konischen Tubus. Dieser hat mehrere Streulichtblendringe innen. Der obere Deckel ist schwarz lackiert und 4fach verschraubt. Die Beschriftung ist mit dem Linsen-Logo, darüber die Seriennummer und darunter nur "7x". Dies passt zur Produktionszeit zwischen 1911 und 1919/20. Als Militärmonokular wird es im Weltkrieg als "Monsieben" deklariert. Die umlaufende Dioptrienskala des Okualrs ist von + bis - 5 beschriftet.
Das erste abgebildete Modell stammt ca. von 1911 (s. Foto), vom Anfang der Modellserie und hat ein längeres Prismengehäuse sowie die ausziehbare Sonnenblende hinter einem breiteren Tubusring. Die Beschriftung lautet "254023 - Carl Zeiss - Jena 7x", weitere bekannte Exemplare von 1913-14 haben die Seriennummern 327805 (?), 395361, 395367, 395368.
A quite rare monocular is the Carl Zeiss Jena 7x50 Noctarmo (see Gubas V32) with an Abbe König prism system in a round prism body. At the start of the objective tube a leather strap with two lugs is sewn around.
There is a extendable sunshade on the straigth objective tuve end. The prism hosuing is cast in with the conical tube. The latter comes with several stray light stop rings inside. The upper cover is painted black and fixed by four screws. The markings are the lens logo, the serial number above, and the specifications stating only the power of "7x". This matches the production period from 1911 to 1919/20. Durinmg the Great War as a military monocular is was designated "Monsieben". The full dioptre scale is marked from + to - five.
The first shown model dates from c. 1911 (cf. Foto), from the beginniong of the model series. It has a more slender but slightly longer prism housing and an extendable sunshade afte a wider straight tube part. The inscriptions are "254023 - Carl Zeiss - Jena 7x". Other known specimen have the serial numbers 327805 (?), 395361, 395367, 395368 - hence dating from 1913-14.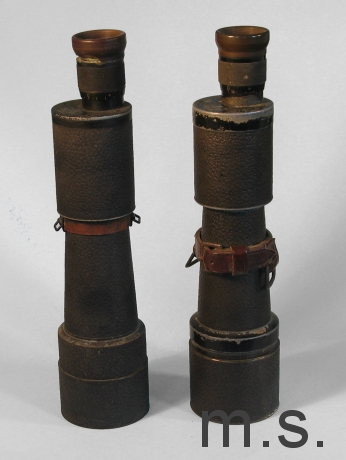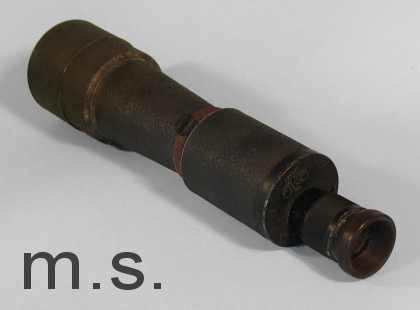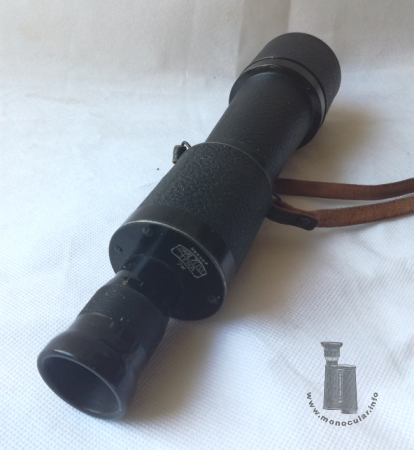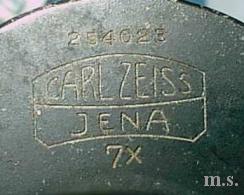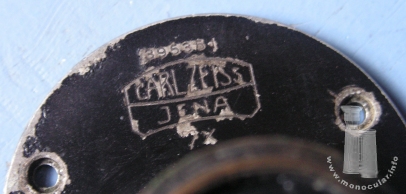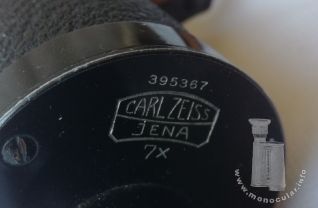 Das lederummantelte Noctarmo hat ein Sehfeld von 5,7° (100/1000m).
Die gleiche Bauweise zeigt das Kern 7x50 und vermutlich spätere Kern 7x45 Monokular. Diese können als militärische Nachbauten aus der Schweiz gelten. Ein gleichartiges 7x50 mit Beleuchtungseinheit und Kimme-Korn-Visier, auf einem Richtkreis montiert, mit Carl Zeiss Logo und Beschriftung "7x 5,9°" ist bekannt. die Nummer liegt bei 600Tsd., also von ca. 1916. Die Fertigungsart dürfte nach dem 1. Weltkrieg dann von Kern Aarau in Lizenz übernommen und weiter gebaut worden sein.
The leather covered Noctarmo has a fiel of view of about 5.7° (100/1000yds).
The same design was used for the Kern 7x50 and probably later Kern 7x45 monoculars. Those can be taken as being military reproductions form Switzerland. There also is an almost identical 7x50 but with a illumination unit and notch and bead sight, and mounted on an aiming circle, but inscribed with the Carl Zeiss logo and "7x" as well as "5,9°" to the left and right of the logo. It serial number is within the 600 thousand range, thus dating from about 1916. This design was reproduced and continued - most likely with some Zeiss licence - by Kern Aarau after WWI.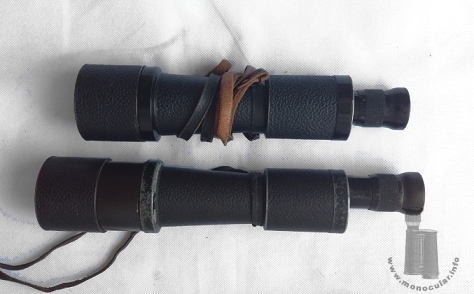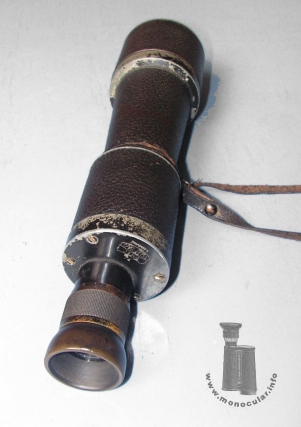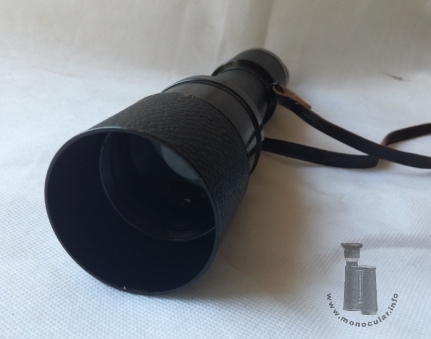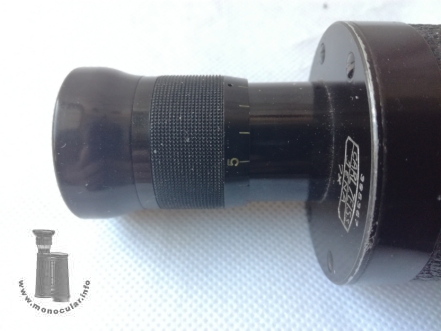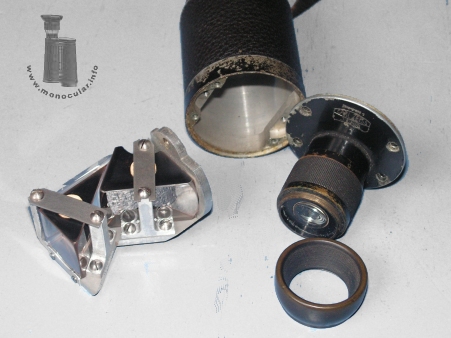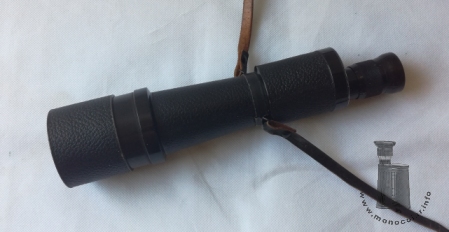 Das 7x50 wiegt ca. 576 g mit Trageriemen. Der passende braune 28cm lange Lederköcher wiegt 395 g (Durchmesser 65-85mm).
Das Monokular ist 260-265 mm lang und 300mm mit ausgezogener Sonnenblende. Diese ist 61mm und der gerade Tubus darunter 57mm im Durchmesser. Der 85 mm lange konische Tubus verbreitert sich von 40 auf 50 mm im Durchmesser. Das 63mm lange Prismengehäuse ist 50,5 mm, das Okualrstück 26 mm, der geriffelte Fokussierungsring 30 mm und die Augenmuschel 34 mm im Durchmesser.
The 7x50 weighs c. 576 g with its carrying strap. The matching brown 28cm long leather case weighs 395 g (diameter 65-85 mm).
The monocular is 260-265 mm long and 300mm with its extended sunshade. The latter is 61 mm, and the straight tube below 57 mm in diameter. The 85 mm long conical tube icnreases from 40 to 50 mm in diameter. The 63 mm longe prism hosuing is 50.5 mm, the eyepeice 26 mm, the knurled focusing ring 30 mm, and the eyecup 34 mm in diameter.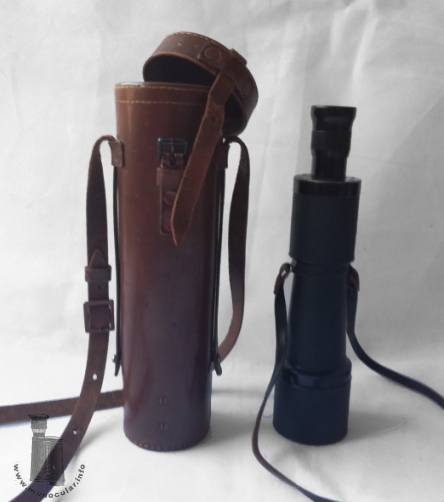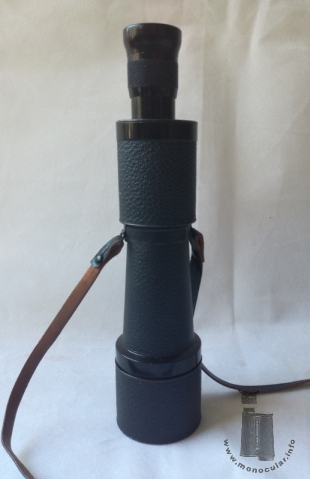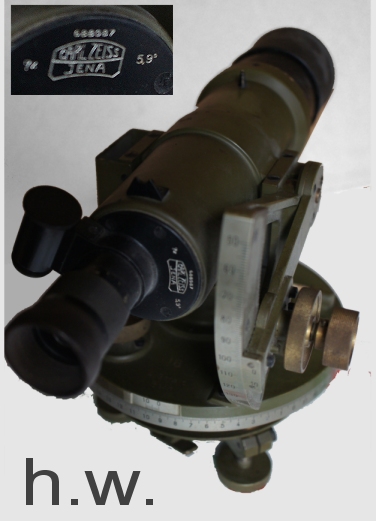 Fotos: Zeun; 1, 2, 4 M.Simonson; 15 H. Weigum