Carl Zeiss 3,5x15
| | |
| --- | --- |
| Dieses kleine Carl Zeiss Jena Monokular mit Porro-II-Prismensystem hat die Werte 3,5x15 (4mm Austrittspupille). Jedes Monokular ist eine Hälfte eines Paares, das zu einem Spiegelstereoskop zum Auswerten von Luftbildern gehört. Das Gerät diente der zivilen und ggf. militärischen Verwendung; die olivgrüne Ummatnelung bzw. Lackierung war keine Militärlackierung, sondern eher eine Modefarbe (Zeiss-Bronzegrün) bei VEB Zeiss Jena ab den 50er Jahren. Der obere Deckel ist mit dem Linsenlogo und Carl Zeiss Jena, darunter die Seriennummer. Bilder 1 u. 2 zeigen eines mit Seriennummer 2494582, Bild 3 ein Paar mit Numemrn 2627232 und 2627251, Bild 4 mit Nr. 2637263 sowie 2637264 als Folgenummer. | This small Carl Zeiss Jena monocular with a porro II prism system has the specifications of 3.5x15. Originally it is just one part of a pair of monoculars used at a (mirror-)stereoscope for analyzing aerial views. The device was used for civilian or military use, whereas the green painting is only a trend colour (Zeiss bronze green) of the 50s used by VEB Zeiss Jena, and not denoting a military use. The top cover plate is marked with the lens logo and Carl Zeiss Jena, below a serial number. Pictures 1 and 2 show a model with serial number 2494582, picture 3 a pair with numbers 2627232 and 2627251, and finally pictues 4 a pairr with consecutive numbers 2637263 and 2637264. |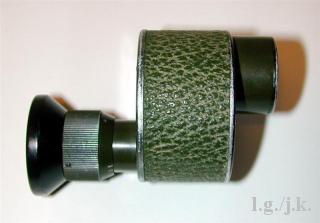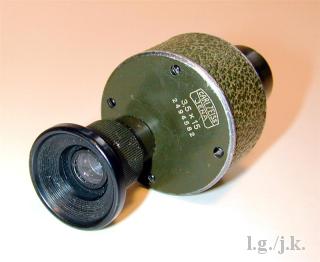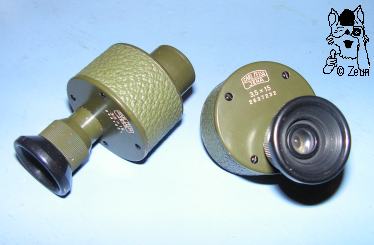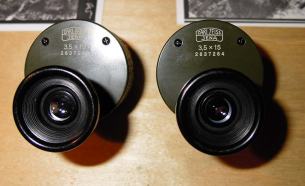 Die Fokussierung geschieht am Okular und reicht von der Nähe bis unendlich. Das Monokular wiegt 76g und ist ca. 65mm - 70mm hoch. Das Prismengehäuse ist 25mm hoch und hat einen Durchmesser von 43mm. Der Okulardurchmesser beträgt 15mm, der des Objektivfassung 22mm und der Augenmuschel 28mm. Die dioptrienskala hat Markierungen von + bis -10, gekenzeichnet bei Null, +5 und -5.
Alle Teile des Stereoskops konnten in einem Holzkoffer mit gleicher grüner Außenlackierung verstaut werden. Das Stereoskop trägt das "1Q"-Emblem für "Erste Qualität". Die Monokulare werden in einen wegklappbaren Aufsatz gesteckt, welcher wiederum auf das aufgestellte Spiegelstereoskop fixiert wird.
Focusing is done at the ocular, ranging from close up distance to infinity. The monocular weighs 76g and is about 65mm - 70mm tall. The prism housing is 25mm tall and measures 43mm in diameter. The diameter of the eyepiece is 15mm, the one of the objective frame is 22mm, the one of the eyecup is 28mm. The dioptre scale has lines from +10 to -10 being marked at zero, +5 and -5.
All parts could be stored in a wooden case with the same green finish. The stereoscope has the "1Q" emblem standing for "1st Quality". The monoculars are slipped into a swing-back mounting frame, whcih again is attached to the set-up stereoscope.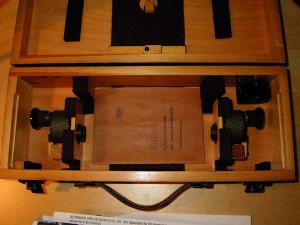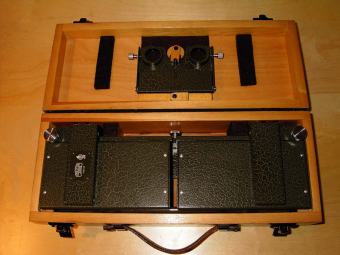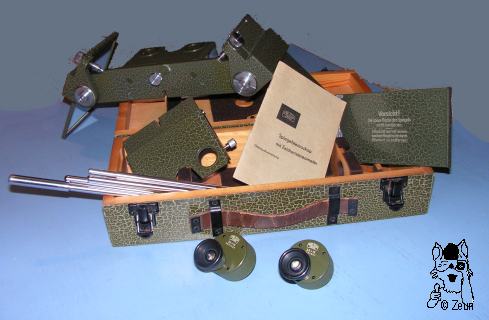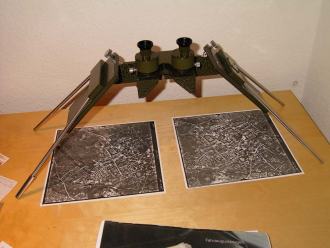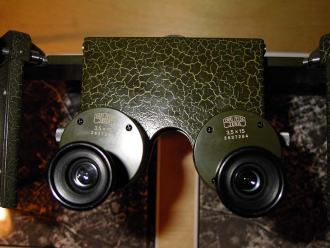 Fotos: 1-2 L. Gubas/J. Kelly; 4-6,8-9 S. Oechelhaeuser; 3,7 Zeun