J.D. Möller "Cambinox" Monokularer Prototyp

In 1956 brachte Möller Wedel seine Fernglas-Kamera "Cambinox" auf den Markt. Es wurde bis ca. 1963 produziert. Das hier gezeigte monokulare Modell ist ein Prototyp bzw. Einzelstück; weitere sind nicht bekannt. Es ist eine 16mm-Kleinstbildkamera mit einem 7x35 Monokular mit einem Abbe-König Prisma (s. Patentzeichnung) und bläulicher Vergütung der Optik. Die Beschriftungsplatte am schrägen hinteren Kamerateil ist mit "CamBinox", "MÖLLER WEDEL" im Firmenlogo und "MADE IN GERMANY" sowie der Seriennummer 322172 graviert. Die Seriennummer scheint die erste für die Cambinoxmodelleserie S (ab 1959) ohne Entfernungsskala am Einstellring außen, jedoch mit Strichplattenablesung der Entfernung zu sein (monokualrer Prototyp für die S-Modelle !?).
Der Fernrohrkorpus und die Kamera sind mit einem strukturiertem Hartgummi überzogen, Metallteile sind schwarz lackiert. An der Unterseite seitlich versetzt am Monokular befindet sich ein 3/8 Zoll Stativgewinde. Die Augenmuschel ist aus Kunststoff, aber nicht für Brillenträger umstülpbar.

J.D. Möller "Cambinox" Monocular prototype

In 1956 Möller WEdel brought out their binocular camera "CamBinox". It was made until 1963. The monocular model shown here is a prototype or unique version - other monocualr models are not known. It is a 16mm subminiature camera with a 7x35 monocular having a Abbe-Koenig prism (cf. patent sketch) and ablueish coating. The markings on the sloping back plate of the camera body are "CamBinox", "MÖLLER WEDEL" within the company's logo, and "MADE IN GERMANY" as well as the serial number 322172. The serial number seems to be the first of the camBinox model series S (since 1959) which had no distance scale at the adjsutment ring, but with a reticle with a distance scale (monocular prototype for th eS series !?).
The telescope housing and the camera is covered with a textured ebonite . The metal parts are lacquered black. At the bottom of the monocular off-set to the centre of the isntrument is a 3/8 inch tripod thread. The eyecup is made of plastic, but not foldable for spectacle wearers.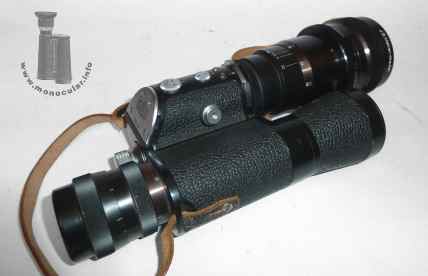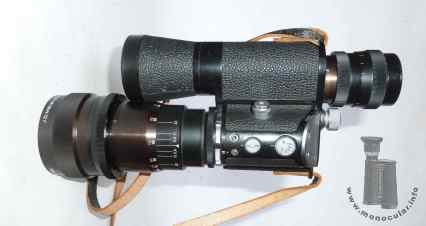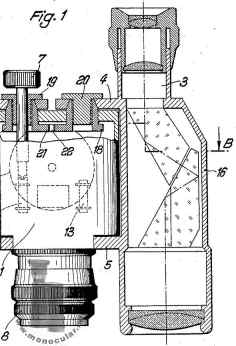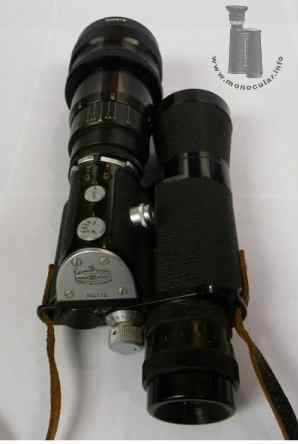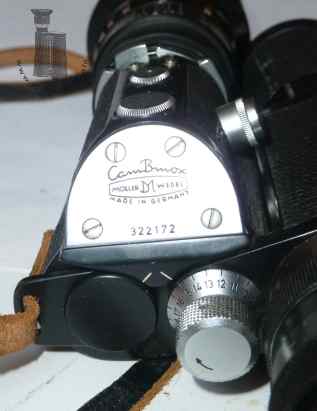 | | |
| --- | --- |
| Das Okular hat ein komplett umlaufende Dioptrienskala, jedoch nur mit +, - und 0 markiert. Der zusätzliche Fokussierungsring ist nicht gekennzeichnet wie dies bei anderen Cambinox-Modellen war (N Serie). Die eigestellte Entfernung lässst sich im Okular auf einer Strichplatte mit Ringskala ablesen (bei binokularen Modellen gab es zwei Ringskalen). Die Distanzzahl korrespondiert mit einem Zeiger am Rand des Okulars (s. Foto 11). Anhand dessen lässt sich die Entfernungseinstellung auf die Justierung des Kameraobjektiv übertragen. Eine Einspiegelung des tatsächlichen Kamerabildes gibt es nicht. Das Fernrohrsehfeld beträgt 127m/1000m. | The eyepiece has a full dioptre scale only marked with +, - and 0. The additiioonal focusing ring has no refernce markings as it was on other CamBinox models (N series). The adjsuted distance can be read from a reticle with a ring scale (the binocular models had two ring scales). The distance numbers correspond with a pointer at the rim of the eyepiece image (s. photo 11). This lets transfer the distance adjustment to the camera lens. The true image of the camera is not deflected into tjhe eyepiece. The monocular field of view is 127m/1000m. |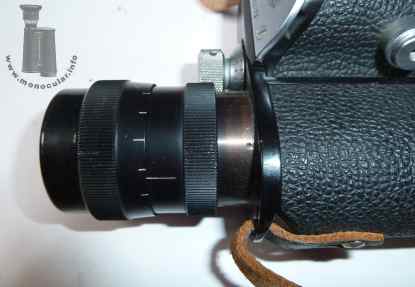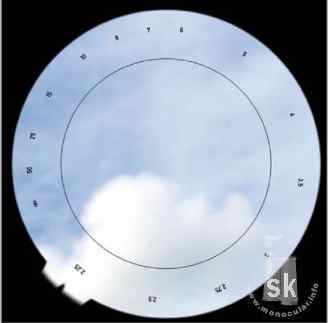 | | |
| --- | --- |
| An der Kameraoberseite befinden sich verschiedene Knöpfe, wie der Auslöser mit Drahtauslösergewinde, Sockel für den Blitz (M = Vacublitzbirnen, X = ELektronenblitze) und ein Drehknopf für den Verschluss-Modus (B = bulb/Zeit, M = Moment) sowie ein Wahlknopf für die Verschlusszeiten. Am hinteren Kamerateil (Okulaseite) ist ein Drehregler zum Spannen oder Aufrollen des Films, der auch als Bildzähler dient. Links davon ist anstelle der zweiten Fernrohrbefestigung (Binokularmodell) eine Trageriemnöse befestigt (Indiz für eine originale Monokularversion, nicht ein späterer Umbau eines Ferngalses). An der Kameraunterseite lässt sich nach Entriegeln der Filmbehälter entnehmen, in dem eine 10x14mm Kleinbildrollfilmkasette für 20 Aufnahmen eingelegt wird. Die von Möller für die Cambinox entwickelten Kamera-Objektive mit einem Bajonettanschluss lassen sich auch bei der Monokular-Cambinox nach Entriegelung austauschen. Das Bild wird mittels eines 45° Spiegels auf den Film umgeleitet. | There are several buttons on the top of the camera body such as the release with a thread for a wire release, a mnoiunt for the flash (M = vacuumm flash bulbs, X = eLectronic flash), and a wheel knob for the shutter mode (B = bulb/time, M = moment) as well as a button to chose shutter times. On the back camera part (eyepiece side) is a knurled knob for winding (up) the film, also marked with a exposure counter. Left of it is a strap lug (proof for a original monocular version, not a later refurbished binocular model) instead of a second telescope mounting (binoculars model). After unlatching you can pull out the film container which carries a 10x14mm subminiature roll-film cartridge for 20 exposures. The camera lenses developed by Möller for the CamBinox can also be exchanged and attached with a bayonet mount when pushing a release lever. The image is deflected by a 45° mirror onto the film. |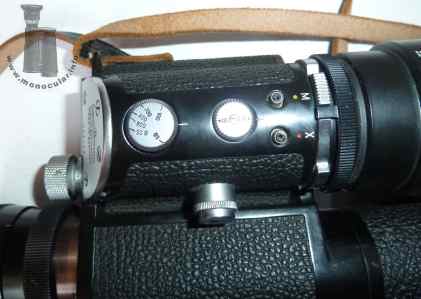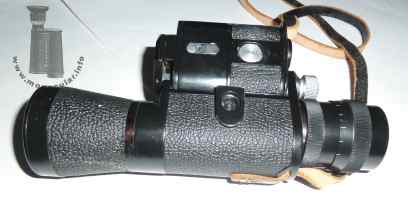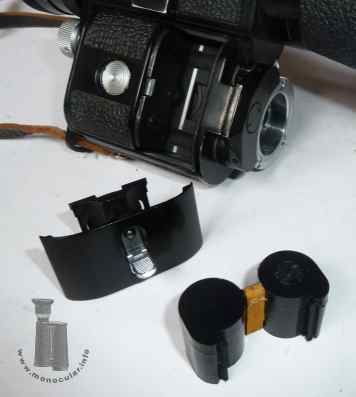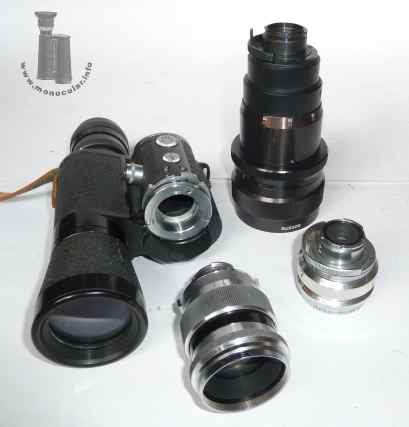 | | |
| --- | --- |
| Das Cambinox Monokular wiegt ohne Objektiv mit Trageriemen 638g. Es ist 177-190mm lang. Das Kameragehäuse misst ca. 72x55x57mm. Das Okularstück ist 33mm, der Fokussierungsring 37mm, der Dioptrienring 40mm und die Augenmuschel 36mm im Durchmesser. Der Fernrohrkörper ist ca. 38mm im Durchmesser. Das 54mm lange konische Objektivstück verbreitert sich von 38mm auf 48mm im Durchmesser. | The CamBinox monocular weighs 638g with its strap but wihtout an objective lens. It is 177-190mm long. The camera housing measures about 72x55x57mm. The eyepiece is 33mm, the focusing ring 37mm, the dioptre ring 40mm, and the eyecuzp 36mm in diameter. The monocular body is about 38mm in diameter. The 54mm long conical objedtive tube increases from 38mm to 48mm in diameter. |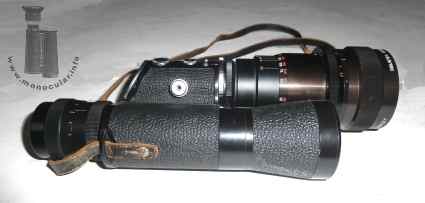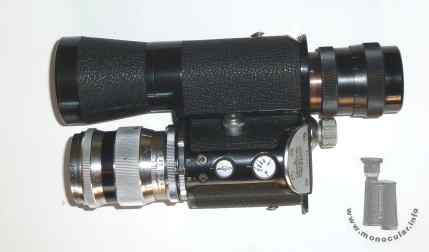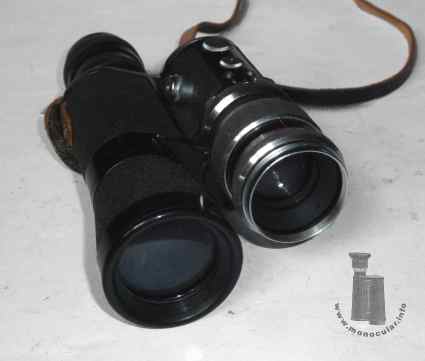 | | |
| --- | --- |
| Die in Foto 11 abgebildeten Kamera-Objektive sind ein Jdemar 3,5/35, ein Jdemar 3,5/90 und ein Jdemar 3,5/180. | The camera lenses depicted in photo 11 are a Jdemar 3,5/35, a Jdemar 3,5/90 und a Jdemar 3,5/180. |
Fotos: Zeun; 7: St. Köser