Lemaire monokulares Perlmutt-Opernglas

Dieses Perlmutt-Monokular war ursprünglich ein "zweiäugiges" Opernglas und stammt aus dem Hause Fabi Lemaire aus Paris (Okularbeschriftung). Es dürfte zwischen 1880 und 1920 gefertigt worden sein.
Die Tubusteile wurden von den Verstrebungen getrennt (schraubbar) und sind nunmehr rausziehbar. Besonders schön ist, dass beide Tuben mit Perlmutt ummantelt sind.
Im untereen Bild ist ein komplettes Lemaire Opernglas zu sehen.

Lemaire monocular Mother of Pearl Opera Glass

This mother-of-pearl monocular originates from a binocular opera glass. It was made by "Fabi Lemaire" of Paris (see ocular frame). It dates from 1880 to 1920.
The tube bodies were seperated from its hinges/bridges. Therefore the ocular part can fully be pulled out from the objective body now. Both body parts are coated with mother-of-pearl.
In the picture below you can see a complete Lemaire opera glass.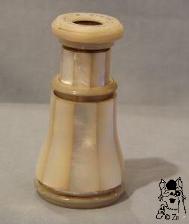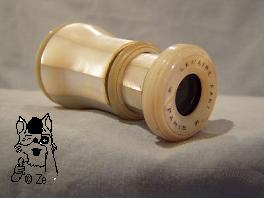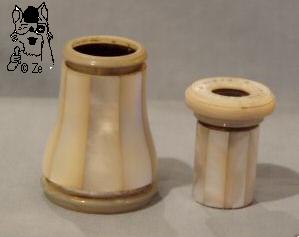 Die Okularringe/Augenmuscheln sind mit dem Firmennamen und -zeichen (einer Biene) beschriftet: [Lemaire Fabi ÷ Paris ÷] (s. 2. Bild oben).

Ein monokulares Glas wiegt 68g, geschlossen 60mm und geöffnete 75 mm lang, hat einen Durchmesser von 36mm - die Objektivlinse ist 26mm. Es erreicht eine 2- bis 3fache Vergrößerung.

The ocular lens frames are marked with the firm's name and logo (a bee): [Lemaire Fabi ÷ Paris ÷] (s. 2nd pic. above).

One of the monocular parts weighs 68g. Length is 60mm closed and 75mm opened. The diameter is 36mm, the objective lens 26mm.. The magnification reaches 2 to 3 times.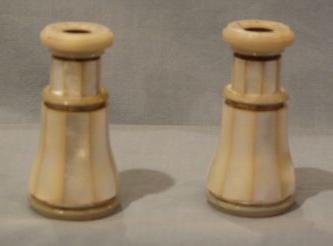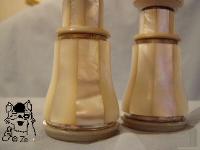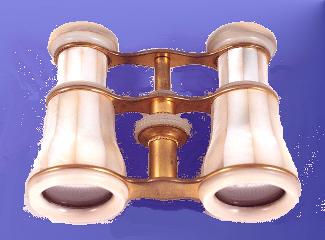 Fotos: Zeun + Quelle: Ebay-Auktion