Lemaire 6x 8x 10x
Dieses Porro-1-Prismenmonokular von Lemaire Paris hat ein Wechselokular mit 6-, 8- und 10facher Vergößerung wie sein binokulares Pendant (s. Bild unten). Dass dies als originäres Monokular konstruiert wurde, belegt die Objektivfokussierung.
Um die Vergrößerung zu wechseln wird das 37mm lange Messing-Okularstück, welches außen wie eine Augenmuschel geformt ist, gedreht. Eine Zahnstange im Inneren verschiebt eine Trägerscheibe mit 3 Okularlinsen. Zum Gehäuse hin ist das Okular mit den Vergrößerungstufen beschriftet. Eine Referenzlinie am festen Anfagnsteil des Okularstücks lässt den Benutzer die Vergrößerungsstufe ablesen. Gleichzeitig rastet das Okular beim Drehen in den korrekten Positionen ein. Durch das Augenloch der Okularmsuchel kann man neben den Linsen ebenfalls die zugehörige Vergrößerungszahl (klein eingraviert) ablesen.
Die Objektivfokussierung hat eine Dioptrienskala, die von + bis - 10 reicht und mit plus und minus sowie "0" und jeweils "5" und "10" markiert ist. Am Objektivtubus befindet sich wiederum eine Referenzlinie.
This porro 1 prism monocular by Lemaire PAris has a rotating ocular lens disc with 6, 8 and 10 times power lenses just like its binocular pendatn (s. bottom pic ). A proof that this is a genuine monocular construction is the objective focusing.
To change magnification you turn the 37mm long brass eyepiece which is shaped like an eyecup at the end. A rack and pinion system inside the eyecup piece turns a disc with its three ocular lenses. Near the top cover plate the eyepiece is marked with the mangification steps corresponding to a reference line at the ocular tube. Moreover, the ocular clicks into place for the right lens position. The lens power is also engraved next to the ocular lenses on the disc, and can be read through the eye-hole.
The objective focuisng tube has a dioptre scale ranging from plus to minus ten . It is inscribed wiht 0, +, -, and with 5 and 10 to each side. Again there is a reference line at the objective tube.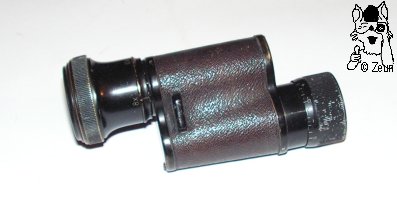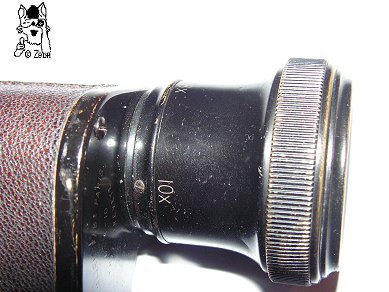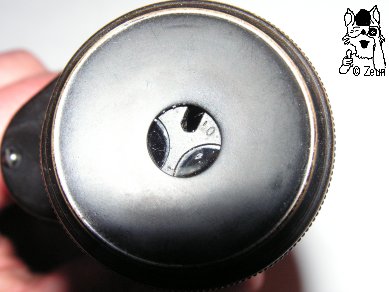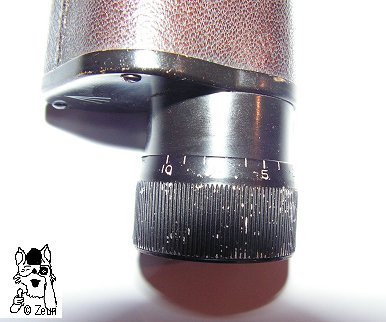 Der obere Deckel ist mit "Lemaire Fabt Paris" (Fabt. = Fabrikant) sowie "Syst. Brevete" (= patentiertes System) beides in einem Bogen um "6 - 8 -10" beschriftet. Der untere Deckel hat den "broad arrow" eingraviert, der sich auch auf dem Verschlussdeckel des Lederköchers befindet. Das Glas wurde also im britischen Militär eingesetzt.
Die Deckel selbst sind zweifach verschraubt und schwarz lackiert wie auch die anderen Mesiing- und Aluminiumteile. Das Gehäuse hat eine eingegossene Trageöse und eine dunkelbraune Lederummantelung mit Ledernaht. Das Monokular wurde im frühenn 20. Jh. gebaut.
The top cover is marked "Lemaire Fabt Paris" (Fabt. = fabricant/maker) as well as "Syst. Brevete" (= patented system), both bending around the centreed "6 - 8 - 10" inscription. The bottom cover is engraved with the "broad arrow" which can also be found on the top lid of the leather case. So the glass was used in British services.
The cover plates themselves have two screws and are painted black as allt he other metal parts are. The housing has a cast-in strap lug and a dark brown leather covering with a seam. The monocular was made in the early 20th century.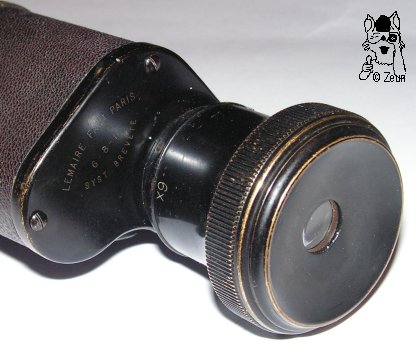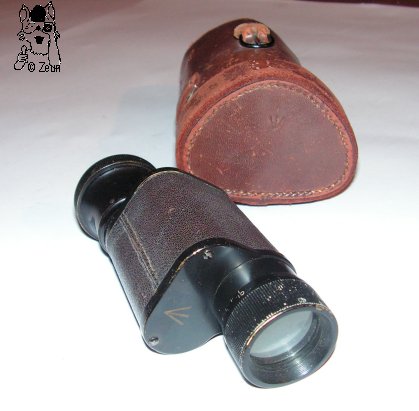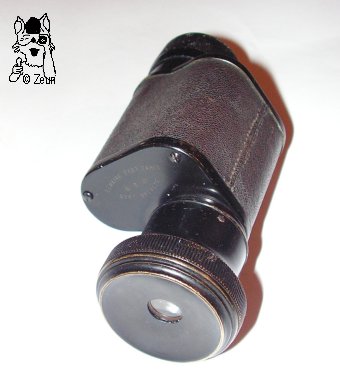 | | |
| --- | --- |
| Das Lemaire ist 120-127mm lang^, das 57mm hohe Gehäuse oben 46x46mm und unten 49x49mm breit. Der Objektivtubus ist 31mm, der Fokussierungsteil 34mm im Durchmesser. Das Okular ist am festen Ansatz 28mm, am Mittelstück 31mm und bei der geriffelten Augenmuschel 41mm im Durchmesser. Das Glas wiegt 310g. | The Lemaire monocular is 120-127mm in length. The housing measures 46x46mm at its top and 49x49mm at its bottom. The objective tube is 31mm, the focusing piece 34mm in diameter. The fixed eyepiece has a 28mm diameter, the turnable ocular part is 31mm, and the knurled eyecup end is 41mm in diameter. The glass wieghs 310g. |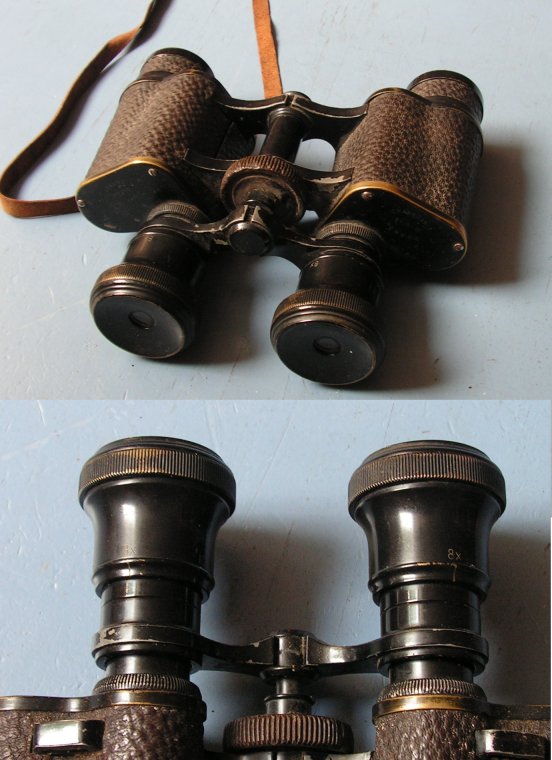 Lemaire 8x 10x 12x binokular
Fotos: Zeun