Leitz 10x50 'Montix'
Das Leitz 10x50 wurde von ca. 1932 bis 1962 mit der Bezeichnung "Mondix" hergestellt und hatte ein Sehfeld von ca. 5° (Angaben nach http://home.europa.com/~telscope/binotele.htm). Das vorliegende Modell ist allerdings /falsch) mit "Montix" am Deckel beschriftet. Es hat die Seriennummer 614983 und stammt aus der Zeit nach dem 2. Weltkrieg, da es bereits vergütete Linsen hat. Am unteren Gehäusedeckel ist es mit "Made in Germany" beschriftet.
Es ist aus schwarz lackiertem Aluminium mit Rauhlackummantelung und eiuner Bakelitausgenmuschel. Der Dioptrienausgleich reicht von plus bis minus 5. Ein passender Lederköcher ist vorhanden.
The Leitz 10x50 was produced from about 1932 to 1962, named as model "Mondix". Its f.o.v. was about 5° (source: http://home.europa.com/~telscope/binotele.htm). The depicted specimen is (wrongly) engraved "Montix" at its top cover. It has the serial number 614983. It was made after WW2, as the lenses are already coated. The bottom cover of the prism body is inscribed "Made in Germany".
It is made of black lacquered aluminium covered with a rough crinkle paint. The eyecup is made of Bakelite. The dioptre adjusment ranges from plus to minus 5. It comes with a leather case.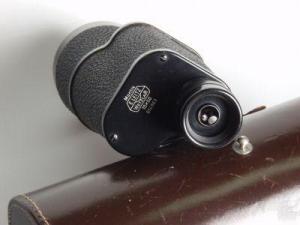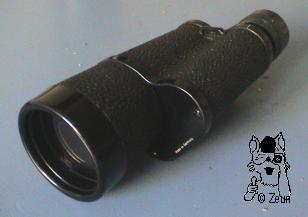 Werte
Länge: 16,3-16,7cm (je nach Okulareinst.)
Gehäusebreite: 6x6cm (Objektivseite: 6,5x6,5cm) Objektivtubusdurchmesser: 6cm
Austrittspupille: 5mm
Gewicht: 412g
Specifications
Length: 16.3-16.7cm (depend. on ocular adj.)
Width: 6x6cm (objective end: 6.5x6.5cm) objectiuve tube diameter: 6cm
Weight: 412g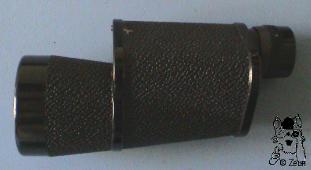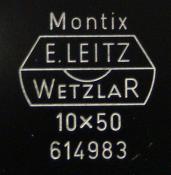 Fotos: 1 Ebay Auktion; 2-4 Zeun