Lieberman & Gortz 20x40
Ein mit grauem Rauhlack lackiertes 251g leichtes Aluminium Monokular der Englischen Firma Lieberman & Gortz. Es ist 17-18cm lang. Das Prismengehäuse ist 5,5cm hoch und 6,5cm im Durchmesser, der Objektivtubus ist 8cm lang und am Ende 48mm im Durchmesser. Die Augenmuschel ist aus Kunststoff und die Dioptrienskala unten mit +3, 0 und -3 sowie rundumlaufenden Strichen markiert.
Die Prismendose enthält ein Porro 1-, nicht wie die Form vermuten lässt, ein Porro 2-System, welches in einer ebenfalls dosenförmigen Halterung befestigt ist. Der obere Deckel ist mit dem Firmennamen und den Werten 20x40 bedruckt.
This is a monocular with a light aluminium body weighing 251g and lacquered with grey crinkle paint. It is made by Lieberman & Gortz. Lenght is 17-18cm. The prism body is 5.5cm tall and 6.5cm in diameter; the objective tube is 8cm long and 48mm in diameter at its end. The eyecup is made of plastic having a dioptre scale around its bottom marked with lines and +3, 0 and -3.looks like one bearing a porro II system.
The prsim box contains a porro 1 system, not porro 2 prisms as the round box might suggest. The prisms are mounted on an also round box frame. The top cover is marked with the producer's name and the optical specifications of 20x40.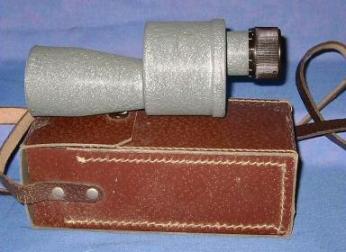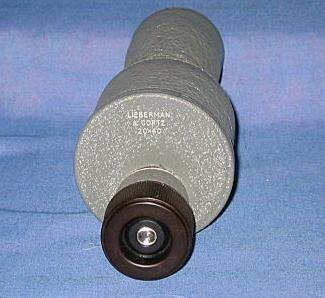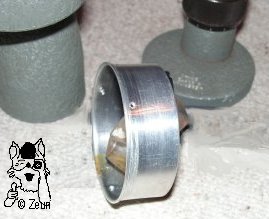 Fotos: Ebay-Auktion, Zeun