J.G. Hofmann Sehkonus

Ein Sehkonus oder Steinheilkonus ist eine Art einlinsiges Galileisches Fernrohr aus nur einerm Glasstück mit konkaven Schliff an der Okularseite und konvexem Schliff als Objektiv; eine schwarze Lackierung verhinderte den seitlichen Lichteinfall. Diese Konstruktion wurde von Steinheil München ca. 1833 erfunden, war dort 27 mm lang und vergrößerte 1,6fach (s. Franz/Reutinger: Steinheil - Optik mit Tradition; Stuttgart, 2001, S. 41) (s. Foto unten).
Der vorliegende hier abgebildete Sehkonus wurde von J.G. Hofmann in Paris gefertigt und dürfte daher aus der Zeit von ca. 1860-1870 stammen. Er wurde in einer breiten ovalen Konusform geschliffen und zum Halten mit braunen Leder ummantelt. An einer flachen Lederseite ist mit goldenen Lettern Hofmanns Firmenname eingestempelt. Dies ist die Hofmann-typische in einem Oval eingefasste Beschriftung. Der Sehkonus wird in einer passenden Schatulle aufbewahrt, die mit grünem Stoff außen verkleidet und innen mit rotem weichen Stoff ausgeschlagen ist. Durch einen kleinen Verschlusshaken kann der Deckel gesichert werden.

J. G. Hofmann Steinheil Cone

A Steinheil Cone is a kind of single lens Galilean telescope made of one piece of glass with a concave polish of the eyepiece end and a convex polish of the objective end. Some black lacquering on the sides prevented stray light coming in. This construction was invented by Steinheil in Munich in about 1833. The Steinheil cone was originally 27mm long and mangified about 1.6 times (cf. Franz/Reutinger: Steinheil - Optik mit Tradition; Stuttgart, 2001, p. 41) (see photos at the bottom of the page).
The Steinheil cone picture here was made by J.G. Hofmann in Paris and hence must date from about 1860-1870. It was ground into an broad oval cone shape and covered with brown leather to hold it and protect from light intrusion. On one of the flat sides the Hofmann's firm name is stamped in gilded letters. It shows the the typical Hofmann inscription set within an oval outline. The cone comes in a matching case, which is covered with a green linen, and cushioned inside with a reddish cloth. The lid is secured with a small hook closure.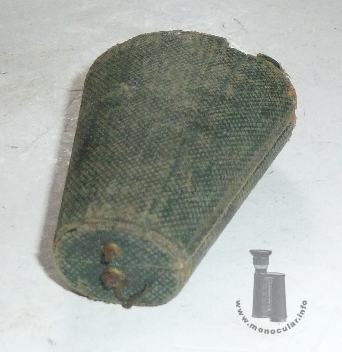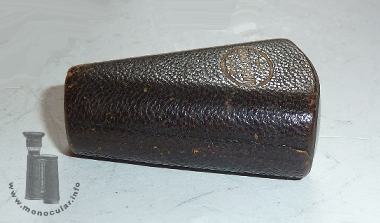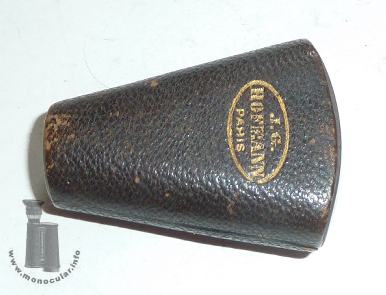 | | |
| --- | --- |
| Der Sehkonus ist 45mm lang, 16-17mm dick sowie 16-34mm breit. Er wiegt 38g, mit Schatulle 52g. Die Vergrößerung liegt bei ca. 1,5 - 2fach. | The Steinheil cone is 45mm long, 16-17mm thick and 16-34mm wide. It weighs 38g, or 52g with its case. Its magnification is about 1.5 to 2 times. |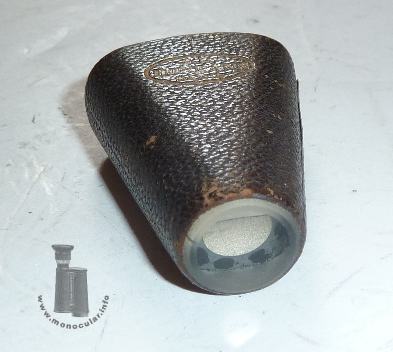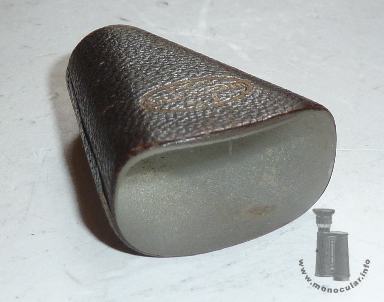 ---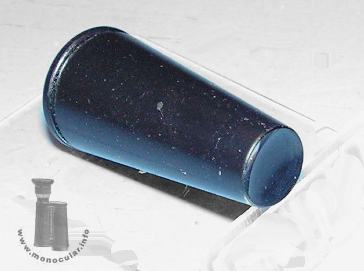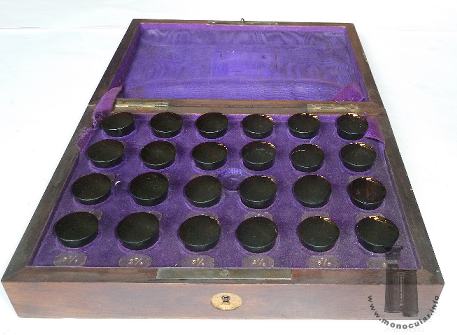 Nachbau eines Sehkonusses (H. Lange) | Probierbox mit 24 Sehkonussen mit versch. Refraktionsschliffen Replica of Steinheil cone (H. Lange) | Test box with 24 cones ground with different refractions.
---
Fotos Zeun