Abbe 1873
| | |
| --- | --- |
| Auch Ernst Abbe hat ein Prismenonokular konstruiert (lt. Literatur auf der Wiener Ausstellung 1873 vorgestellt), scheinbar ohne Porros Erfindung zu kennen (!?). Eine erhaltene Skizze zeigt ein Porro-1-Prismensystem in einem runden Gehäuse mit zwei direkt aneinander liegenden Porroprismen, mit langem Dreh- oder Zugokular (Mikroskopnachbau) und Objektivtubus mit 2 Linsen sowie . | Abbe, too, made a prism monocular (acc. to book sources, shown at the 1873 Vienna exhibition), seemingly without knowledge of Porro's invention. A still existing draft shows a porro 1 prism system in a round housing with two prisms directly aattached to one another, furhter with a long turnable or draw ocular tube (sort of microscope ocular) and objective tube with two lenses. |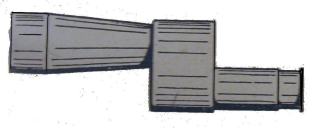 Skizze - Sketch: C.Büchele, n. M.v.Rohr, 1938 S. 326; in Zeiss Werkzeitung, XIX. Jg., Dez 1944, S. 44-46; Glasteile blau eingefärbt vom Auto - glass parts coloured blue by author.
| | |
| --- | --- |
| Das nachbearbeitete Foto zeigt das mögliches Aussehen des Prototyps aus Messing, evtl. auch mit Lederbezug. | The following adapted photo shows a possible look-alike made of brass, probably with a leather covering. |

| | |
| --- | --- |
| Alle zuvor genannten Entwicklungen gingen nie in Serie, was bekanntlich an der noch schlechten Glassortenqualität mit geringer Lichtdurchlässigkeit lag. | All those models mentioned before were never produced in series. This was - as well known - because of the lack in quality of the glasses at that time, namely a quite low light transmission. |
Zeiss 1893/94
Monokulare Feldstecher

40 Jahre nach Porros Monocularen und 20 Jahre nach Abbes ersten Prototyp konnte Abbe aufgrund geeigneter Glassorten nun eine Serienproduktion anfangen. Dabei handelt es sich um Porro 1 Prismenmonokulare in der seit damals typischen Zeiss-Bauform, wie sie oft und bis heute kopiert wurde.


Die ersten monokularen Feldstecher (4x, 6x, 8x) hatten


ein 3/3 Okular (d.h. Augenmuschel, Fokussierungsring und Dioptrieskala aus einem Teil),
durch gerade Deckel gehaltene Prismen und
angeschraubte Trageösen.

Monocular Field-Glasses

40 years after Porro's monoculars and 20 years after his first prototype Abbe could re-construct prism glasses with adequate kinds of glass and let them make in series. Those were porro 1 prism glasses designed in the later so-called Zeiss form which was copied then after and till today very often.
The first monocular field-glasses (4x, 6x, 8x) featured


3/3 ocular (i.e. eyecup, focusing part and dioptre part made from one piece),
prism held by flat cover plates,
screwed-on strap lugs.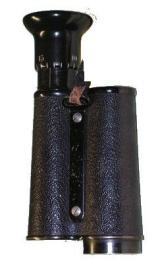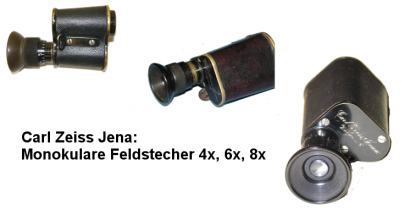 Fotos: Zeun