Hensoldt dialytisches Pentaprismen Monocle 5x35

Das 5x35 Monokular mit Pentaprismen hat ein dialytisches Objektivlinsensystem (d.h. zwei Linsen) und stammt von ca. 1902/03. In der Form mit abgerundeter Schulter – ohne oberen Deckel – wurde es nur sehr kurz hergestellt. An dem schwarz lackierten Messinggehäuse ist ein dreifach verschraubter Trageriemenhalter (9x50mm) angebracht. Die Dioptrienskala läuft um das ganze Okular und ist mit +5, 0 und -5 beschriftet. An der Seite ist anstelle der Brücke für das Binokular eine 50x17mm Beschriftungsplatte mit "Hensoldt Wetzlar D.R.P. Vergr=5x" mit 4 Schrauben angeschraubt.

Hensoldt Dialytic Pentaprism Monocle 5x35

This 5x35 monocular with pentaprisms has dialytic objective lens system (i.e. two objective lenses), and dates from about 1902/03. In this shape having a rounded shoulder but no straight cover it was only produced for a short time. The black painted brass housing has a strap lug (9x50mm) attached with three screws. The dioptre scale is marked +5, 0 and -5 running around the eyepiece. Instead of a bridge for a binocular a 50x17mm metal plate with "Hensoldt Wetzlar D.R.P. Vergr=5x" markings is screwed with 4 screws to the side of the housing.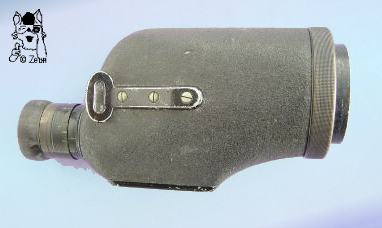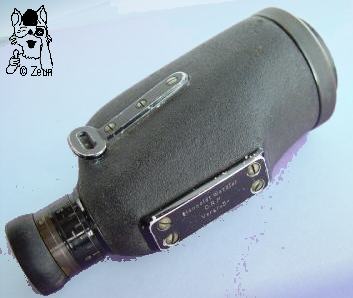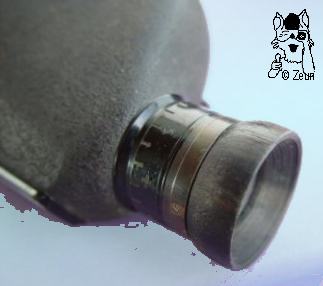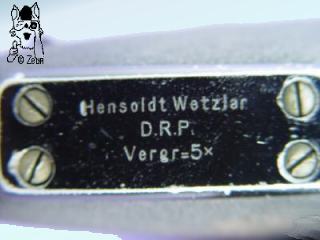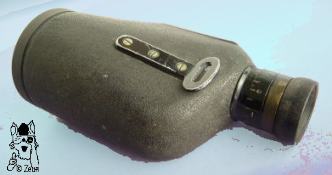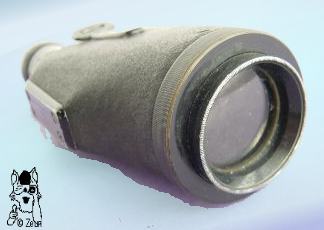 | | |
| --- | --- |
| Das Monokular hat ein anthrazit lackiertes Aluminiumgehäuse aus einem Guß mit einer abgerundeten Schulter und würde den rechten Teil eines Binocles bilden. Das Gehäuse ist 10,8cm hoch, oben ca. 35mm x 80mm breit und unten 57mm im Durchmesser. Hier ist ein runder Verschlussring aus schwarz lackiertem Messing. Die eingeschraubte Fassung der Objektivlinse ist 44mm im Durchmesser. Die Objektivlinse liegt 8mm nach innen zurück. Der schwarz lackierte Okulartubus ist 25mm, der Dioptrienteil 26mm und die Bakelitaugenmuschel 29mm im Durchmesser. Die Gesamtlänge beträgt 14,1 - 14,7cm. Das Monokular wiegt 395g. | The monocular has an one-piece aluminium body lacquered anthracite. The position of the rounded shoulder in reference to the strap lug would make this glas to the right half of a Binocle. The housing is 10.8cm tall, being about 35mm x 80mm wide at the top and 57 in diameter at the bottom. Here you can find a black painted retainer ring made of brass. The screwed-in objective lens frame is 44mm in diameter. The objective lens is recessed by 8mm to the inside. Theocualr tube is lacquerd black as well, having a 25mm diameter. The dioptre part measures 26mm in diameter, and the Bakelite eyecup 29mm. Overall length is between 14.1cm and 14.7cm. The monocular weighs 395g. |
Weitere Informationen – further information: K. Porezag: Hensoldt I, Wetzlar 2001, S. 333
Fotos: Zeun