Carl Zeiss 8x30B Telefoto-Monokular (ab 1964)

Das Carl Zeiss 8x30B als winkeliges Teleobjektiv (Porroprismensystem) gab es für bzw. mit Adapterring für die Zeiss Contaflex/Contarex-Kameras.
Während beim Vorgänger 8x30B-Modell am Okular scharf gestellt wurde, wird bei diesem ab 1964 gebauten 8x30B Modell am Objektiv fokussiert – hier befinden sich Einstellskalen (m., ft.). Die umstülpbare Augenmuschel ist abschraubbar, um das Gerät als Monokular und Teleobjektiv nutzen zu können.

Carl Zeiss 8x30B telephoto monocular (since 1964)

The CZ 8x30B (porro system) as a telephoto lens was made for the Zeiss Contaflex/Contarex cameras with or without adapter rings.
While the predecessor 8x30B model focussing was done with ocular adjustment, this 8x30B model produced since 1964 had a focussing objective with an adjustment scale (m., ft.). The retractable eye-cup could be removed to use the monocular as a telephoto lens.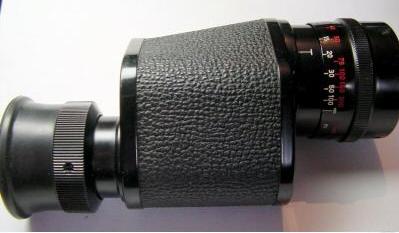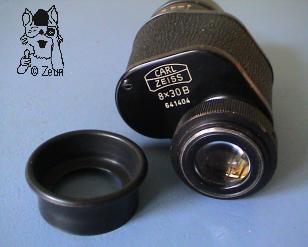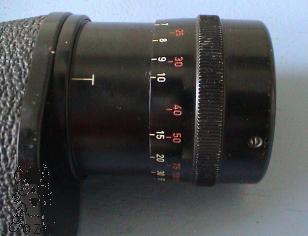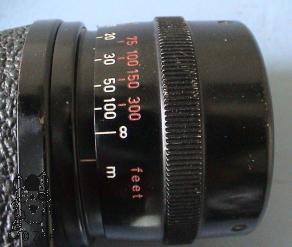 | | |
| --- | --- |
| Das 8x30B wiegt 245g, ist mit umgestülpter Augenmuschel und hereingedrehtem Objektiv 11,4cm und bei gestreckter Augenmuschel und herausgedrehtem Objektiv 13,4 cm lang. Das Rauhlack ummantelte Gehäuse ist oben 5x5,5cm und unten 5,5x5,5cm breit. Die blau vergütete Objektivlinse liegt 17mm im Objektivtubus, so dass ein guter Blendschutz erreicht wird. Das Okular hat eine gelbliche Vergütung. Die Deckel sind jeweils einfach verschraubt. | The 8x30B weighs 245g. It measures 11.4cm with folded eye-cup and recessed objective, and it is 13.4cm with extended eye-cup and objective. The roughend housing measures 5x5.5cm at the top and 5.5x5.5cm at the bottom. The blueish coated objective lens is recessed by 17mm into the objective tube, giving a good ray-shade that way. The ocular is coated yellow. The covers are fastened with a single screw each. |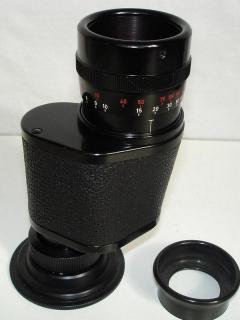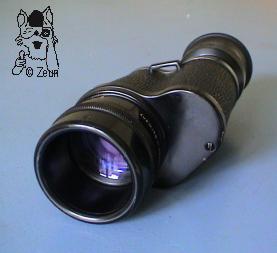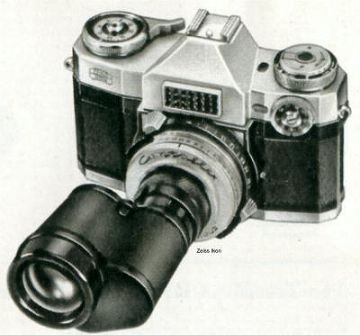 Das 8x30B mit Objektivfokussierung wurde von Zeiss Oberkochen während des Rechtsstreits um den Namen "Carl Zeiss" auch unter der Firmennamen "Opton" - dies ergab keien Rechtsschwierigkeiten beim Export in Ostblocklädner u.a. - sowie (mir vorliegend) für die "Zeiss Ikon AG" vertrieben. Letzteres hat über der eigentlichen Zeiss-Logo-Gravur ein aufgeklebtes "ZIAG"-Schild.
Vergleiche auch das gerade 8x30B Dachkantprismen-Monokular
The 8x30B model with objective focusing was aöso distributed by Zeiss Oberkochen under the "Opton" company name. This avoided the legal dispute about the "Carl Zeiss" name ongoing still in the 60s - when exporting to East-block countries or others. Another model I have comes with a glued-on "ZIAG" (= "Zeiss Ikon AG") plate over the original Carl Zeiss logo engraving.
Also compare the straight 8x30B roof prism monocular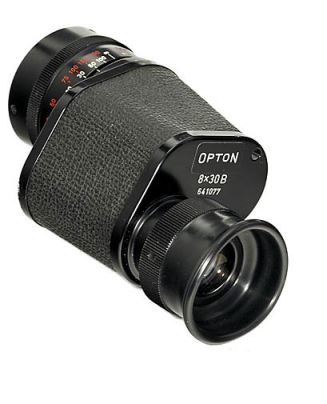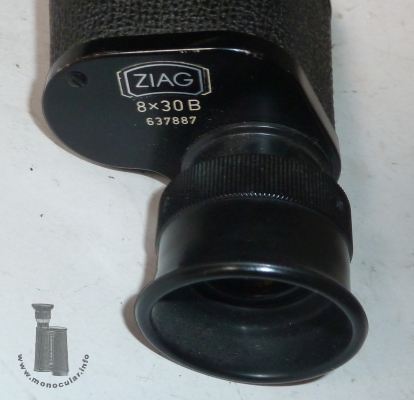 Fotos: Zeun, Ebay-Auktion