| | |
| --- | --- |
| Carl Zeiss Jena monokularer Feldstecher Vergr.=6 | Carl Zeiss Jena 6x monocular Field Glass |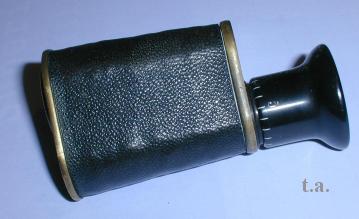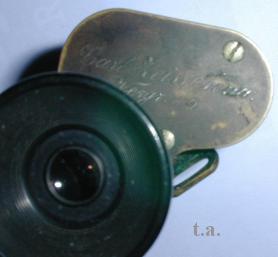 Hier ist ein monokularer 6x18 Feldstecher mit geradem Deckel und dem Handschrift-Logo "Carl Zeiss, Jena" plus "Vergr.=6". Die Seriennummer ist 36 bzw. 87 beim zweiten Modell. Es sind daher sehr frühe Exemplare aus dem Anfangsjahr der Serie in 1896 sowie 1898. Wie bei allen frühen Monokular-Modellen befindet sich die Seriennummer nahe am Okular neben einer Deckelschraube eingraviert.
Die Deckel sind dreifach verschraubt, aus Messing und schwarz lackiert. Der untere Deckel hat als Besonderheit ein viertes Schraubloch nahe des Objektivs, jedoch ohne Schraube. Eine vorhandene schraube würde alelrdings ohnehon nichts als Gegenstück festschrauben. wobei diese auch keine Das Prismengehäuse hat eine dunkelbraune Lederummantelung und eine aufgeschraubten Metallstreifen mit Trageöse. Dieser geht über die ganze Korpuslänge. Das linksseitige Okular hat eine 3/3 Bakelitaugenmuschel. Die Objektivlinse liegt 1cm nach innen zurück versetzt als Blendshcutz in der Objektivfassung.
Here is a monocular 6x18 Field Glass (Feldstecher) with flat prism covers and the handscript logo "Carl Zeiss, Jena" plus "Vergr.=6" (magnification = 6). It has the serial number 36, and 87 respectively for the second model. Hence these specimen must date from the beginning of the model series in 1896, and 1898. The serial number is engraved near the ocular and one of the screws as usual for the early monocular models.
The cover plates have three screws, are made of brass, and are painted black. The lower cover plate features a fourth screw hole. Yet a screw hole is not present, and would have no counterpart anyway. The prism housing ha s a dark brown leather covering and a screwed on meatl strip with the strap lug. The metal strip fully covers the body height. The left-hand sided ocular has a 3/3 Bakelite eyecup. The objective lens is recessed by 1cm its frame to function as a ray-shade.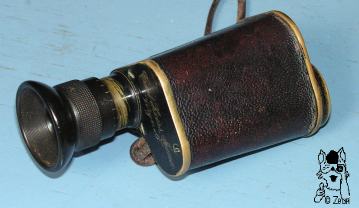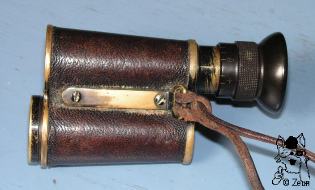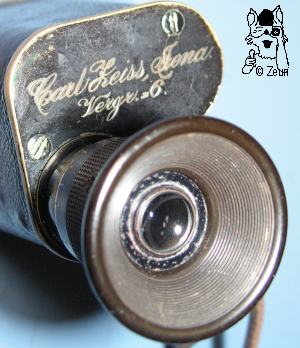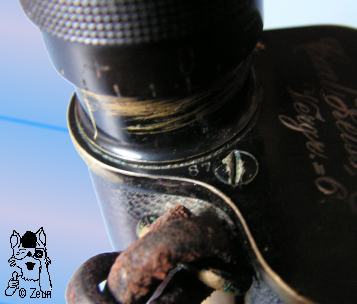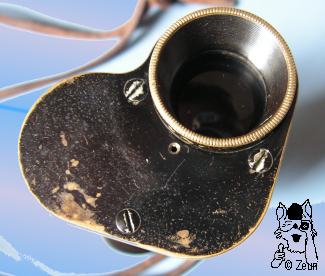 | | |
| --- | --- |
| Das Monokular ist 8,4 - 9,4cm lang. Das Gehäuse ist oben 39x39mm und unten 44x44mm breit und 60mm hoch. Die Objektivfassung ist 25mm, die Augenmuschel 32mm, das Okularstück 19mm im Durchmesser. Das Monokular wiegt 149g. | The monocular measures 8.4 - 9.4cm in length. The housing is 39x39mm at its top, and 44x44mm at its bottom. It is 60mm tall. The objective frame is 25mm in diameter, the eyecip 32mm, and the eyepiece 19mm in diameter. The glass weighs 149g. |
Fotos: 1-2 T.Antoniades; 3-7 Zeun