Carl Zeiss Jena 15x50 Pentekarmo
Als erstes Nachkriegsmodell aus Jena kam das Pentekarmo 15x50 in 1950 heraus. Die Bilder zeigen ein frühes Modell mit Seriennummer 2468592 (1951) mit leicht abgewetztes Kunstlederummantelung und ein späteres Modell mit der Seriennummer 3034165 (1960) mit dem DDR Qualitätszeichen "1Q" sowie ein recht gut erhaltenes Modell ohne Seriennummer (500g mit Trageriemen), welches evtl. ein Prototyp oder nicht fertig beschriftetes Exemplar sein könnte. Ein weiteres exemplar ist nur mit "JENA", also als Exportmodell gekennzeichnet. Es wurde in 1957 laut Seriennummer 2913637 gefertigt.
Wie alle Gläser war es aus Leichtmetall mit Kunstlederummantelung, Kunststoffaugenmuschel, Trageriemenöse und konischem Objektivtubus. Das lieferbare Lederfuteral hat eine geschwungerne Form.
As the first Jena model after war the Pentekarmo was introduced in 1950. The pictures show an early model with the serial nubmer 2468592 (1951) with a synthetic leather showing signs of use, and a later model with S/N 3034165 (1960) with the GDR quality sign "1Q". The third picture shows the top cover of a model without serial number which might be a prototype of the 15x50 or model with unfinished markings. Another specimen is only inscribed ith "JENA", thus being an export model. According to its serial nubmer 2913637 it was made in 1957.
As usual it was made of light metal with a fake leather covering, a plastic eye-cupa strap, a strap-lug and a concial objective tube. The offered leather pouch had a bended shape.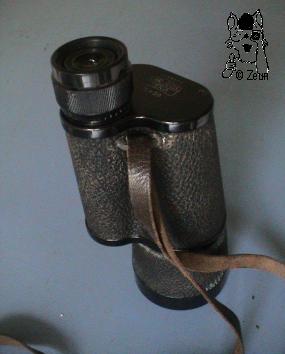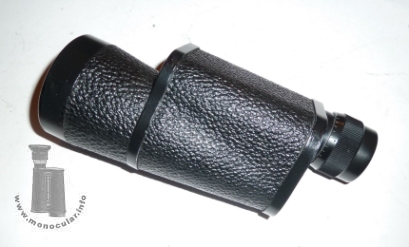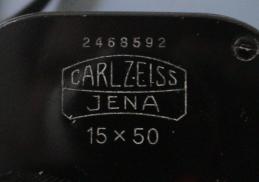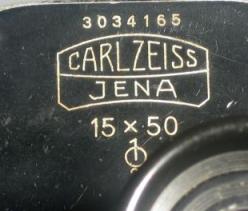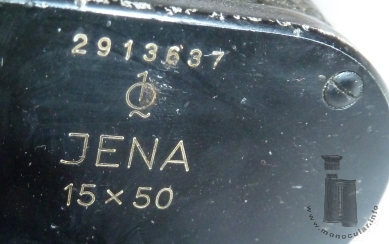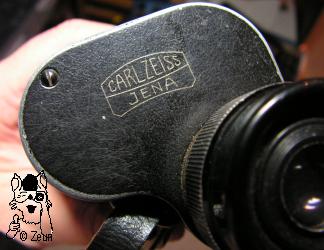 | | |
| --- | --- |
| Das Pentekarmo wiegt 454g mit Lederriemnen, ist 163 - 173mm lang, 63x63mm oben und 71x71mm unten am Gehäuse breit, der konische Objektivtubus verbreitert sich von 54 zu 61mm im Durchmesser, das Okular ist 31mm, der Fokussierungsring 36mm und die Augenmuschel 34mm im Durchmesser. | The Pentekarmo weighs 454 with its leather strap. It is 163 - 173mm long. The hosuing measures 63x63mm at its top and 71x71mm at its bottom. The concial objective tube increases from 54mm to 61mm in diameter. The eyepiece is 31mm, the focusing ring 36mm, and the eyecup 34mm in diameter. |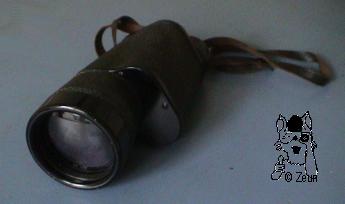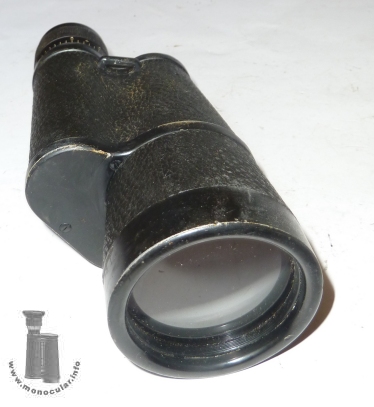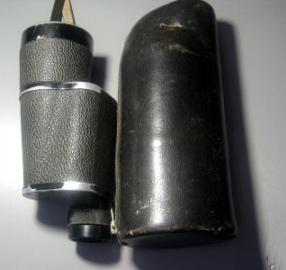 Fotos: Zeun; 3, 9 Ebay-Auktion