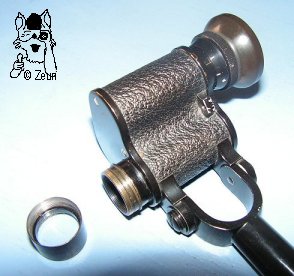 Das Sehfeld ist 13,7° oder 24/1000m (identisch zum binokularen Teleater 3x13,5). Als Lupe erreichte die 3x-Fernrohrlupe mit Vorsatzlinsen Vergrößerungen bis 14,25fach, als Mikroskop mit Vorsatzobjektiven eine bis zu 90fache Vergrößerung. Sie wiegt ohne Griff 117g, der Griff selbst 38g. Die Abmessungen entsprechen der 6x Fernrohrlupe.

Die Fernrohrlupe mit Seriennummer 303712 aus der schwarzen Kiste hat einen fest montierten Griff und aufschraubbare Vorsatzlinsen, das Modell Nr. 414578 daneben in der Holzkiste hat eine flache brillenträgerausgenmuschel, (bereits) einen abschraubbaren Griff sowie auffschraubbare Nahlöinsen, während die anderen späteren Modelle einen abschraubbaren Griff und aufsteckbare Linsen haben.
Field of view was 13.7° or 24m/1000m (identical specifications to the binocular version Teleater 3x13.5). As a magnifier the 3x-Fernrohrlupe achieved magnifications up to 14.25x with slip-on lenses. As a microscope the magnification reaches 90 times with add-on objectives. The glass weighs 117g without handle, the handle itselfs weighs 38g. Size and design is the same as the 6x Fernrohrlupe.

The Fernrohrlupe with serial number 303712 (black box) has a handle which is fixed to the ring, and screw-on lenses, the model No. 414578 (wooden box in the next picture) comes with a flat eyecup for spectacle weares, already a screw-on handle and still screw-on close-up lenses, whereas the other later models have a screwable handle, but slip-on lenses.