Carton 8x30
Das 8x30 der Japanischen Marke Carton ist ein typisches geradliniges Schmidt-Pechan-Prismen Monokular. Mit der nicht mehr vorhandenen Vorsatzlupe ließ es sich zu einem 25x Feldmikroskop abwandeln. Das Monokular ist mit einer Strichplatte (5mm und 3/16 in) ausgestattet. Es hat eine strukturierte Hartgummiummantelung, eine Weichgummiaugenmuschel und eine blaue Vergütung. (vgl. Pentax 8x30 oder RF Interscience 8x30)
Das 175g schwere Carton ist 127-135mm lang. Der Tubus ist 41mm im Durchmesser.
This 8x30 model by the Japanese brand Carton is a typical Schmidt-Pechan prism monocular. The monocular could be used as a 25x field microscope when the now missing close-up lens was attached. The monocualr has reticule (5mm und 3/16 in), a textured ebonite covering, a soft rubber eyecup, and a blue coating. (cf. Pentax 8x30 oder RF Interscience 8x30)
The Carton weighing 175g is 127-135mm long. The tube is 41mm in diameter.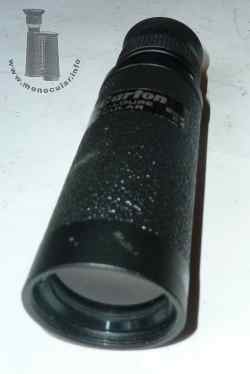 Firmengeschichte - Company's history
Fotos: Zeun