Fernglassammler Treffen in München 2017

Binocular History Society Meeting 06. - 08. Oktober 2017 in München

Dies war das Programm. Und das ein großer Teil der 49 Teilnehmer ...

The Binocular History Society Meeting 2017

October 06 - 08, 2017 in Munich, Germany

This was the program. And here are most of the 49 paricipants ...

Im gewohnten Turnus von 2 Jahren fand das 2017er Treffen der Fernglassammler-Gemeinschaft in München vom 6. bis 8. Oktober statt.

---

Freitag

Jürgen Laucher bot bereits am Freitagvormittag eine Stadtführung an, die viele der bereits angereisten Teilnehmer nutzten, um die Highlights und Sehenswürdigkeiten der Münchener Innenstadt kennenzulernen, wie z.B. das Rathaus. Dabei gab es auch ein gemeinsames Mittagessen.
Abends begannen die offizielle Anmeldung und ein Abendbuffet mit vielen Köstlichkeiten im Tagungshotel "Hilton City".
In the usual period of 2 years, the 2017 meeting of the Binocular History Society took place in Munich from 6th to 8th October.

---

Friday

Jürgen Laucher offered a city tour already on Friday morning, which many of the participants used to get to know the highlights and sights of downtown Munich like the city-hall. There was also a group lunch then.
In the evening, the official registration and a dinner buffet with many delicacies began in the conference hotel "Hilton City".
Erste Begrüßung und Stadtführung First 'Hello' Guided city tour.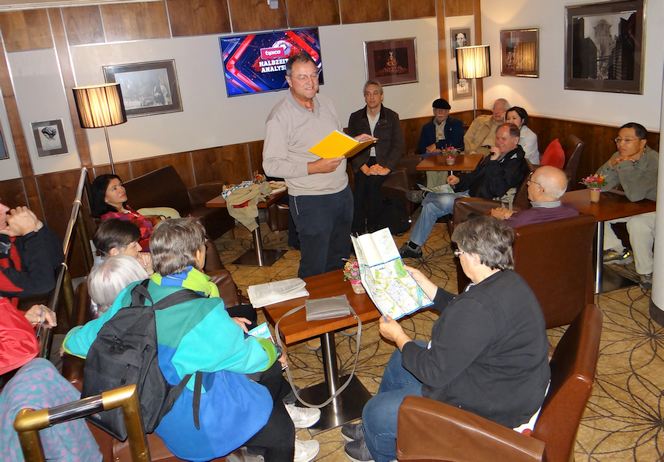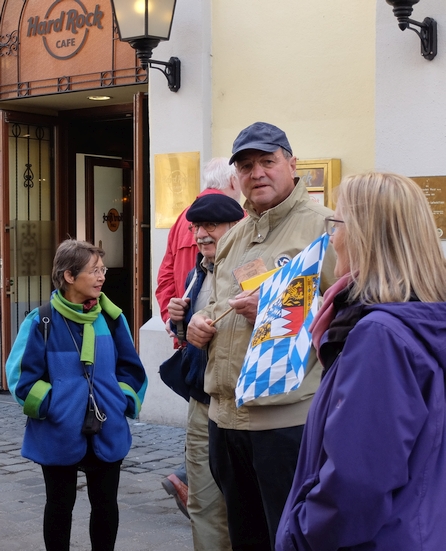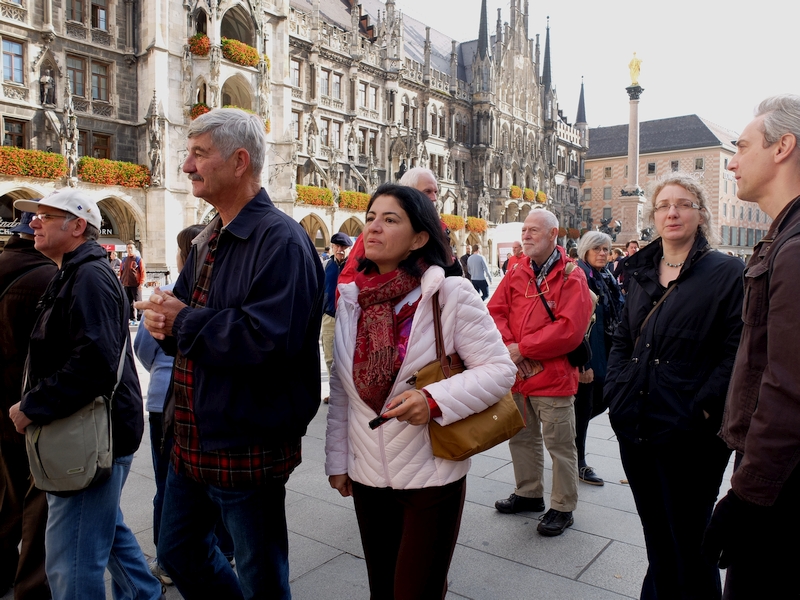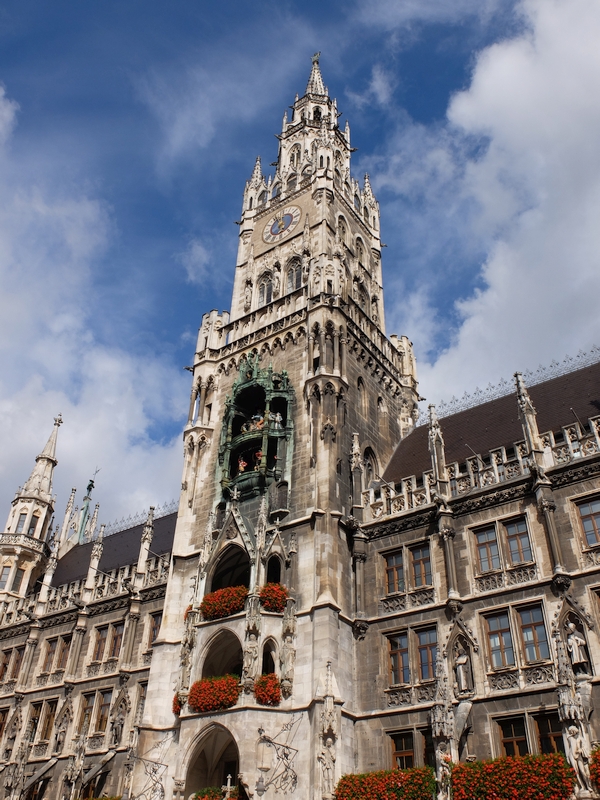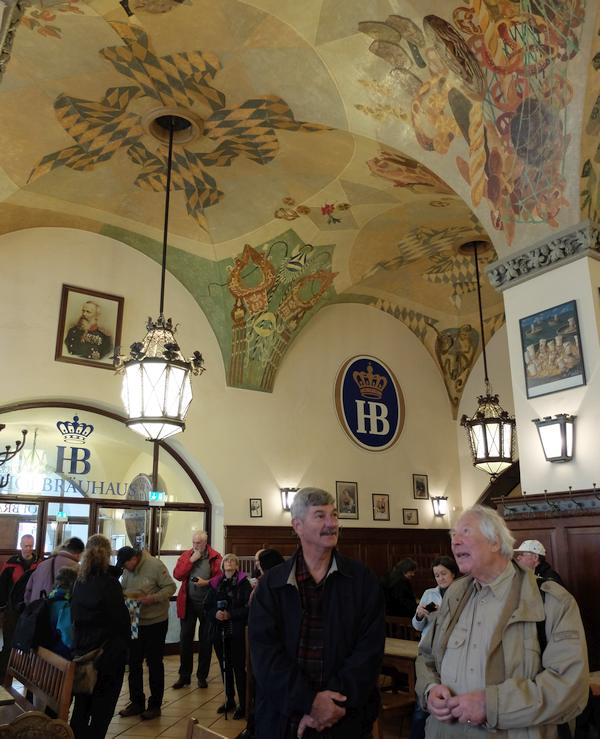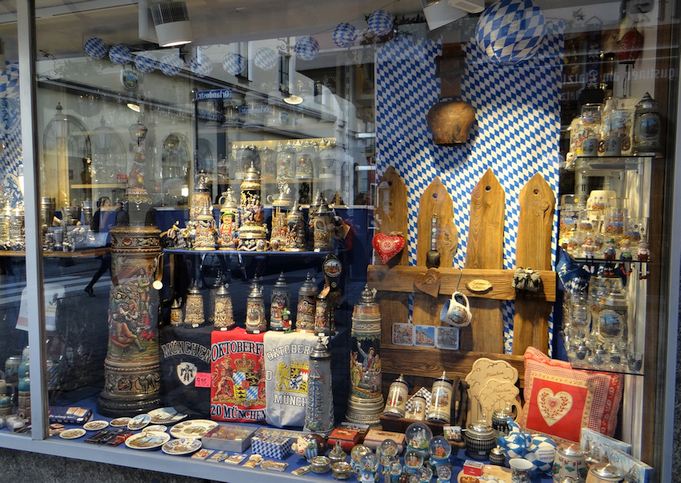 Mittagessen Freitag und ein Feldstecher-Mobil Lunch on Friday and a Bino-C(ul)ar.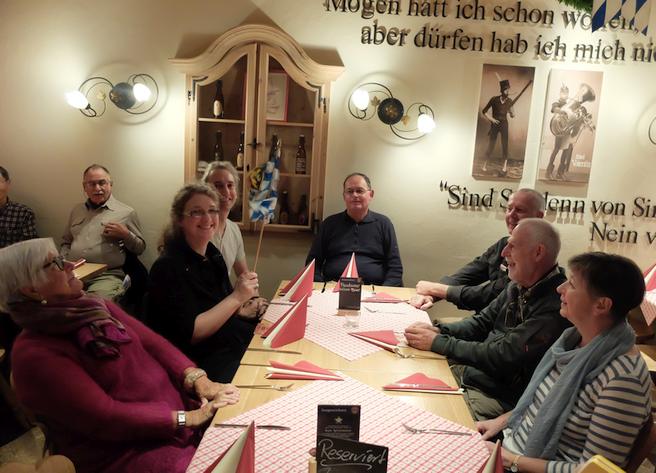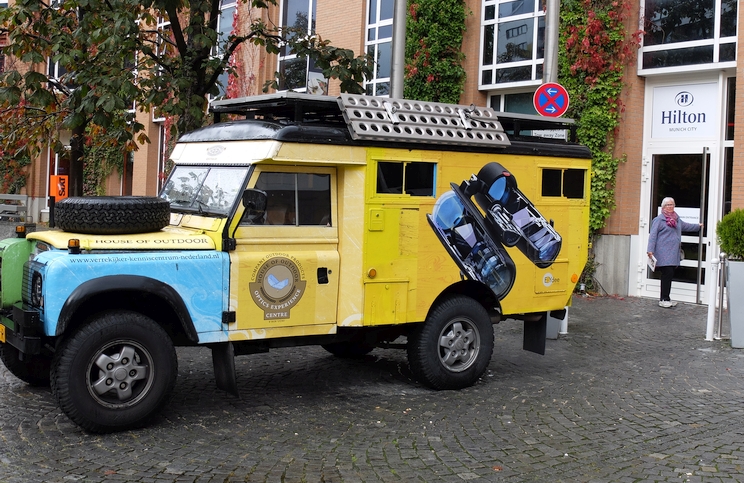 Abendessen am Freitag ... | Friday's dinner ...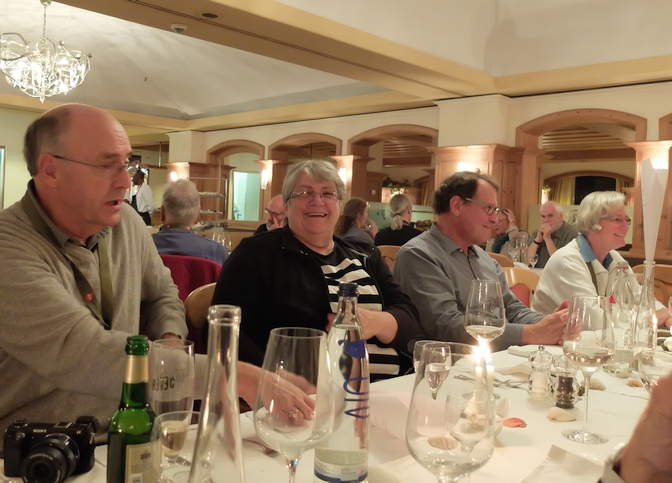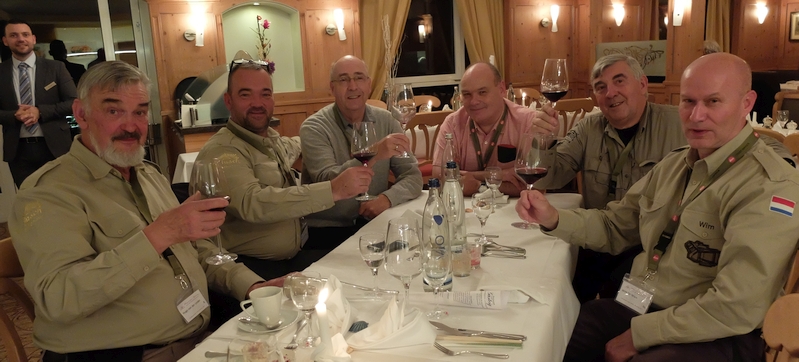 .. mit erstem Feldstecher-Qualitätstest | ... with a first quality check of field-glasses.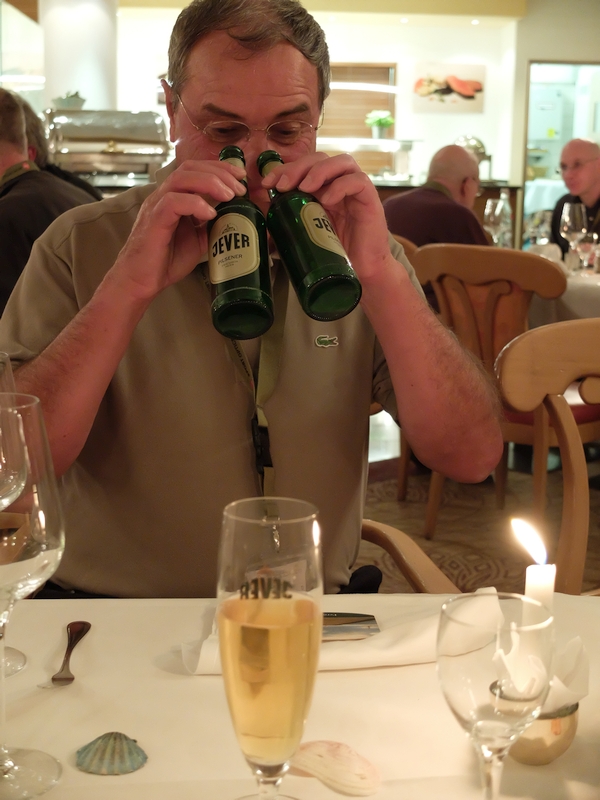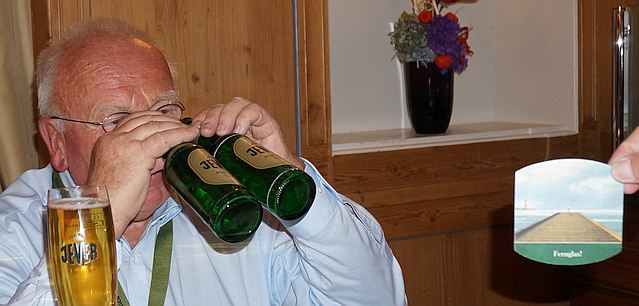 ---
Samstag

Das 10. Fernglassammler-Treffen bzw. die BHS-Tagung wurde am Samstag Morgen von den langjährigen Organisatoren Jack Kelly (USA) und Jürgen Laucher (DE) eröffnet und zogen eine kurze Bilanz der Tagungen, da es diesmal einen Übergang zu einem neuen Organisatorenteam gab, das sich schon bei den Vorbereitungen und der Durchführung mit beteiligt hatte (s.u.). Es sei erwähnt, dass alle Vorträge auf 2 Leinwänden jeweils in Deutsch und auf Englisch präsentiert gleichzeitig werden konnten.

Saturday

The 10th binocular collectors meeting or the BHS meeting was opened on Saturday morning by longtime organizers Jack Kelly (USA) and Jürgen Laucher (DE) and had a brief review of the meetings before, because this time there was a transition to a new team of organizers, which had already participated in the preparations and the execution (see below). It should be noted that all lectures could be presented on 2 screens in German and in English simultaneously.
Anmeldung und Eröffnung Check-in and opening.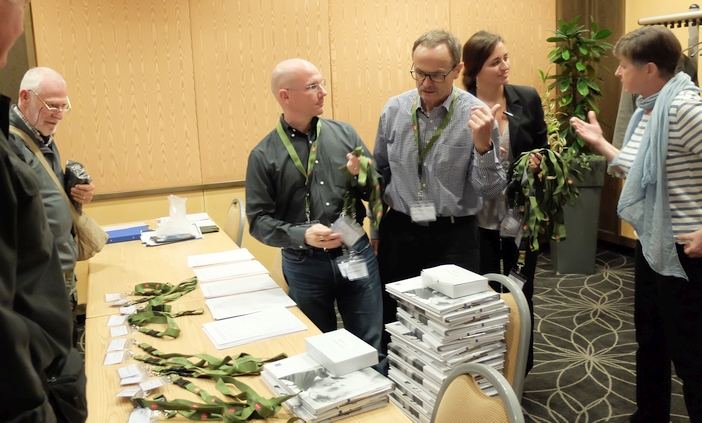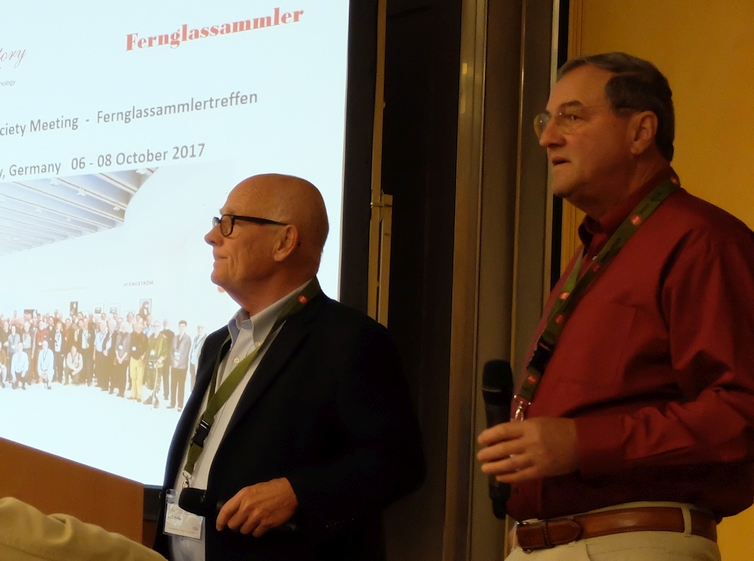 ---
Der Samstagvormittag beinhaltete 3 Fachvorträge.

Uli Zeun berichtete über den bekannt gewordenen Prototyp des kleinen Dosenfernrohrs von Carl Zeiss (im Museum in Gränna, Schweden), welches auf Salomon Andrèes Polarexpedition mit einem Ballon in 1897 Verwendung fand, den Zweck das Überfliegen des Nordpols und Kartographieren des arktischen Polargebietes sein sollte, aber kläglich scheiterte. Dessen Merkmale - identisch mit der ersten Skizze bei Zeiss - im Vergleich zu den abweichenden Baumerkmalen der Serienmodelle sowie die Entwicklung des Dosenfernohrs von 1894 bis 1909 wurde dargelegt.
Jürgen Laucher stellte die verschiedenen Prismensystem und ihre Charakteristika vor, die seit Beginn der Prismenferngläser in diesen benutzt wurden. Dies reichte von den bekannten Porro-Systemen über die diversen Dachkantprismen (Abbe-Amici, Abbe-König, Huet - Möller - Lichterlein) bis zu dem nach 1948 immer mehr dominierendem Schmidt-Pechan System und zum neuesten Perger-Prisma).

Zu diesen ersten beiden Vorträgen gab es auch Ausstellungen sowohl mit Infotexten als auch Realobjekten: Dosenfernrohr-Modelle bzw. Prismen. Dabei konnte auch das große Dosenfernrohr No. 1 gezeigt werden. J. Laucher stellte die von ihm besprochenen Prismen mit dazu passenden Ferngläsern aus. Darunter war auch ein frühes Boulanger Fernglas mit Porro-1-System eines anderen Sammlers.

Vor der Mittagspause erläuterte Tilman Taube in seinem ersten Teil (1550-1700) zu den böhmischen Glashütten, wie und wo - nämlich in Nordböhmen (östliche Gegend vom heutigen Liberec) - sich die böhmischen (Wagner Handwerk) die deutschsprachigen Familien (Glasmacher) als Handwerker der angesiedelt hatten und dass notwendige Verbindungen zwischen den deutschen Glasmachern und böhmischen Wagnern bestanden, da die Wagen zum Transport des Glases in die Städte benötigt wurden. Erste Familienbande der böhmischen Swarovskis mit deutschen Glasmachern wurden angedeutet (s. dann Teil 2).

The Saturday morning included 3 lectures.

Uli Zeun reported on the newly discovered prototype of the small Dosenfernrohr (revolver telescope) from Carl Zeiss in the museum in Grenna, Sweden, which was used on Salomon Andrèe's polar expedition with a balloon in 1897. The purpose was to fly over the North Pole and map the Arctic polar region but failed halfway. Its characteristics - identical to the first sketch of Zeiss - in comparison to the deviating construction features of the serial models - as well as the development of the revolver telescope from 1894 to 1909 were depicted.
Jürgen Laucher presented all the different prism systems and their characteristics as they were used in prism binoculars since the beginning of prism binoculars models. This ranged from the well-known Porro systems, the various roof prisms (Abbe-Amici, Abbe-King, Huet - Möller - Lichterlein) to the more and more dominating Schmidt-Pechan system after 1948, and finally the latest Perger Prism).

These first two lectures were accompanied by exhibitions with info texts as well as real objects: Dosenfernrohr models and prisms respectively. The large revolver telescope No. 1 was also shown. J. Laucher exhibited the prisms he discussed with matching binoculars. Among them was also an early Boulanger binoculars with Porro 1 system of another collector.

Before lunch, Tilman Taube explained in his first part about the Bohemian glassworks (1550-1700), how and where - namely in northern Bohemia (east of today's Liberec) - the Bohemian (wagoners) and the German-speaking families (glassmakers) had settled. Moreover, he pointed out the connections between the German glassmakers and Bohemian wagon makers, since the wagons were needed to transport the glass into the towns. The first family ties of Bohemian Swarovski with German glassmakers were hinted at (see future part 2).
Drei Vorträge am Samstagvormittag Three presentations on Saturday morning.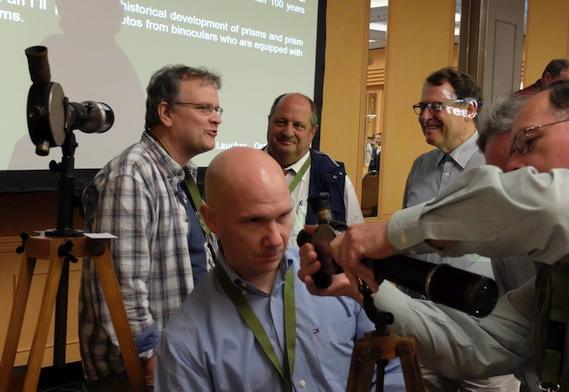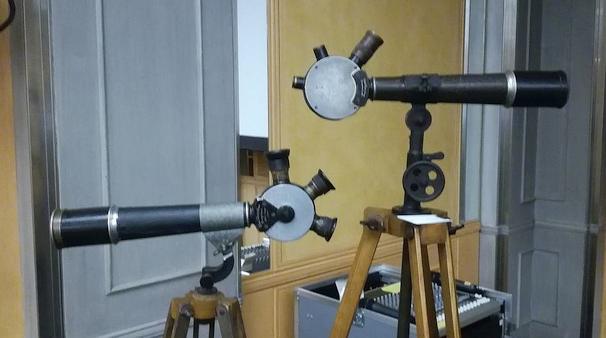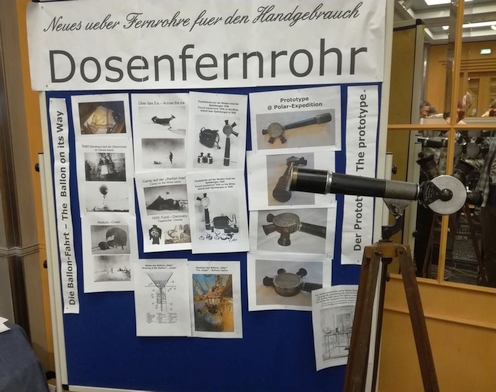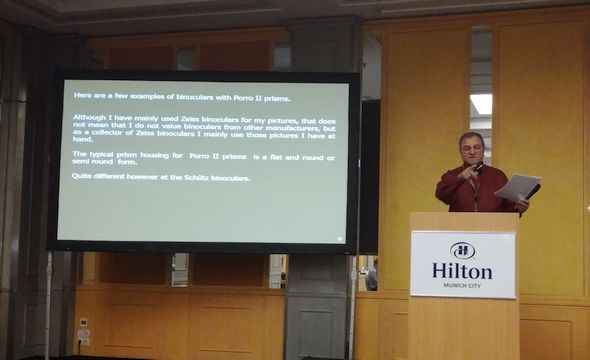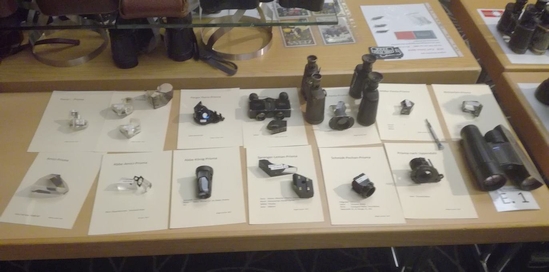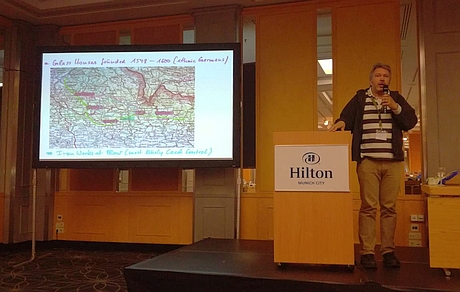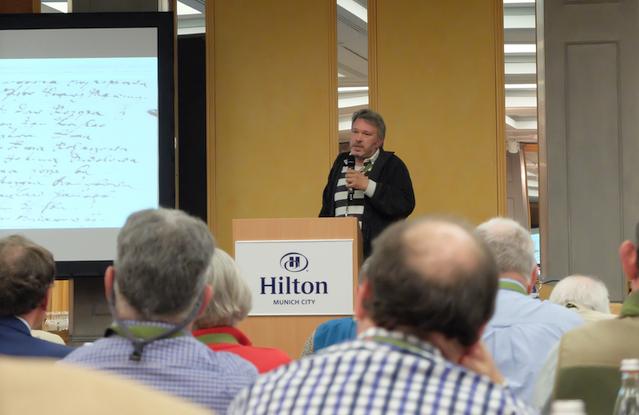 ---
| | |
| --- | --- |
| In den Mittagspausen wurde mit kleine Happen, Suppe, Salat und Desserts für das leibliche Wohl gesorgt. Die Pausen gaben immer wieder Gelegenheit zum Austausch und Miteinander-Reden. | In the lunch breaks snacks, salad, soups and desserts were provided for the well-being of the participants. The breaks offered good opportunities for exchanging ideas and chatting. |
Snacks zur Stärkung in der Mittagspause Snacks for gathering new energy during the lunch break.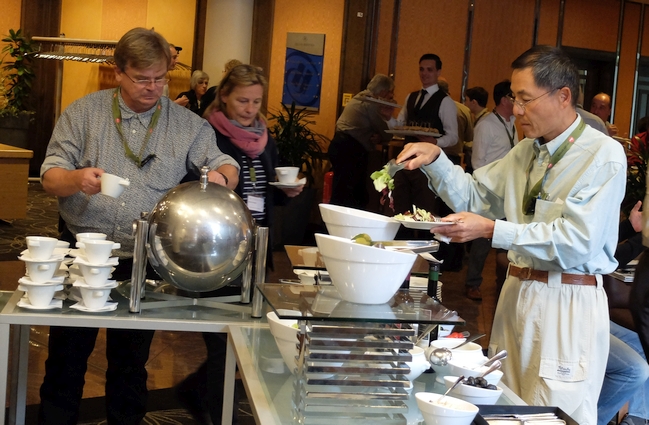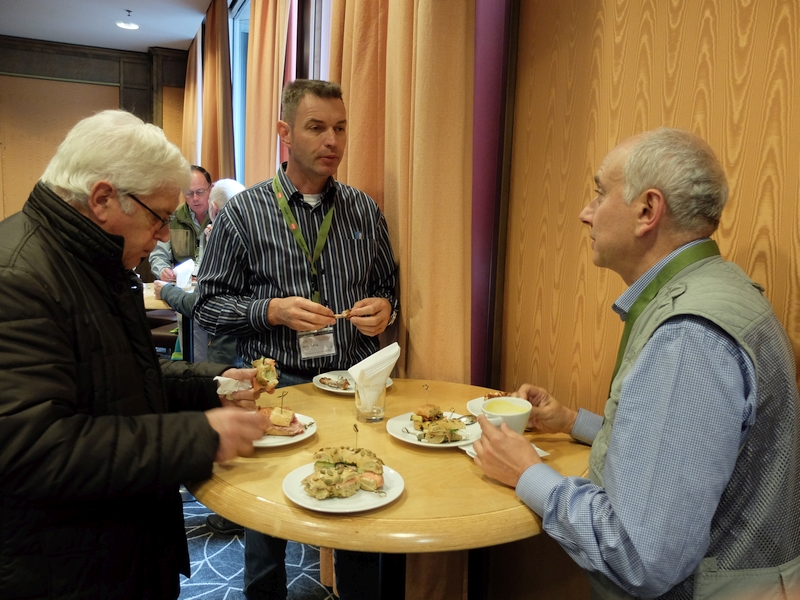 Pausengespräche Chatting during breaks.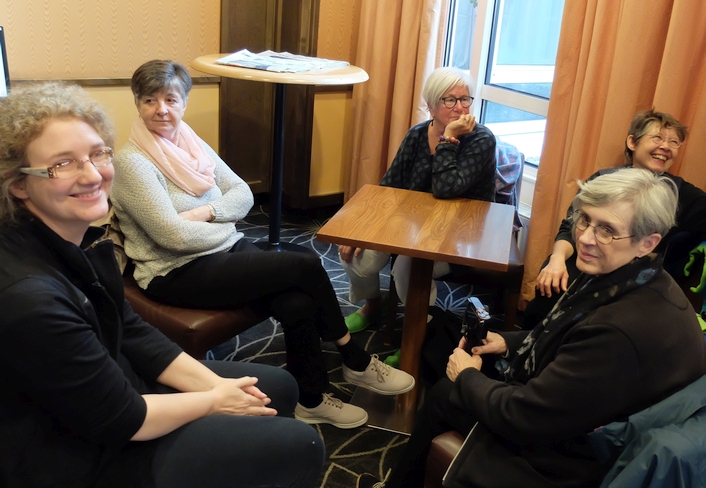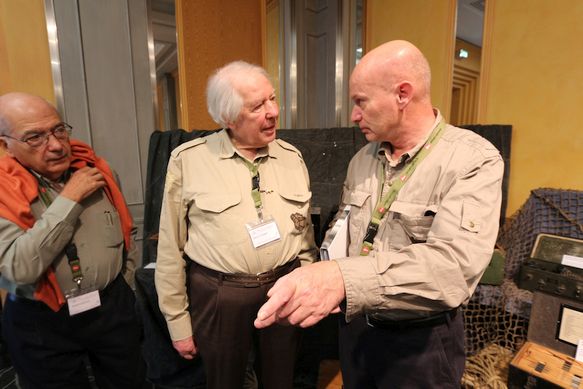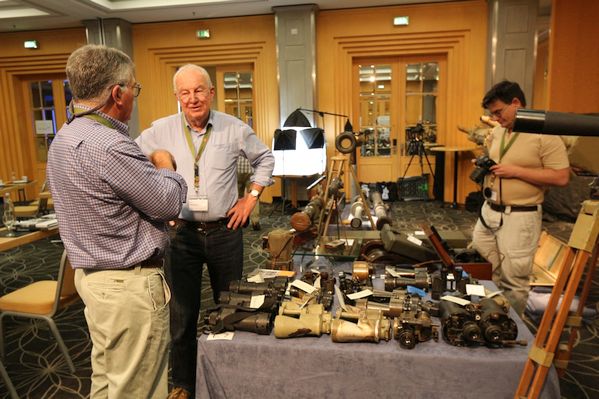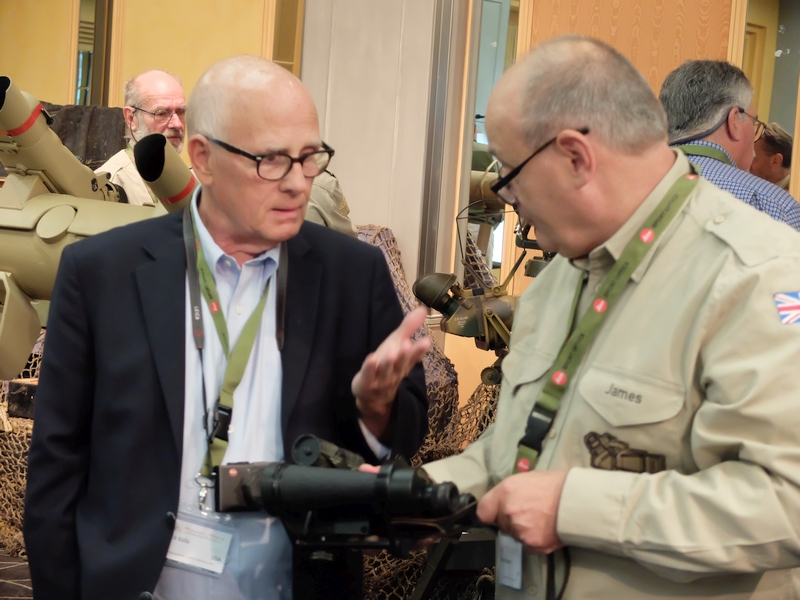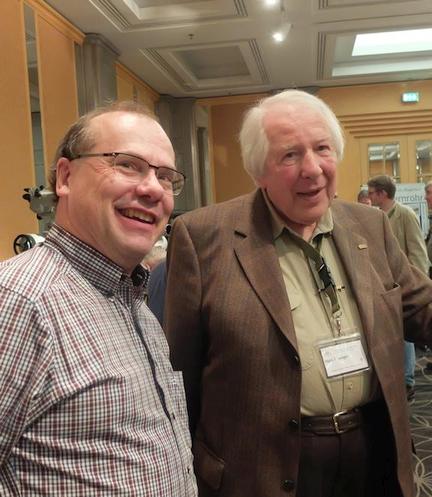 ---
| | |
| --- | --- |
| Nach dem Essen ging es per Bus zu einem von Swarovski gesponserten Ausflug zum Kloster Benediktbeuern, wo Fraunhofer seine Glashütte Anfang des 19. Jahrhunderts hatte. Dort gibt es ein kleines Museum über Fraunhofers Glashütte, das die Gruppe besuchte, bevor es zur Kreutalm zum Kaffee-Trinken ging. Dort wiederum konnte ausgiebig mit mitgebrachten Ferngläsern und Fernrohren die Voralpenaussicht genossen bzw. die Optiken ausprobiert und begutachtet werden. Der Nachmittag konnte intensiv für Gespräche unter Sammlern und Optikfans genutzt werden. | After lunch we went on a coach excursion to the monastery Benediktbeuern, where Fraunhofer had its glassworks at the beginning of the 19th century. It was sponsored by Swarovski. In Benediktbeuern is a small museum about Fraunhofer glasshouse, which the group visited, before we went to the Kreutalm for a coffee break. There, everybody could also extensively enjoy the good views to the Alps using binoculars and telescopes brought with us. The isntruments were examined and evaluated for their optics and quality. This afternoon was used intensively for discussions among collectors and optics fans. |
Benediktbeuern & Fraunhofer Museum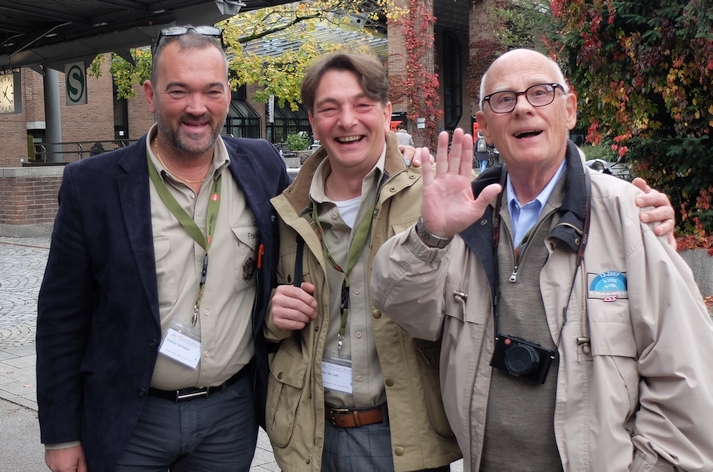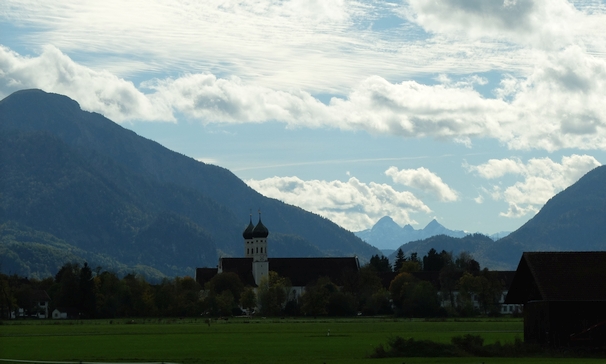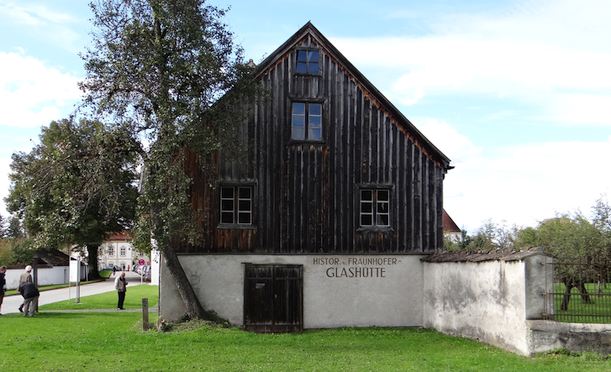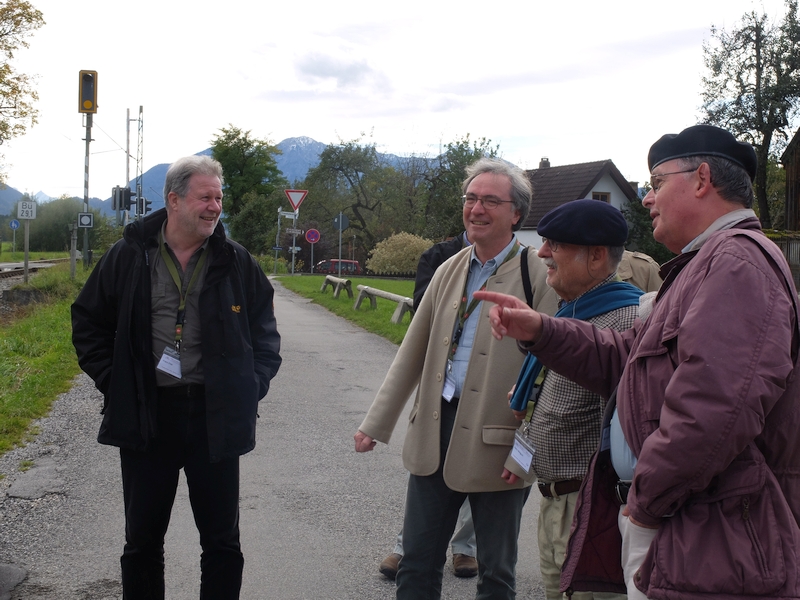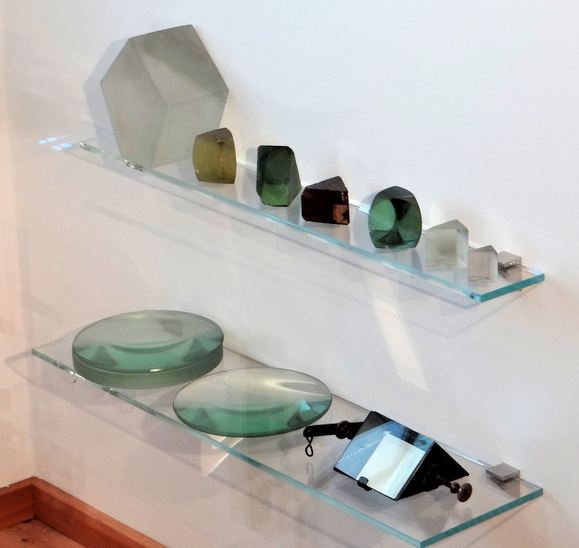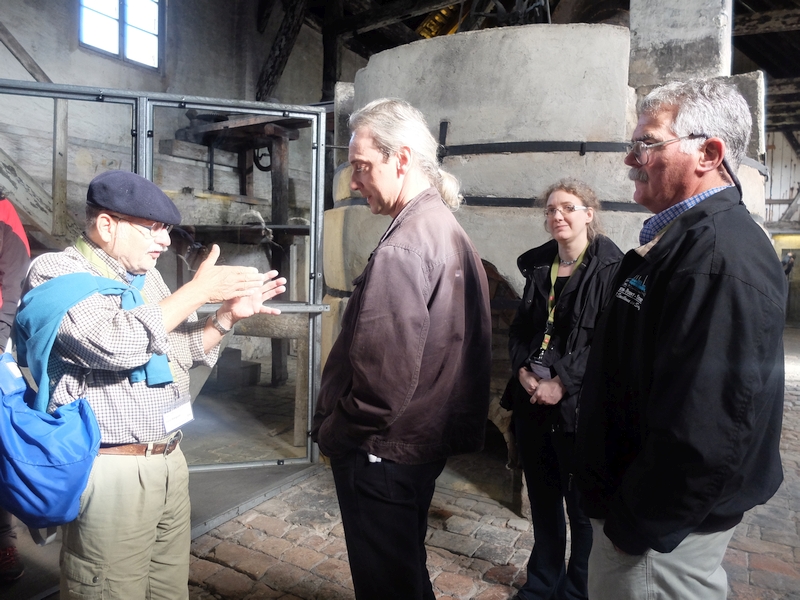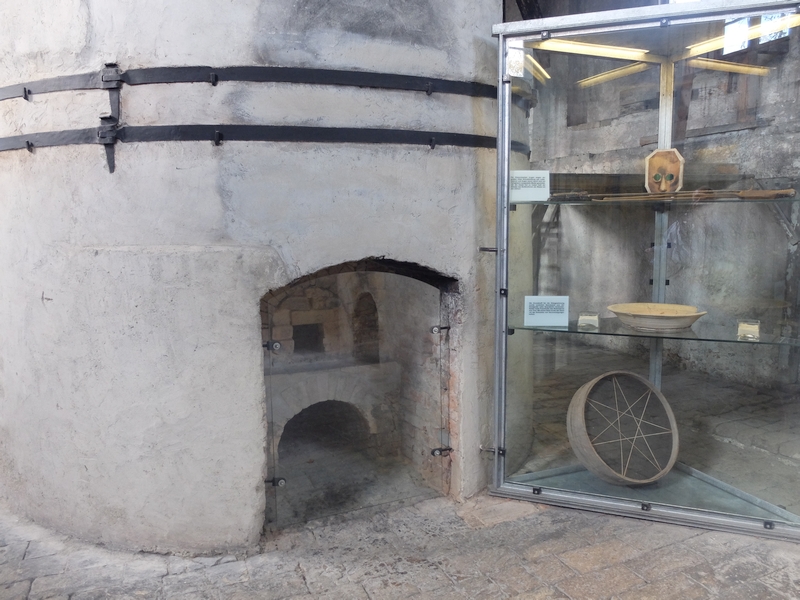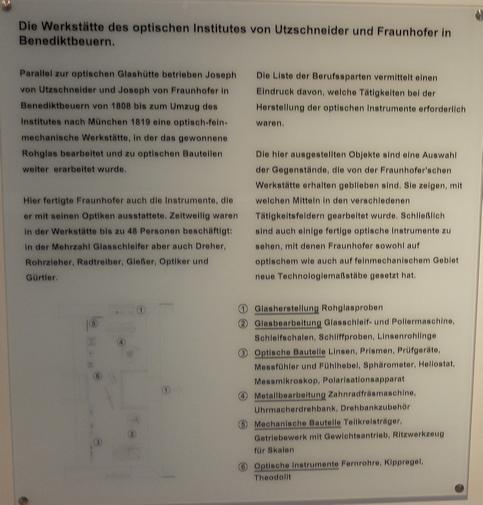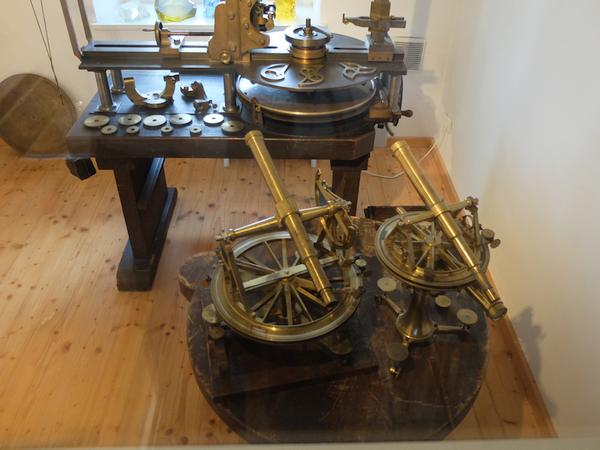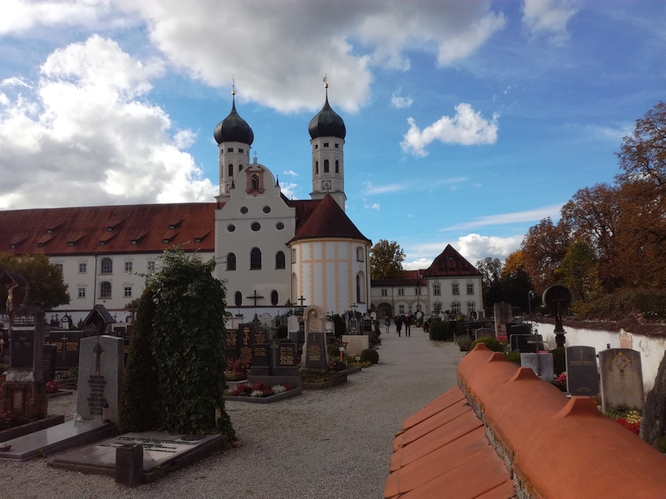 Aussichten auf der Kreutalm-Terrasse Views from the terrace of the Kreutalm location.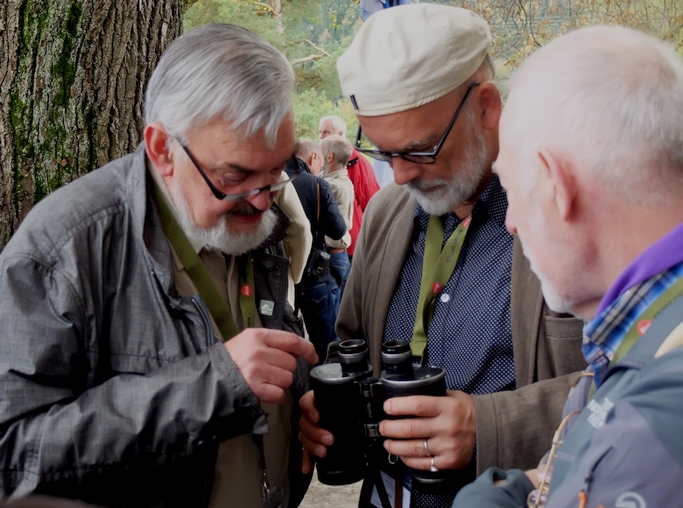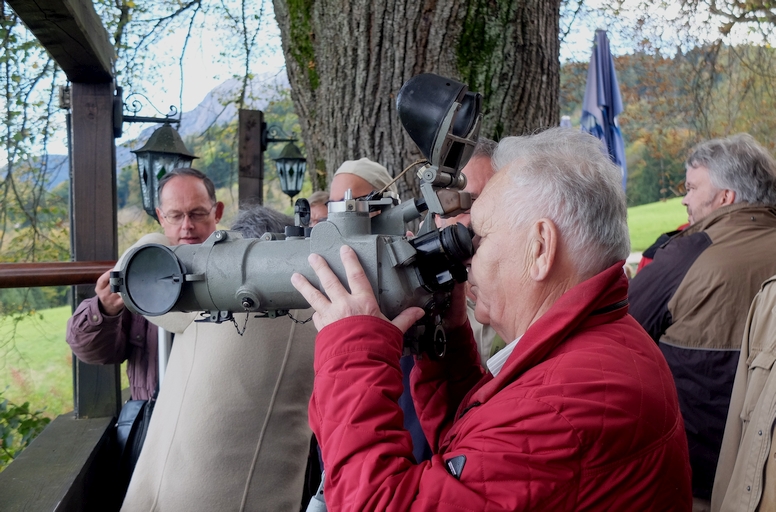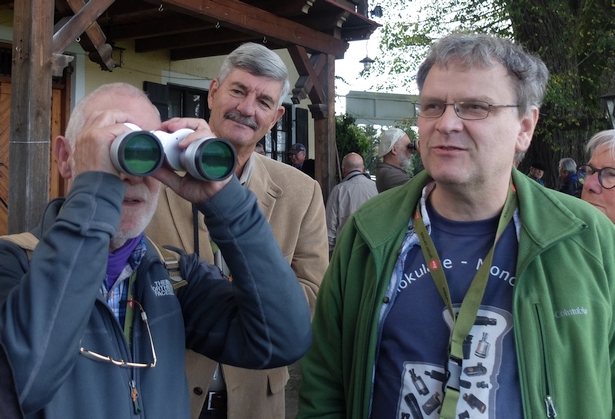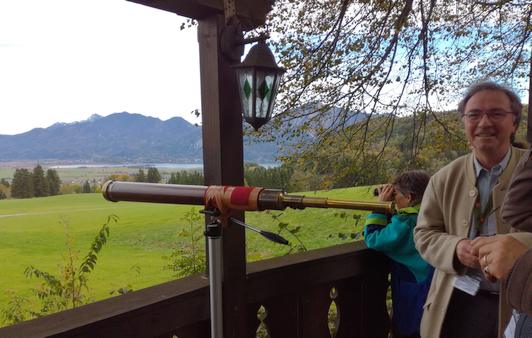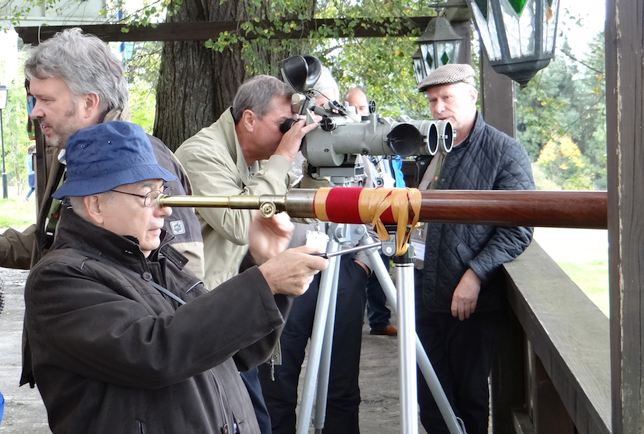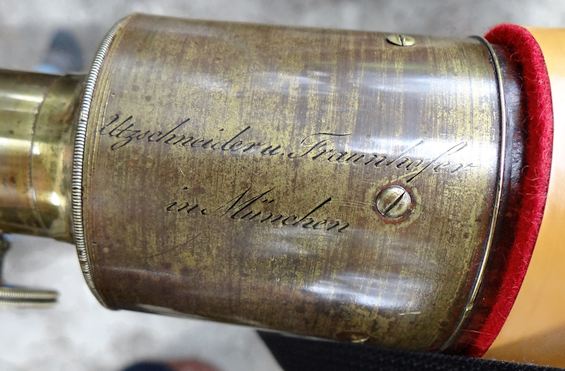 ---
| | |
| --- | --- |
| Das Abendessen zurück im Münchner Hotel stand unter demé "Oktoberfest"-Motto. Der gemeinsame Abend wurde aber auch dafür genutzt verdiente BHS-Fernglassammler bzw. -organisatoren auszuzeichnen. Zunächst erhielt Jürgen Laucher als langjähriger Organisator und Tagungsgestalter von Hans Braakhuis (NL) eine Dankes-Medaille überreicht und kam damit dem neuen BHS-Organisationsteam (M. Soerensen, F. Weissörtel, U. Zeun), zuvor: dieses ehrte sowohl Jack Kelly und Jürgen Laucher für ihre über 10jährigen Tagungsorganisationen (seit 2006, Solms, Wetzlar 2x, Rathenow, Den Haag, Jena) als auch Hans T. Seeger als Experte und Initiator zur Wissensvermittlung über historische Ferngläser und Tagungen (Koblenz 2004) als Ehrenmitglieder der BHS; sie erhielten ein neu entworfenes BHS-Hemd (Dank an P. De Laet), eine Ehrenauszeichnung in Form einer stilisierten Fernglases graviert auf einem Acrylglassockel (Dank an Wim de Bruin) sowie ein "Golden Eye" Monokular (Dank an U. Zeun) überreicht. Auch bedankte sich das Team bei den Frauen für ihre Mitarbeit und Unterstützung ihrer Männer mit einem Blumenstrauß. So gab es eine würdige Weitergabe und ging ein Generationswechsel bei der BHS-Tagungsorganisation von statten. | The dinner at the Munich hotel was held under the "Oktoberfest" theme. The evening was also used to honor well-desered BHS collectors and organizers. As a longtime organizer and conference planenr Jürgen Laucher first received a thank-you medal from Hans Braakhuis (NL) and thus anticipated the idea of the new BHS planning team (M. Soerensen, F. Weissörtel, U. Zeun), who awarded both Jack Kelly and Jürgen Laucher for their more than 10-year conference organizations (since 2006, Solms, Wetzlar 2x, Rathenow, The Hague, Jena) as well as Hans T. Seeger as an expert and initiator of knowledge transfer on historical binoculars and conferences (Koblenz 2004) as honorary members of the BHS; they received a newly designed BHS shirt (thanks to P. De Laet), an honorary award in the form of a stylized binoculars engraved on an acrylic glass base (thanks to Wim de Bruin) as well as a "Golden Eye" monocular (thanks to U. Zeun). The team also thanked their wives with a bouquet of flowers for their cooperation and support of their husbands over all those years. So thus the previous BHS work was appreciated and a generational change took place at this BHS conference. |
Abendessen am Samstag mit Verleihung von Auszeichnungen Dinner on Saturday night with awarding ceremonies.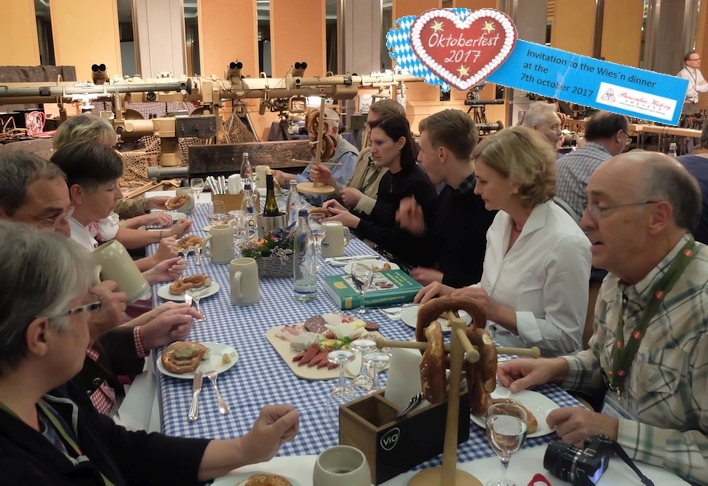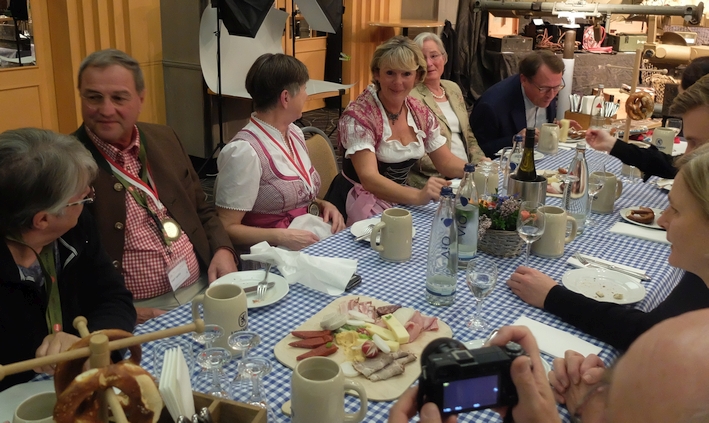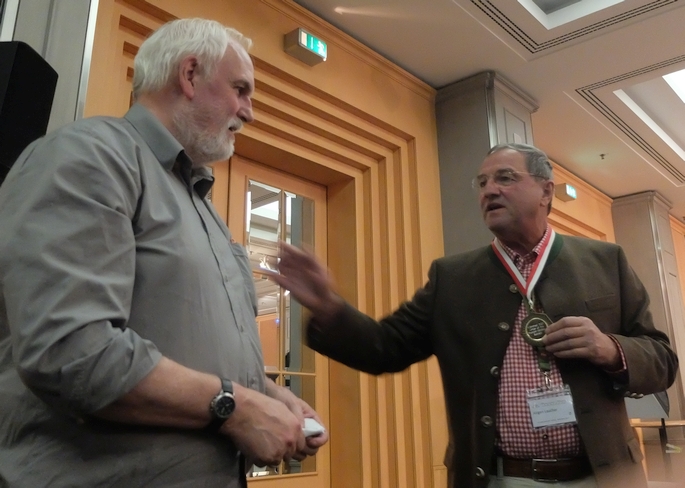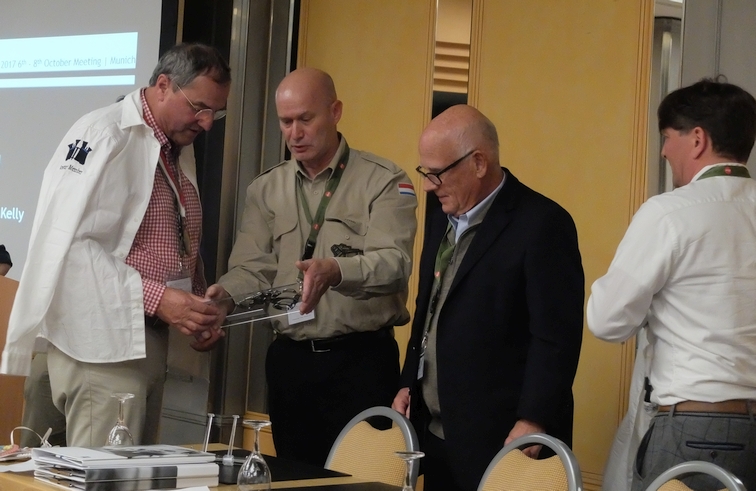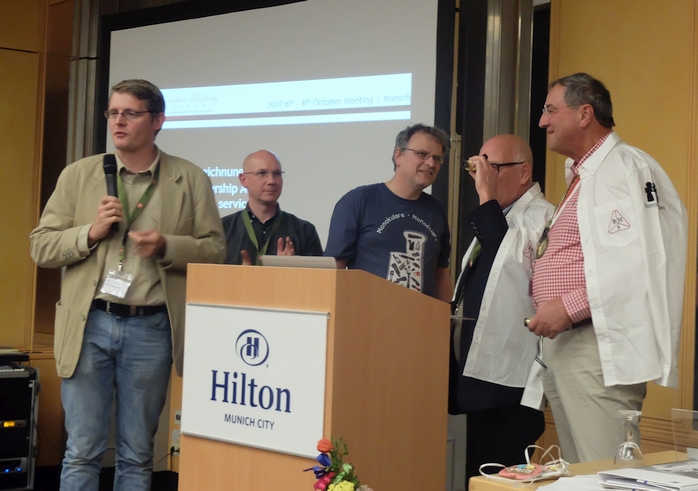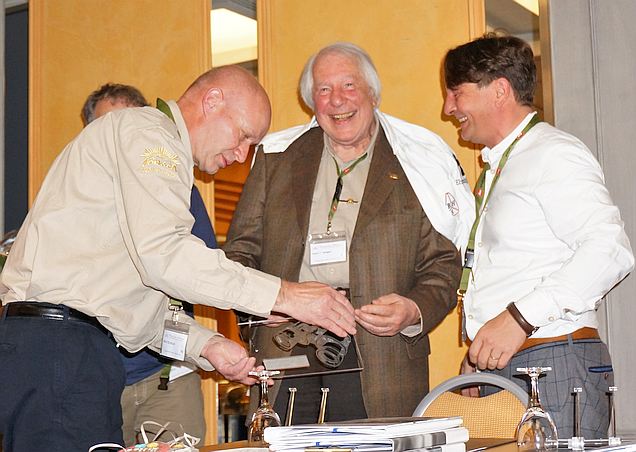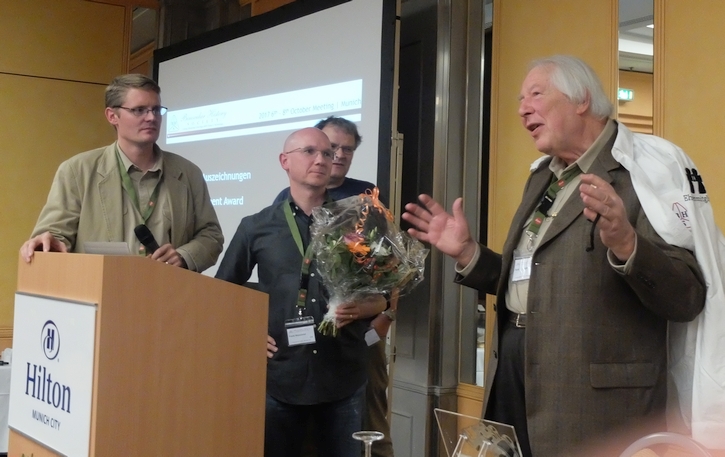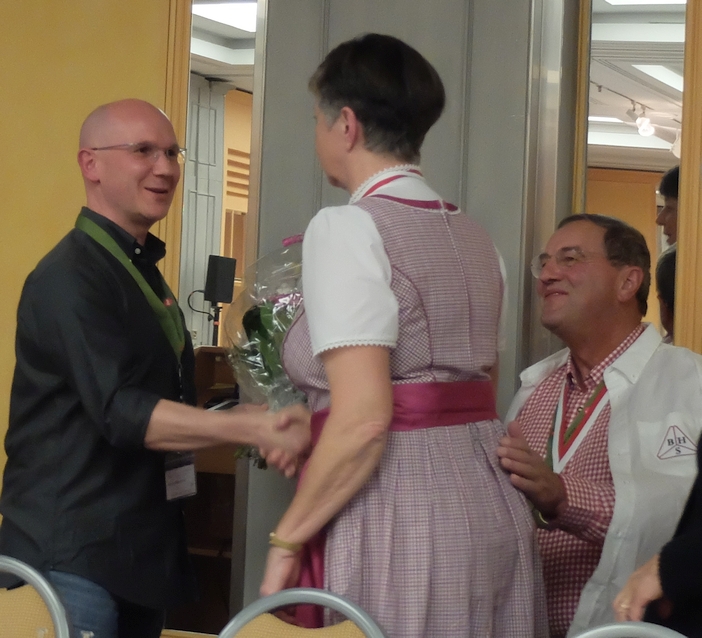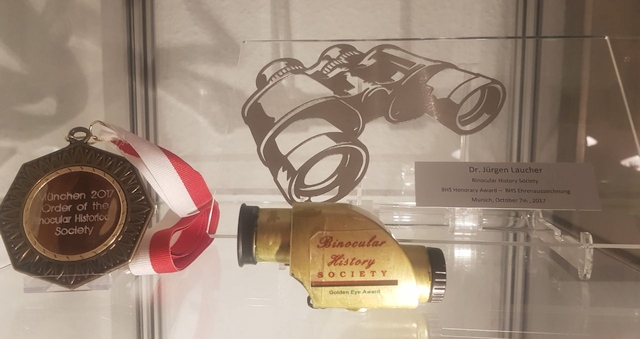 ---
Durchgehende Ausstellungen

Ein wichtiger Teil der BHS-Tagungen ist es immer, dass Sammler und Optik-Fans ihre Ferngläser oder optischen Instrumente mitbringen und diese auch ausstellen. So waren diese Ausstellungen diesmal direkt im Vortragsraum einsehbar, da dieser zum Glück großgenug war. Daher gab es ziwschendurch und allgemein reichlich Gelgenheiten, sich die Stücke anzuschauen, auszuprobieren und darüber fachzusimpeln. Besonders der große 4m Entfernungsmesser, den Martin Soerensen aufgebaut hatte, dominierte die Austellungsfläche. Aber andere Entfernungsmesser, große Militäroptiken, wie die 10x80 Flakgläser, sowie viele thematisch geordnete Sammlungen ließen die Herzen der Teilnehmer höher schlagen und immer wieder zu den Exponaten zurück kehren.

All-day exhibitions

an improtant part of all BHS meetings is taht collectors and optic enthusiast bring their binoculars and other optical instrument with them and exhibit them during the days. This time it was possible to arange hte displays within the conference room, as fortunately it had enough space. So, inbetween the talks and genrally there were many opportunities to look at the items, to try them out, and to talk intensively about them. Especially the 4 metre rangefinder which Martin Soerensen set up dominated the exhibition area. STill, other rangefinders, big binoculars like the 10x80 Flak-glasses as well as many thematically arranged displays made the collectors' hearts beat faster. Everybody returned to the displayed optics again and again.
Ausstellungsstücke und anregende Diskussionen Display and optics plus lively discussions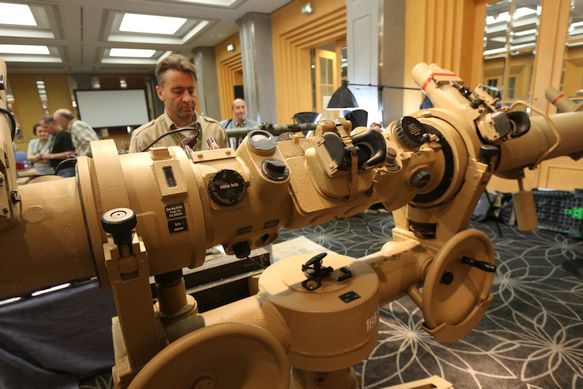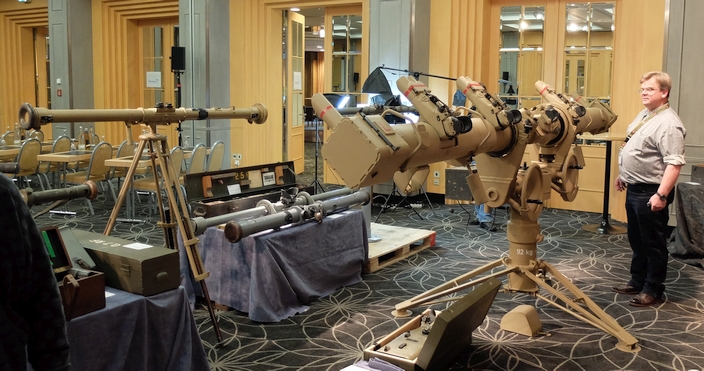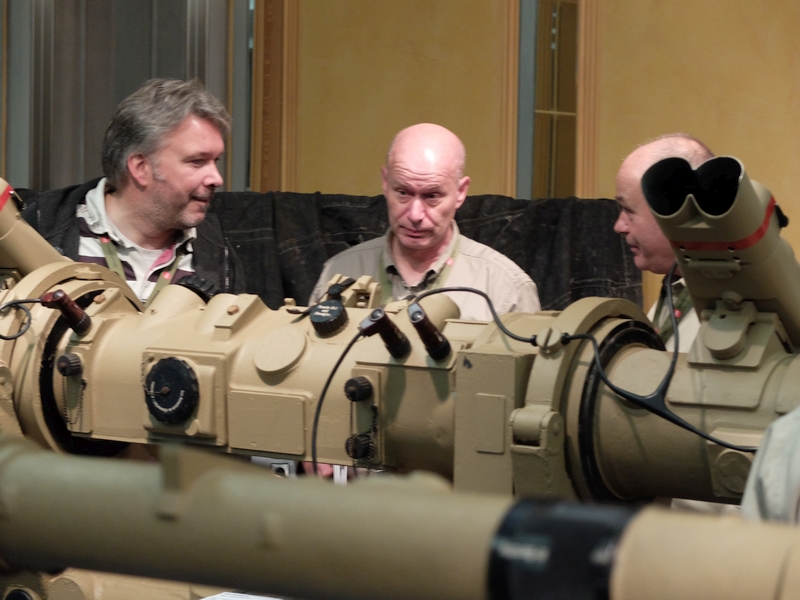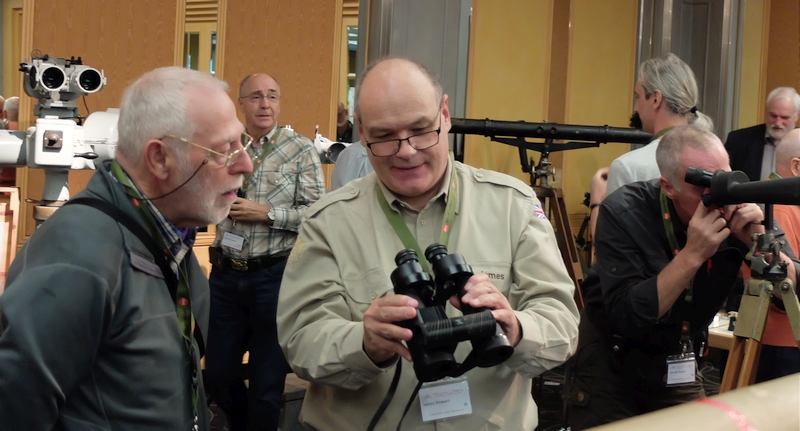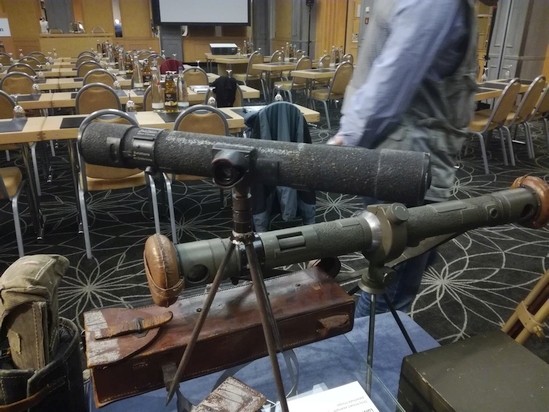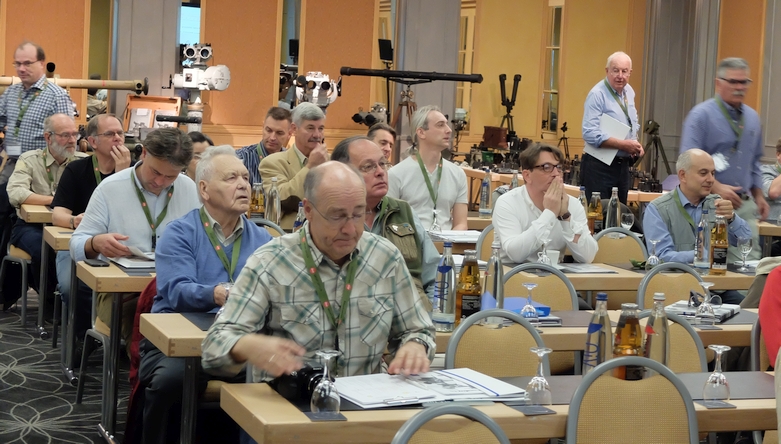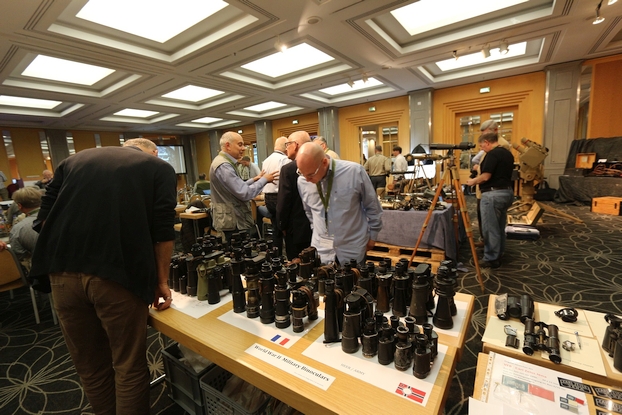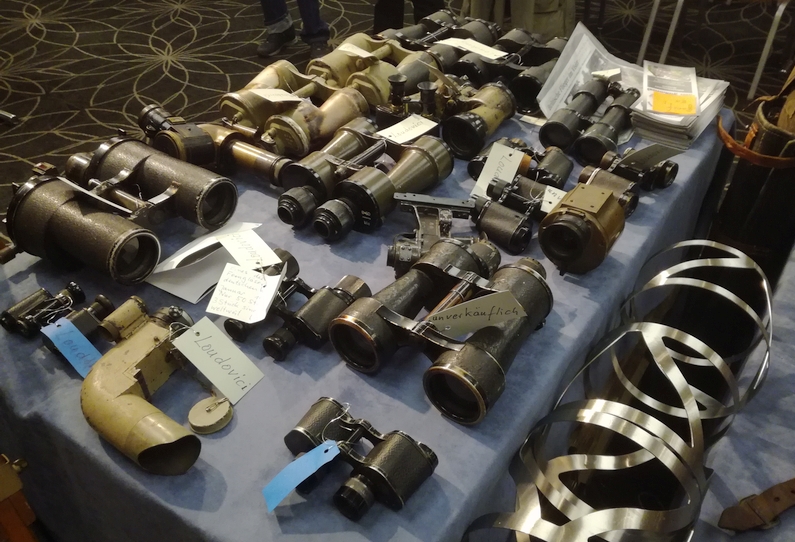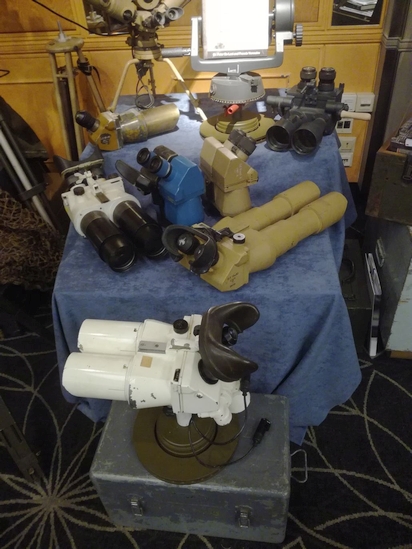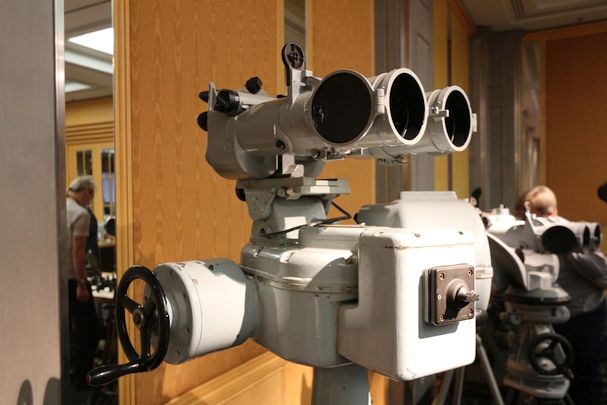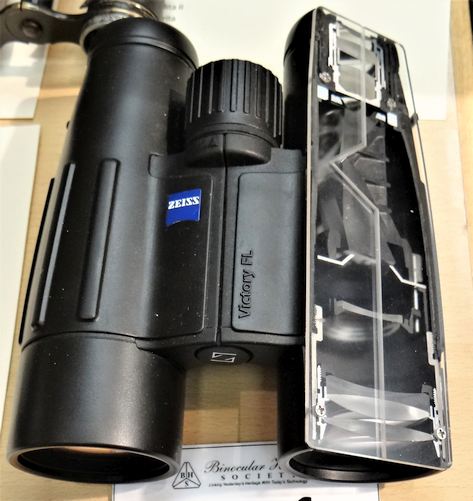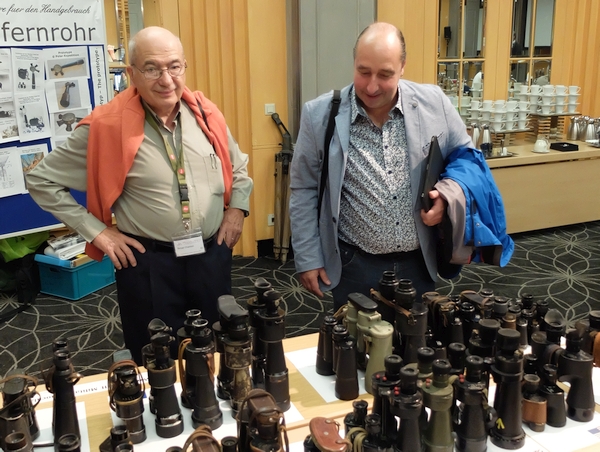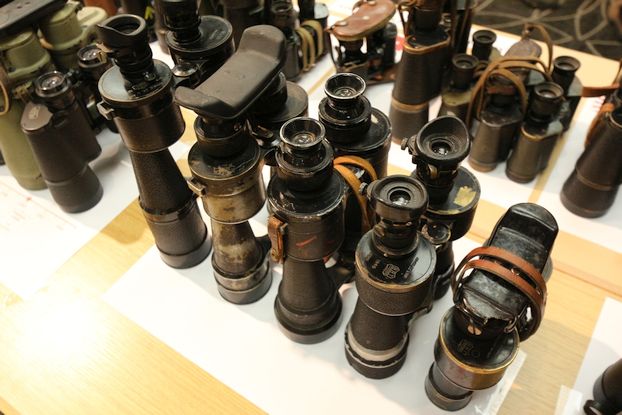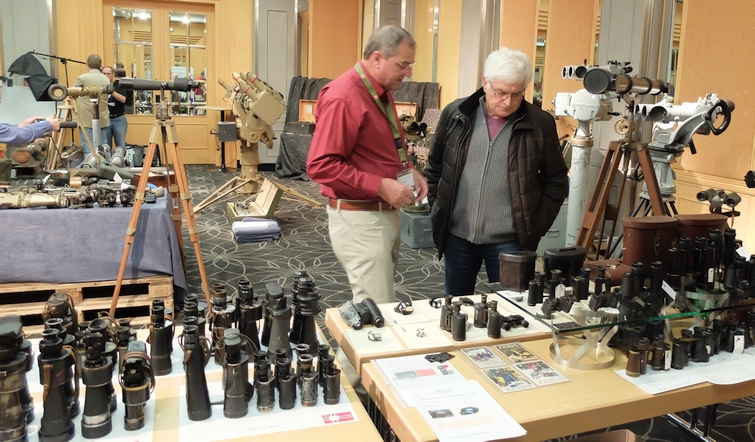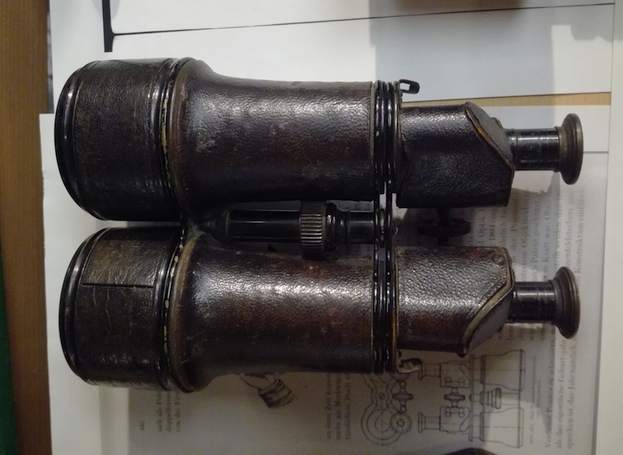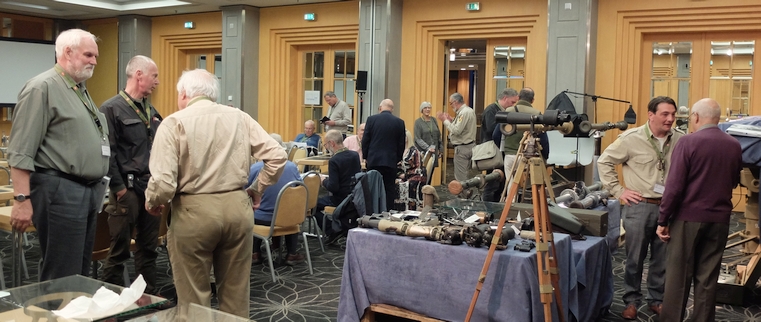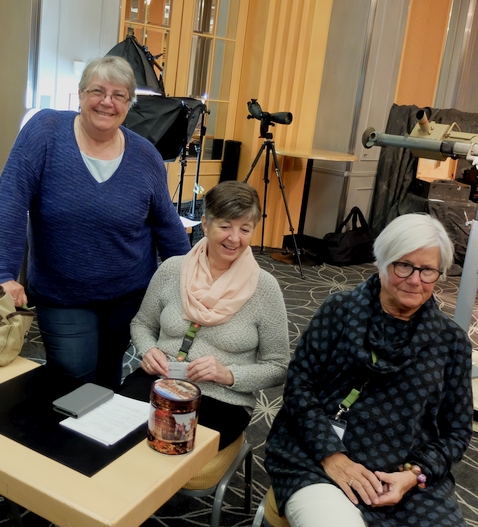 ---
Sonntag

Der Sonntagvormittag war gefüllt mit interessanten Kurzbeiträgen

Roger Davis aus Australien berichtete über seine Erfahrungen mit Kunden beim Reparieren von Ferngläsern und Vorstellungen der Kunden. Nicht immer berichten die Besitzer wahrheitsgemäß, was mit ihren Ferngläsern passiert ist und dadurch ein Schaden entstanden ist.
Wolfgang Kornmann als bekannter Hensoldt-Sammler und -experte erläuterte seine Erkenntnisse über die "Eingetragenen Warenzeichen & Schutzmarken der Firma Moritz Hensoldt & Söhne. Gemeint sind dabei die Markennamen "WaCHt", "WalKar" und "Stereor", wobei er schlüssig darlegen konnte, das erstere auf Abkürzungen der Vornamen (Waldemar, Carl/Karl) und Namen aus der Hensoldt-Familie herrühren.
Martin Soerensen und Peter De Laet berichteten anschließend über die neue erfolgreiche Eintragung des BHS als Organisation im belgischen Vereinsregister sowie über die Einrichtung des neuen BHS Webseite (www.binocularhistorysociety.info) und des Austauschforums (www.binopedia.info). Siehe dort!
Danach brauchte Peter De Laet gar nicht erst die Bühne verlassen, sondern sein Mitautor Francis Vermiere schloss sich ihm an, um ihr gemeinsames Buch "Die Augen der FLAK" zu präsentieren. Dies ist der erste Band eines Werkes, das sich ausgiebig mit der Entwicklung, Bau- und Nutzungsdetails des 10x80 Fernglases mit Schrägeinblick und seiner Varianten befasst.

Sunday

The Sunday morning was filled with interesting short speeches

Roger Davis from Australia shared his experiences with customers when repairing binoculars, and the customer perceptions. The owners do not always report truthfully what happened to their binoculars and why damage has occurred.
Wolfgang Kornmann, a well-known Hensoldt collector and expert, explained his findings on the "Registered Trademarks & Brands of Moritz Hensoldt & Söhne". This refers to the brand names "WaCHt", "WalKar" and "Stereor". He could conclusively demonstrate that the former derive from abbreviations of the first names (Waldemar, Carl / Karl) and the Hensoldt family name.
Martin Soerensen and Peter De Laet then reported on the new successful registration of the BHS as an organization in the Belgian Register of Associations and on the establishment of the new BHS website (www.binocularhistorysociety.info) and the online forum (www.binopedia.info). Cf. there!
After that Peter De Laet did not even have to leave the stage, but his co-author Francis Vermiere joined him to present their joint book "The Eyes of the FLAK". This is the first volume of a work that extensively deals with the development, construction and usage details of the 10x80 binoculars with angled view and with its variants.
Sonntagsvorträge Sunday talks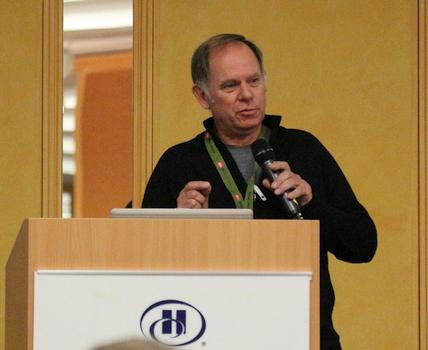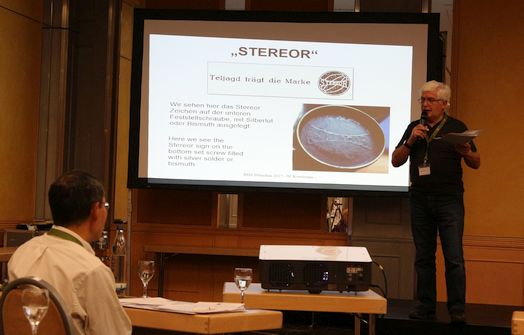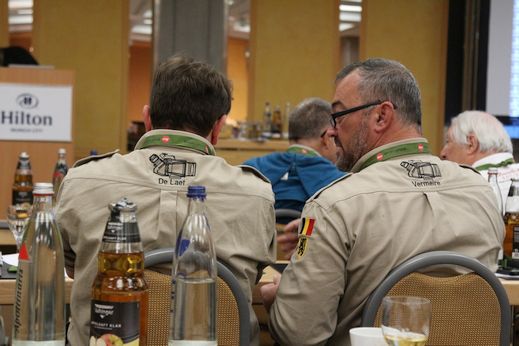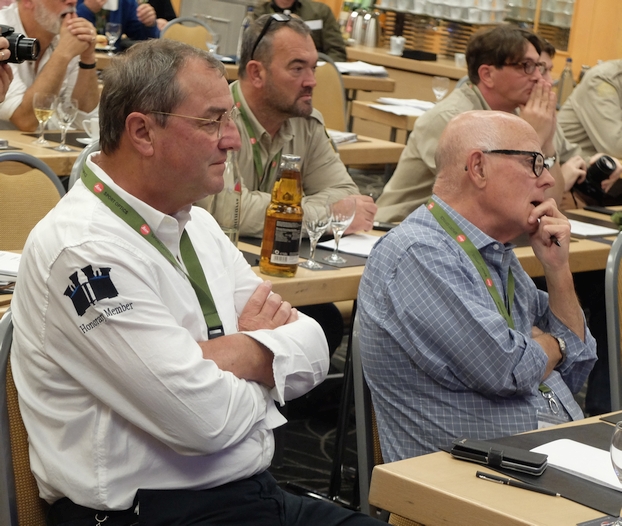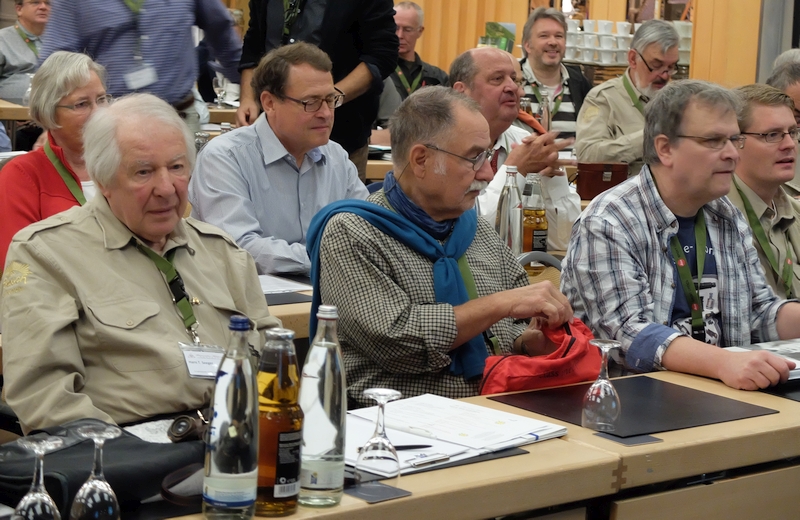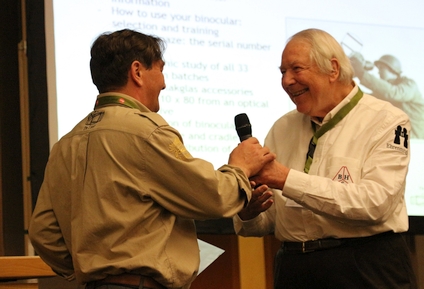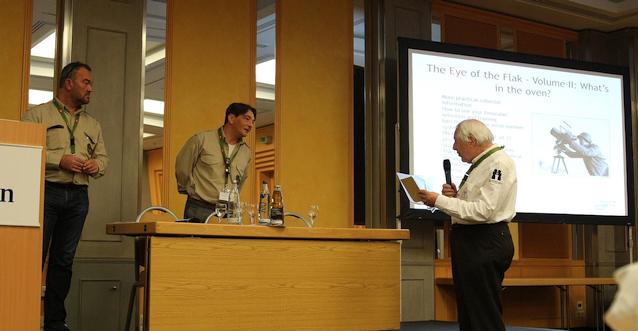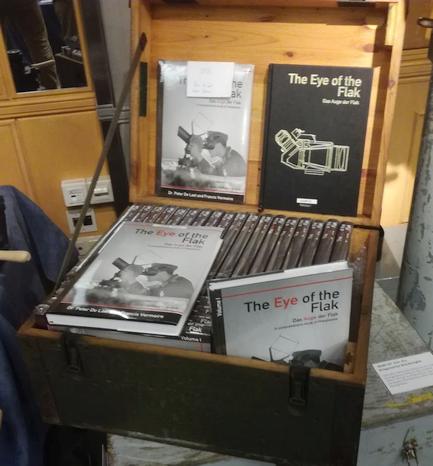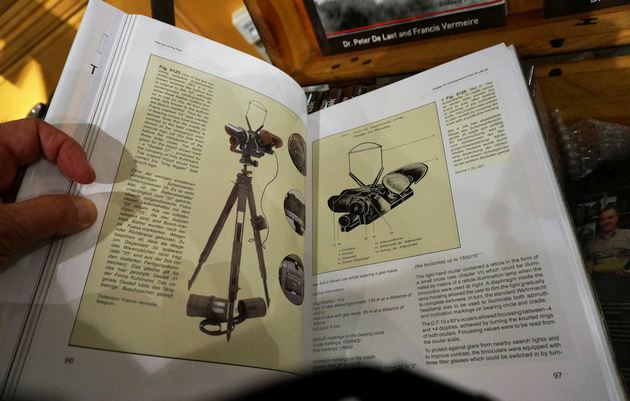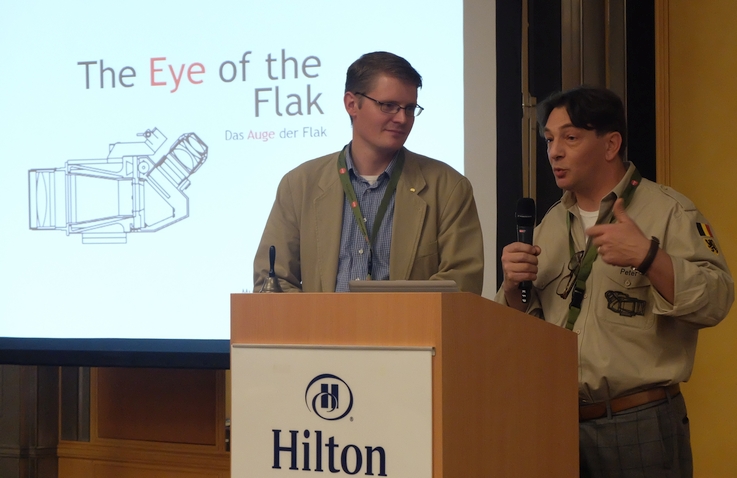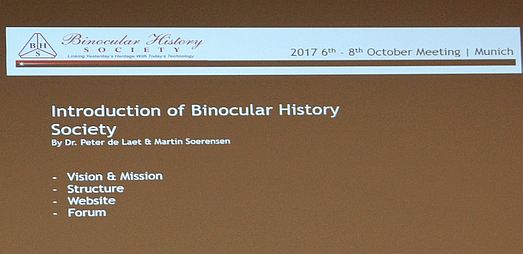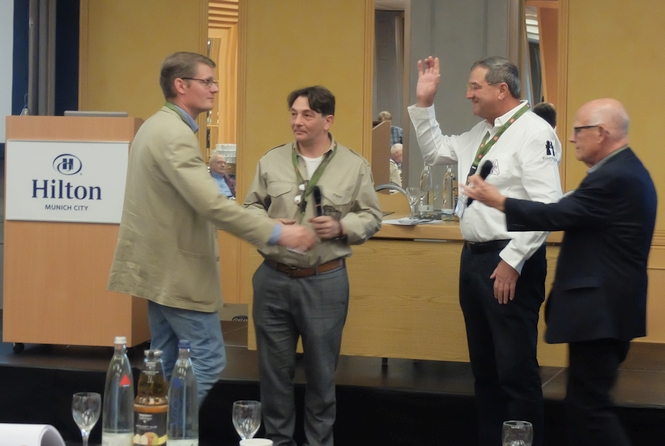 ---
Nach einer Kaffeepause folgte traditionell die Tauschbörse, die aufgrund knapper Zeit zu hektischer Geschäftigkeit führte.
Dennoch mussten alle Teilnehmer wieder zum Abschlussvortrag von Gijs van Ginkel zusammengetrommelt werden. In einer Tour-de-Force gab Gijs einen "allgemeinen Überblick aus 4 Jahrhunderten von multifunktionellen Ferngläsern und Monokularen". Dies schloss Optiken mit Entfernungsmesseinrichtungen, Kameras, Radios usw. ein.

Nach der Verabschiedung durch Jack und Jürgen gab es noch ein Mittagsessensbuffet mit Snacks.

Dezember 2017, Ulrich Zeun
After a coffee break the swap market followed traditionally. This resulted in one hour of hectic business.
Nevertheless, all participants had to be called back again for the final presentation by Gijs van Ginkel. In a tour-de-force Gijs gave a "General Overview of 4 Centuries of Multifunctional Binoculars and Monoculars". This included optics with distance measuring equipment, cameras, radios, etc.

After the farewell by Jack and Jürgen the meeting ended with a lunch buffet with snacks.

December 2017, Ulrich Zeun
---
| | |
| --- | --- |
| Danke an die Fotografen: M. Kersten, P. Loudovici, J. Stewart, U. Zeun (die Namen des Fotografen sind im Bildnamen in Klammern vermerkt). | Thanks to the photographers: M. Kersten, P. Loudovici, J. Stewart, U. Zeun (photographers are stated in the picture names in brackets). |
Auf Wiedersehen Fernglas-Fans und "Alpenvorland". Farewell optic enthusiasts and "Alpenvorland".